As part of Identity week in school, Foundation have been thinking about our school community and the people who work here. Mrs Coster from the school office spoke to the children on Monday about her role and Mrs Philip spoke to the children this afternoon about the work that the lunchtime staff do to ensure the children have a healthy lunch. F2 children also went out in groups throughout the week to do some busy jobs with Mr Atkins and talk about the work he does in school and how it keeps us safe.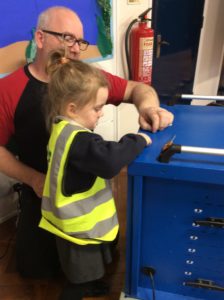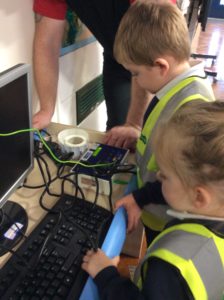 The children thought about the people who help us in the wider community. They have enjoyed  our new 'Doctor's Surgery' role play, our sensory firefighter's play, our 'dentist' fiddly fingers tooth brushing experience and dressing up as police officers in the outdoor area.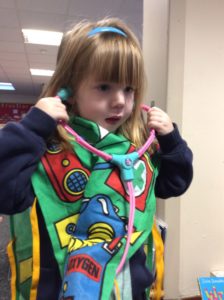 We worked together this week to create a map of Wetherby – the community in which we live. We looked at aerial photographs of Wetherby and the children printed green paint to create the background. Later in the week we added roads, rivers and buildings. Today, the children added their own house with their picture on. Keep an eye out for how we use our wonderful map creation in our next themed role play area, coming soon!