Remembrance Day 2018 
For reflection time this week, Foundation watched a presentation and had a discussion about the importance of the poppy emblems that many of the children have brought into school. We spoke about Remembrance Day, who we are remembering and about the centenary.
Ask your child if they can remember how many years it has been since the end of World War I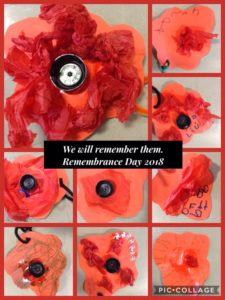 The children created some beautiful poppy decorations which they were very proud to take home in the afternoon.
If you're attending any parades or services at the weekend, we'd love to hear about it in class. Perhaps your child could draw a picture or write a sentence about the experience, to share with their friends.
If you're attending the parade in Wetherby this weekend, you may spot some familiar faces! Miss Beatson and some children from our school will be walking in the parade.
Home-Link Challenge: 
Next week, for Anti-Bullying Week 2018, Foundation will be thinking about kind and unkind behaviours or actions. In preparation for this, we'd like you to have a discussion with your child about their friends. Please use this prompt: "Tell me about a time when one of your friends has been kind to you." Please write down exactly what your child says, in their own words. We'll use their responses in our learning this week.
Parent Reminders
Monday 12 November: Odd Socks Day- Anti-Bullying Week. Please send your child to school in odd socks.
Parents / carers of all Foundation children are invited to our interactive Fiddly Fingers Stay and Play, Wednesday 14 November, 3.15-3.45 pm. You'll be able to take part in activities focused on developing fine motor skills. Whether you can stay for five or the full thirty minutes, we hope to see many of you there.
Friday 16 November: Children in Need. Please send your child to school wearing something yellow. We will be collecting donations for the charity.
Thank you.