Amongst the fun and chaos of Christmas, Foundation have still been working hard in the classroom. This week F2 have learnt three new diagraphs; ng, ai, ee and Sid has also brought them the rocket word 'was'. We've rounded up our learning on our focus number 6; demonstrating what we know pictorially, through number stories and through different ways of showing the same value. Don't forget, you can see our work on our 'Fabulous Focus Numbers' in the maths area, within the classroom.
F1 have enjoyed some festive song circle time which had a counting focus. They've been working on their personal, social and communication skills with their key worker, discussing happiness and sadness and the things that can make us feel that way.
We've looked closely at the Christmas Story and written about the people and scenes within the Nativity.
As part of our Living and Learning focus, we've been thinking about our school community and appreciating all of the people who work here. The children thought of some interesting questions to ask Mrs Walshaw (who works in our office), Mrs Philip (our cook) and Mr Atkins (our site manager) who came to talk to us in class. Mr Atkins also let the children help him PAT test 'Henry the Hoover', which led to some great discussions about electrical safety and general safety of the school, being part of his role.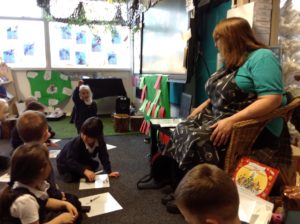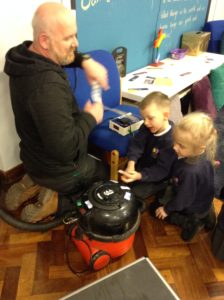 On Thursday we joined our whole school community and had a lovely Christmas dinner and dance party in the hall. Check out our happy faces!: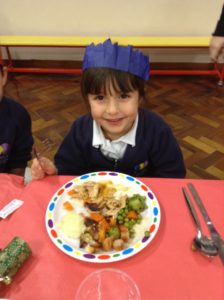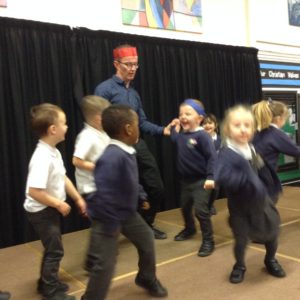 Christmas Performance- It's a Party!
We're super excited to show off all our hard work in the Christmas performances this week. We look forward to seeing you on Tuesday 2-3 pm or Wednesday 6-7pm.
We understand it is difficult with the younger children but please do try to bring your children back to Wednesday's later performance, so that the children, parents and carers at this showing can have the same experience.
Thank you for your support.
Home-link challenge
Please keep practising rocket words and reading at home. If your child has lines to say in our Christmas Production, please practise these at home.
Reading Books
Reading books were swapped on Friday and two were sent home for over Christmas (as long as previous books have been returned) If you have not returned book bags and reading books, please do.  We will not be reading next week. You will only need to bring book bags on Friday, in order to take home any special learning from this term.
Christmas Stay, Play and Decorate
Don't forget to join us on Thursday 20th December, 8.30-9.45am to look at learning journeys and join your child in some Christmas Craft fun! A letter about the session has been sent home. Please let one of the Early Years team know if you need a replacement.
Applications for F2 places- September 2019
You must apply for a school place, even if your child currently attends our setting in F1. Please see the details below:
(This poster is also available to view in the classroom)