This week has covered many important topics:
Remembrance Monday
The children were shown an animation explaining why we wear poppies and took part in a discussion. We have been painting poppy fields which are now displayed in the window by our water tray. Thank you to the families that worked together to create poppy pictures and models at home, for our home-link challenge.
Anti-Bullying Week- Odd Socks Tuesday
On Tuesday, we wore odd socks to celebrate our differences and to show we respect each other. We spoke about this during our Living and Learning circle time, about what bullying looks like and what we should do to STOP it.
STOP
Bullying is: S Several  T times  O on  P purpose
We should: S Start  T telling  O other  P people
Well done to Lily who received the Living and Learning certificate for sharing some important facts, such as "You should tell a teacher" 
Children in Need Friday
Wow!- what generous children and parents we have! Thank you so much for all of your donations, taking part in non-uniform day and bringing in or making cakes for our bun sale.
We started the day by sitting down and talking through the important work Children in Need do, through the website's Early Years- friendly presentation. We also had some Pudsey fun painting and dot-to-dots to choose.
What else have we been up to?
PE Thursdays- In our first half term, the children have shown they can find a safe space in the hall, hop, skip, gallop and side step to travel. This half term we are working on small-base balancing and jumping in direction including jump-turns.
Physical Development at lunch time- In Early Years, we think of developmental aspects that support children both in and outside of the classroom. A really tricky self-care and fine motor skill is the ability to cut up our food. We are encouraging all of the children to 'have a go' at cutting their food before helping and we are already seeing huge development in their confidence and ability to do so.
Please continue encouraging your child to 'have a go' at cutting their food at home. 
Here is some great food-cutting in action!
Phonics Superhero- Each day we have started to choose a 'Phonics Superhero' who has wowed us with their skills. They get to dress up in a special cape and mask for the rest of the day!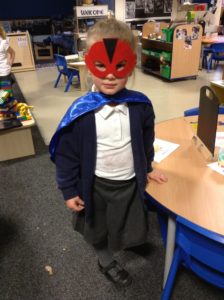 A very muddy Friday- Our class really love the  mud! The more rain and muddy puddles the better. This week's muddy collaboration was to build "a swimming pool for the ants and caterpillars" This sparked some good conversation about how deep the water could be for it to be safe for a small insect. We will carry this interest into next week and do some fact finding to answer our questions.
Home-Link Challenge
F2- This week the children were introduced to 3d shapes. Can you find an object or package around the home that is a 3d shape we can put on our display?
F1- Please bring in or email a photo of your weekend, whether you are at home or out and about. We will use the pictures for our 'talk-time' key-worker session.
Thank you.