Hello Foundation! It's Mrs Marsden again. Today I am going to read, 'Room on the Broom' written by Julia Donaldson. Can you think of any other Julia Donaldson books?
Are you sitting comfortably? Then I'll begin…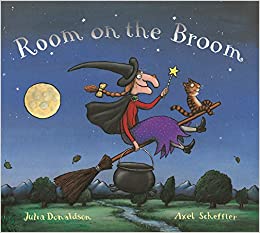 Here are a few questions and things to talk about after you've listened to the story.
What made the witch wail and the cat spit?
Why does the witch need more room on her broom?
Why did the broom break?
How did the witch feel when the dragon appeared?
What objects did the animals through into the cauldron?
Did you enjoy listening to the story?
Activity
Design a new broom for the witch and the animals.
See you next Friday for another story!