Phonics
Words to Read:
Words to Write/ Phonics activity:
Play 'I spy' using the picture attached- how many objects can you spot? Write the words to match write?
Click here to view the picture.
Literacy Activity – A map making treasure hunt!
Make a map of a room, the inside of your house, or your garden. Write the names next to the different objects and areas on your map so that people can see where to go- you might even want to write sentences as clues for example; 'On top of the desk'. You might want to add x marks and hide your favourite toys or other items for your grown-ups to find! Your map might look a little something like this…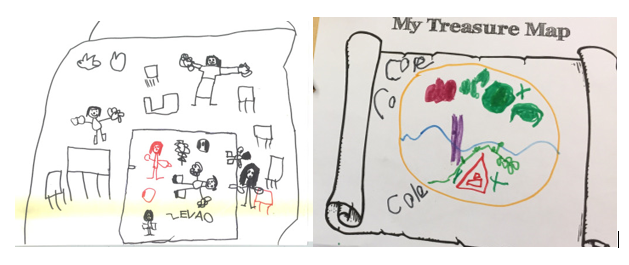 Maths Activity- Comparing Size
Choose from the following activities- (you might even want to try a few over the next few weeks!):
• Find your dolls, teddies, play figures etc. Line them up from the tallest to the shortest.
•Use a spoon as a measuring device. Go around and see if things are the same size, shorter or longer than the spoon.
• Why not make a paper chain. Talk about this getting, longer, the more you add. You could measure it. You could also count the links together?
• Who is the tallest in your house? Who is the shortest and who is in the middle?
• Can you make a list or a collection of teeny, tiny things? What other words describe small?
• Which things are larger than e.g. a cow? Could it be a bus, a whale, a house, a car etc? Make a list or draw things.
• Make long and short play dough worms and snakes.
Important vocabulary:
Long, longer, shorter, short, wide, narrow, big, little, huge, immense, giant, minute, tiny, teeny, same, taller…. Can you think of any more size words?
Did you enjoy these challenge ideas?
They were taken from another excellent, free 'Learning at home' pack by TTS. Click here to download your own copy!