Over the past few weeks, we have thoroughly enjoyed reading 'Ollie's Magic Bunny'.
We came up with actions to remember the story in order. Children drew their own story map, listed the key vocabulary and then finally wrote the story.
I was so proud of all the children for their fabulous efforts. I saw some wonderful writing in Year 1 and 2. Here is a little sample of what the children achieved.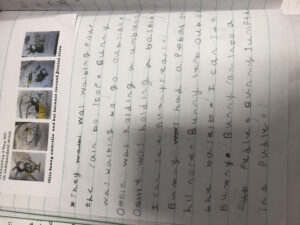 Ask your child to re-tell the story with the actions they learnt in class.