Literacy
Our focus story this week was The Great Balloon Hullabaloo by Peter Bently.
On the carpet, we looked at the solar system and found out lots of new facts. The children have loved learning about space and were eager to find out more information by asking questions. We used Google to help us find out some of the answers.
On Tuesday, we did a space quiz to see if we had remembered all the key facts. The children smashed it and scored 6 out of 6!  
The F2 children used their imaginations to draw and write about what they if they went on an adventure to space.


Creative
At the beginning of the week, the creative challenge was to make a hot air balloon. All of the children were fabulous at following instructions and successfully made their very own hot air balloons.

Role-play
This week, we've been at the doctors' surgery. It's been super busy all week… at one point the waiting room was full!

Sticking to the space theme, the challenge at the playdough table was to make odd and even aliens.

"My alien is even because it has 4 arms."

"My alien is odd and even."

"My alien is odd because it has one leg."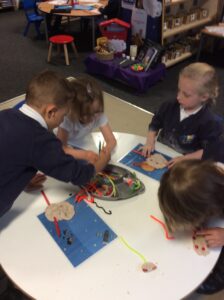 "My alien is odd because it has 3 legs."

Home-Link Challenge

Reminders!

Your child can come to school in their PE kit all week.
Sports day 10.30-11.30 – only 1 parent to attend
Please make sure your child brings a sun hat and water bottle to school every day!
16.07.21 – outdoor transition activity for the F2 children.
I hope you all have a lovely weekend.
If you're watching the final, I hope you enjoy the game!
Is it too early to say…it's coming home?