This week, the Chilli Challenges have been a big hit! Many children had a go at some of the challenges and many completed all of the challenges – a big well done to those children!
Here are some of the Chilli Challenges in action:
Using our cutting skills to make a paper plate Poppy.

Making the correct amount of playdough poppies. We enjoyed subitising and talking about how we arranged the poppies onto the playdough mats.
"Two poppies here and one over here… three poppies altogether"
"Four poppies and one more equals five poppies."
"A group of two and another group of two… four poppies."
"One and another one makes two."
Using cubes and rulers to measure our feet. They particularly enjoyed comparing the size of each other's feet.

Using a drawing app on the iPad to draw pictures of the poppies growing in Flanders Fields.

Phonics
We're almost at the end of phase 2. Next week, the children will be taught the final 3 phonemes: l, ll, and ss. This week, we've noticed lots of children using their phonics skills when doing independent learning activities.
Using our segmenting skills when writing a sentence about Remembrance Day.

Using our blending skills to read captions.
Reading cvc words on a word hunt.

PE
On Wednesday, Mrs Palmer taught four animal gymnastic positions: cat, seal, frog, and butterfly. To end the lesson, the children moved across the mats like animals. Mrs Palmer told me about how fabulous they were at stretching their arms and pointing their toes.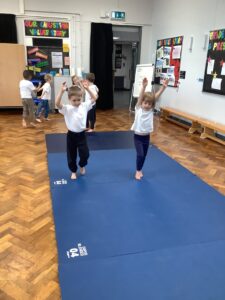 Notices
Please return your child's yellow sound book on Monday 22 November so we can stick in the phase 3 sounds.
It's Anti-Bullying week next week. To kick off the week, we are taking part in Odd Socks Day.  Children can come to school on Monday wearing odd socks!
It's also Nursery Rhyme week. All week we'll be learning about different nursery rhymes. To finish the week, we ask children to come to school dressed as their favorite nursery rhyme character. (This is also a non-uniform day for Children in Need – they've clashed!)
Please make sure your child's Christmas production clothes are in a named carrier bag.
Home-Link Challenge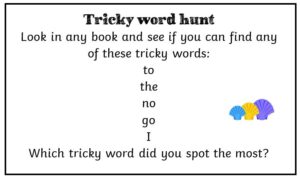 Finally…
Thank you to all the parents that came to the Reception drop-in session. It was lovely to see lots of proud children sharing their amazing learning with you.