This week, I got the pleasure of teaching PE, and what a fabulous lesson we had. The children were so excited when they saw the big apparatus!
Before the lesson started, we had a discussion about keeping safe when on the apparatus. The children had to remember 3 key safety tips:
When landing, always bend your knees.
Do not climb past the blue bibs.
Only jump-off where there's a mat.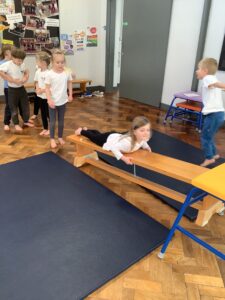 To finish the lesson and to help us with our upper body strength, we had some fun swinging on the ropes.