In Science, we used the iPads to research the answer to some questions that we came up with, that were related to our topic – Seasonal Changes.
The two questions that the year 1 children were investigating were:
How many days are there in a season? 
How does one season change into another?
In groups they worked together to find the answers.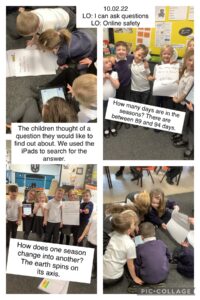 The Year 2 children had their own iPad to research the answer to their questions. We had some great questions:
What season is it in Australia now?
Can leaves change colour in summer?
How many leaves are falling from the trees now?
We read these top tips before going online and discussed how the lock at the front of the url meant it was a safe website to access.