This week, the children have been learning about some basic first aid. We began with a question.
What is first aid?

It is when you hurt yourself.

Helping someone who can't breathe.

Looking after a person when they are sick.
First aid is basic knowledge about how to help people who are suddenly sick (illnesses) or hurt (injuries or body damage). For example, first aid is used at accidents to help an injured person until they receive medical treatment (help by doctors, nurses or ambulances). 
We discussed some scenarios where someone may have suffered sprains, allergic reactions, cuts and bruises, burns, broken bones and asthma attacks.
The children thought about people who are trained to deliver first aid and how this can save lives.
For their activity, the class designed their own first aid leaflets. These were written for younger children and we are hoping to give a few to our Reception Class to pin up in their classroom.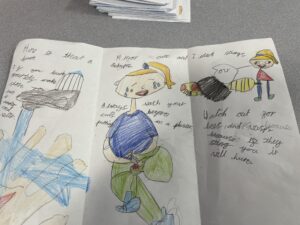 It sometimes seems that there's no end of scrapes that children can get into. But would your child know what to do if one of their friends had an accident or emergency?