Literacy
This week, the children had fun writing their own versions of The Very Hungry Caterpillar. They came up with some fantastic ideas.
BI – The Very Hungry Bee
CW – The Very Hungry Ant
CW – The Very Hungry Worm
HD – The Very Hungry Spider
BA – The Very Hungry Dragonfly
Next week, we'll study the artist Alexander Calder and create our own representations of his butterfly work.

BREAKING NEWS!
On Monday, Mr Atkins brought us a box – it was our caterpillars! The children were so excited.  When they arrived, they were amazed at how tiny they were. Throughout the next few weeks, the children will be observing them on a daily basis and writing in their caterpillar diaries. This week, we've been learning about the life cycle of a butterfly.
Ask your child if they can remember the four stages of the life cycle. 
The minibeast learning continued in the areas…
We went looking for minibeasts in our outdoor area. We talked about what they look like and their habitats.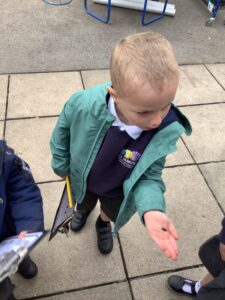 We painted symmetrical butterflies.

We used natural objects to create minibeasts.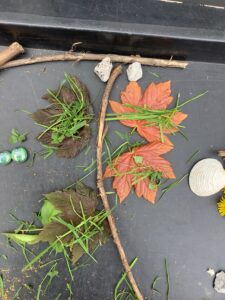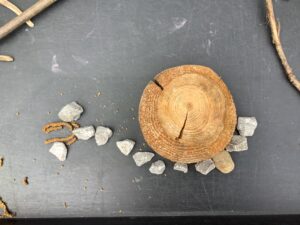 Diary dates
Friday 13 May – School closed: training day
Friday 27 May – Jubilee celebrations in school
Thursday 23 June – Moving from Reception to Year 1 transition meeting. This one is in person – not by Zoom (finally!).
Tuesday 05 July – Sports Day (morning)
Friday 08 July – PTA Summer Fair
Home-Link Challenge

I hope you all have a happy and healthy bank holiday.
See you on Tuesday!