It has been a busy week in Reception! Our book this week was all about the jolly postman taking special Christmas gifts to everyone. We decided to write our own postcards to send to people we care about.
As part of our creative time we made our own stamps. We thought about why stamps are important and looked at lots of different designs.
We have used our printing skills to make our own pieces of wrapping paper. We used different items to print with including potatoes! We enjoyed counting how many of each shape we had included and also recognising different colours.
On
On Monday we learnt more about Christingles. We discovered what the different parts of the Christingle represent. We made our own Christingles ready for our church service later in the week.
On Wednesday we had our first visit to church. We had a lovely walk looking for signs of Winter on the way. When we arrived at church we had a look at the building and found a special stable in the corner which reminded us of the Christmas Nativity Story. We all felt that it was a very special service.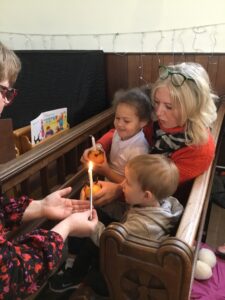 We hope that you all enjoyed our Christmas Nativity production "It's a Party" We have loved learning the songs and working with year 1 and 2 to create a super show. Thank you to everyone for all of your help and support.
Things to remember:
On the 12 December everyone is welcome to come into Reception to see what learning we have been doing this term. Learning Journeys and floor books will be out for everyone to have a look through. We hope you can join us from 3:30.