In our English lesson today, we recapped our knowledge of nouns and adjectives to write about the illustrations in our new class novel Here We Are by Oliver Jeffers.
A noun is a thing, place or person.
An adjective gives information about the noun.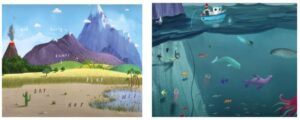 We wrote about these two illustrations. See some of our exciting sentences and expanded noun phrases below!
Help at home: do you have a book that contains some beautiful illustrations? Use nouns and adjectives to describe the characters or places that you can see in your book. You could write them in your homework books and bring them in to show me!