This week our focus story has been Zog by Julia Donaldson. The children have enjoyed exploring our Zog themed provision, here's what we have been getting up to!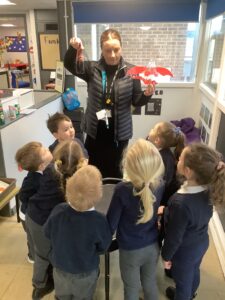 We did our first science experiment! The foaming dragon. The children watched how the baking soda reacted with the vinegar to create a fizzing foam.
It exploded out of the dragons mouth-Gracie

Red dragon- Hunter

It's got circles and triangles, the circle is the dragons head- Cora

It's got lots of spikes- George

Zog wanted to help the princess be a doctor-Austin
Here is a link so you can enjoy watching Zog at home with your child/children ….
Top tip for watching YouTube with your child: go to the settings cog (it's along the play bar) and turn off auto play – this avoids an inappropriate clip coming up automatically, and helps to discourage your child from passively watching clip after clip
Next week is all about DINOSAURS, so make sure you bring your stomping feet! RAHHH
Miss Ward