This week our focus book is Supertato! We have been learning more about different fruits and vegetables and how they can help us to follow a healthy diet. We really enjoyed listening to the story and then adding actions for the different characters. In the classroom evil pea had been busy and had trapped lots of different fruit and vegetables onto our writing table. We wrote speech bubbles so they could get some help.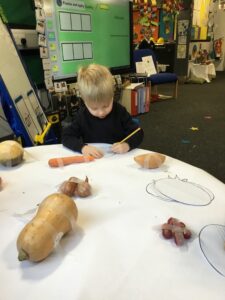 We decided that we would like to create our own Supertato. We carefully choose different materials and thought carefully about how we could make them stick to a potato!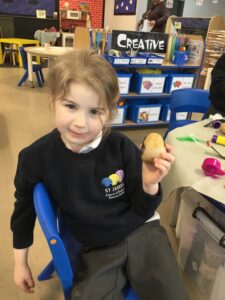 The evil pea was causing so much trouble in the classroom we decided  to build some traps so we could catch the pea! It was a tough job but we worked together and made some amazing traps.
This week we have learnt more about primary and secondary colours. We investigated what happened when you mixed two primary colours together.
Dates for your diary:
Friday 3 February –  funky fingers stay & play. We hope you can all join us in the classroom to discover more about how we build muscle strength in out hands.
W/B 6 February – early years writing zoom. A pre recorded zoom presentation will be sent out to all families discussing writing in the early years setting.
As always please keep reading at home. The children love sharing their e-books with you all.
Mrs Payne