This week, we began our multiplication and division learning in Maths.
We've been thinking about equal groups – having the same number of objects in each group. Recognising equal groups can help us with our multiplication and repeated addition facts.
For example, we made 4 equal groups of 2.
Our repeated addition fact was 2 + 2 + 2 + 2 =
Our multiplication fact was 4 x 2 =
Have a look at some of the other equal groups we've been making!
2 equal groups of 6
4 equal groups of 3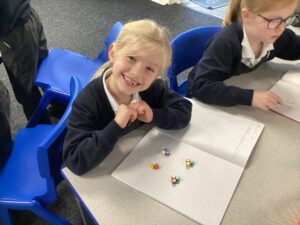 Help at home by asking your child to make some equal groups out of objects in the home, for example, some books or toys.
We will be continuing our multiplication and division learning after half term, therefore I encourage you to be using Times Tables Rockstars at home to help with the 2s, 5s and 10s facts. Thank you for all your hard work this half term and I hope you have a happy and healthy break!