We have had a busy week in Reception! Our focus this week has been learning more about The Easter Story. We have learnt more about why this time of year is important to Christians and what things might happen over the Easter period.
We used repeating patterns to decorate eggs and Easter cards. We also used natural materials to create a cross.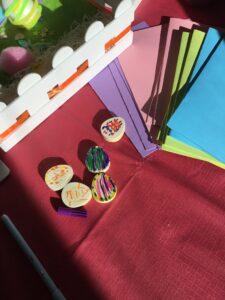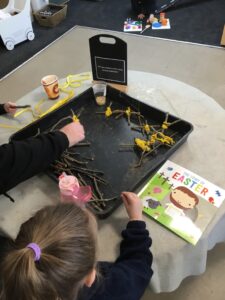 In our maths sessions we learnt more about sorting different items. Did you know there are so many ways to sort things. One of our favourite ways was to sort our class by age. We found out that some people in our class are 4 and some people are 5. Some people are a little older than that too!
Our grass heads have started to grow hair! We are very excited to see what they are going to be like when we return from the Easter break.
Our poem this week was also about seeds and growing. We hope you like it.
A huge thank you to our lovely school PTA who organised a very exciting egg hunt for us this afternoon. We loved hunting for rabbit foot prints and our prizes look very yummy!
I would like to thank everyone for their support this term. It has been an exciting term of learning. I hope you all have a wonderful Easter break and fingers crossed the sun will shine for us a little!
Mrs Payne