Welcome back!
We hope you all had a wonderful Easter break and enjoyed the sunny weather! This term our topic focuses on 'Life on Earth'. Our focus story is all about a ladybird who isn't very happy but realises that it is much better to share than fight with our friends.
We have enjoyed lots of outdoor learning this week. We had a walk around school to see which mini beasts we could find. We talked about the different places we might find them. We were very excited when we reached the pond area to find lots of tadpoles in there.
We thought about different places bugs might like to live and if they ever go on holiday? We decided to create some bug hotels! We were very excited when Mr Atkins gave us a demonstration on how to safely use hand drills and screwdrivers to create our own bug hotel for outside.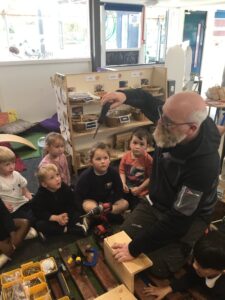 We have been exploring different materials to create some models. We really enjoyed using clay and exploring different ways to create joins.
I bet you have all been wondering how our grass heads are doing. Well over the holidays they all grew hair! It was so exciting to come into class and see our new friends. We decided that they needed a visit to the salon and practised our scissor cutting skills by giving them a hair cut!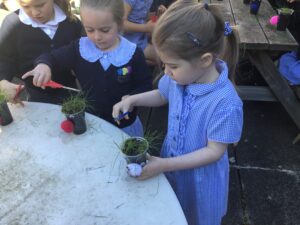 Our poem this week was called 'pitter patter'. We hope you like it.