This week in Living and Learning, we have been looking at the importance of sleep.
We thought about all the things we already knew about sleep. We wrote this on the board in red, blue, and green pens. We already knew that sleep was important for both our minds and our bodies. We later went back to this and added our new knowledge in pink.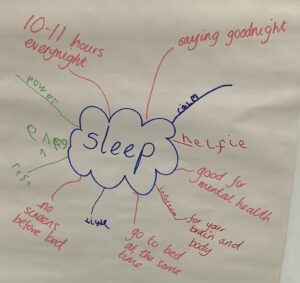 We heard about a little girl called Mia who struggled to go to sleep one night after a very busy day and rushing straight to bed. We talked about what was good to do before bed and what wasn't. We sorted things into two piles.
Later, we thought about our bedtime routines and planned a new bedtime routine for Mia. We decided that a super bedtime routine would possibly include:
screen times going off an hour before bed
going to bed at the same time each day
brushing our teeth
having a story
staying goodnight to our family
Help at home
Talk to your child about what they find most helpful during their bedtime routine. See if they would like to include something new, if they need it, in their bedtime routine to help them get to sleep.