This term, in Science, we are thinking all about plants! So far, we've discussed what bulbs and seeds need for healthy growth.
"They won't grow without soil because then they wont get the nutrients that they need."

"They will grow best with water and soil and light."

"They won't grow in the dark because the light gives them a warm temperature to grow."
We are observing over time and looking for changes in growth of our onion bulbs. Here is how they are looking two weeks after planting: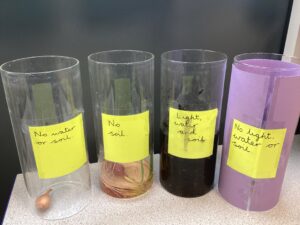 We were shocked to see that the plant growing with no soil is germinating! Ask your child what this means.
This week, we've planted our own radish and lettuce seeds.