We hope you all enjoyed the bank holiday weekend! This week has been actioned packed in Reception. Our focus story has been 'Rumble in the Jungle' we have loved exploring the different rhyming words and creating movements to match the animals.
We have been creating our very own rainforests using a range of different materials. In construction we thought of bigger objects we could use, whilst in our creative areas we used different paints to create different trees and animals.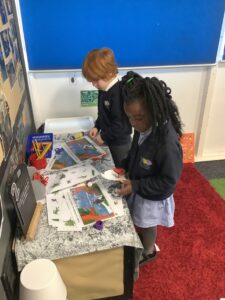 We have used our computer skills to find out facts about different animals that live in the rainforest. We then turned these into our own animal fact files!
We have began a special project! We are learning to sew! This week we have thought about the shape of our animal hand puppets and learnt how to threat the needle. We are using running stitch to stitch the two parts together. Please keep a watch out for how these develop next week.
Our caterpillars are getting quite large now! It will soon be time for them to start the next part of their lifecycle into a butterfly.
School is closed on Monday 15 May for a staff training day. We can't wait to see you all back in school on Tuesday 16 May.