This week's bible story
David and Jonathan: 1 Samuel 18-19
Friendship is a precious gift. Everyone wants to have friends. If we are fortunate, we will have a group of close friends, people with whom we can share our lives. However, sometimes, things go wrong. There can be disagreements that lead to friends falling out and maybe not talking to each other altogether. When David was a young boy, he had been told that one day, he would be the future King of Israel. As he grew up, David became famous for defeating the giant, Goliath, and for being a skilled soldier. He also wrote many songs that are recorded in the Book of Psalms in the Bible.
When David was a boy, a man called Saul was the King of Israel. Saul had a son who was called Jonathan. David and Jonathan became great friends. One reason was that Saul (Jonathan's dad) was the present king and David was going to be the future king. David was also a great soldier and King Saul became very jealous of him! Another reason is that, if the usual practices were followed, Jonathan would have followed in his father's footsteps as the future king – not David! Jonathan had a good reason to be jealous of David!
Reflection:
It would have been very easy for Jonathan to be jealous of David. Instead, he always protected him – sometimes, even saving David's life!
How do we treat our friends?
Do we get jealous when they are successful or if they are better than us at something?
Or do we encourage them? Do we stand up for them? Do we feel happy when something good happens in their lives?
In David's case, he really did get by 'with a little help from his friend'.
Prayer
Dear God,
Thank you for friends whom we can trust.
Thank you for friends who stick with us when we need them.
Please help us to be a friend to anyone in need.
Amen.
Maths – place value and counting
We've been counting forwards and backwards from different numbers. We use a 100 square, number lines and songs to help us.
We have also been using a range of models to represent numbers.
We use real life examples to demonstrate how 10s and 1s can be used. Here we have 12 pens made up of one pack of 10 and two ones.
By seeing and making a range of representations, children are able to secure a deep understanding of numbers.
Most of the following representations focus on partitioning (splitting up a number into parts) a number into tens and ones.
The middle box on the bottom row shows 12 being made by cubes. The second picture in that box is to show how the cubes can be drawn. Children find it far quicker and easier to draw a long line to represent a ten than drawing a rectangle that is divided into ten squares.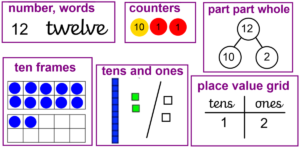 Use these at home to support your child's learning.
This week's bible story
Zacchaeus is friends with Jesus: Luke 19: 1-10
In today's story, we hear about a man called Zacchaeus. He had always been a loner. He had never had as much as one friend. Not surprising, really. He had lived most of his life as a cheat. It was easy. Just demand more money. That was the beauty of his job as a tax collector. People were a bit afraid of tax collectors. You would not want to get on the wrong side of a tax collector, especially one like Zacchaeus.
He was a small man, was Zacchaeus. Perhaps he was bullied or laughed at. Sometimes people get picked on by others – the tall ones, perhaps, or the short ones, or ones with straight hair, or ones with curly hair, or ones with the wrong clothes. People are certainly not born cheats.
Or perhaps Zacchaeus just thought that money could bring him happiness, or friends. Or maybe he was just a rogue!
One day Zacchaeus was out and about in the streets of Jericho. He heard people talking about Jesus. All excited, they were, that Jesus was going to be passing through their town that day. Read the story to find out what happened to Zacchaeus.
Reflection:
Zacchaeus was a man with a hard heart and no friends. We don't know why, but Jesus cared for Zacchaeus. Jesus also believed that Zacchaeus had some good in him, if only he could be persuaded to change his ways. Zacchaeus mattered to Jesus, and Jesus' friendship was able to change how Zacchaeus acted. Think about yourself and your friends. Are there any ways in which you can treat people that might help them to become friends?
Prayer
Dear God,
Thank you that you know us and that you care for us.
Help us to be kind and generous to other people,
like Zacchaeus after he met Jesus.
Amen.
Living and Learning: 8Rs for learning
During our Living and Learning lesson this week, we looked at the 8Rs for learning. The children had some great ideas of how they show the 8Rs in school and we recorded some for our Living and Learning classroom display.
Lily said "We show we are ready by coming in from break time and sitting smartly on the carpet".
Chloe said "We reflect by thinking about something we have done before".
Christian said "We take risks by putting our hand up and having a guess".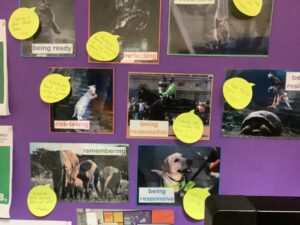 These are our 8Rs for learning:
Risk taking
Talk about the difference between a safe and unsafe risk. At school, we want your child to take a safe risk by having a go at answering, even if unsure; trying something new and attempting harder learning.
Responsibility
Provide time and space at home so your child is able to organise themselves: their PE kit, reading book, homework, spellings and tables… Don't organise everything for them!
Responding
This could be responding to their teacher in class or responding to feedback in their learning.
Ready
Make sure your child is at school on time for a prompt start.
Make sure your child has had plenty of sleep so they are alert and ready to learn at all times.
Encourage your child to ask lots of questions – that shows they want to learn!
Resourceful
Encourage your child to be organised so they can play with a range of different toys.
Encourage your child to try new ways to solve a tricky problem.
Resilience
Encourage your child to keep going! Set a tricky challenge or puzzle for your child to do.
Encourage your child to think of different ways of doing things.
Don't let your child win when they play a game – they need to experience losing, too!
Celebrate mistakes as opportunities to learn – be happy that your child found some learning hard and encourage them to 'bounce back' and learn from the experience.
Remember
Make sure they have time to learn spellings and times tables – a little practice daily is best.
Play memory games:
Kim's game: show them objects for 30 seconds… can they remember all the objects?
Can they build up the sequence, 'I went to the shop and I bought an apple'… 'I went to the shop and I bought an apple and a bike.'… 'I went to the shop and I bought an apple, a bike and a cucumber.' etc … Take turns!
Reflect
Talk with your child about what they've learnt, asking questions about how they learnt, why they learnt it, when they'll use their learning, how they would teach this to someone else, what learning might link with what they've learnt today.
Reading at home
Children will be bringing home a reading book this week. These will be changed once a week to minimise books moving between home and school.
Please return books to be changed on Wednesday. We will quarantine books before putting them back in the system.
The 'practise phonics' book (sticker on the front cover) is for children to work on their 'sounding out' of words.
Please comment on how your child copes with the books as it may take us a little time to adjust and match books to each child. Year 2s will gradually move away from phonics books and have more freedom to be 'free readers' – reading whatever they choose.
Children will also choose a library book each Friday. Please bring your library book back each Friday if your child would like a different one.
Help us help your child by reading anything and everything you can.
THANK YOU!
First days in Year 1/2
The children have come back to school full of enthusiasm and excitement. After a few nerves, we're all starting to get used to the new routines. We are enjoying reading Lost and Found by Oliver Jeffers as it has opened up discussions about our feelings and looking after each other. Ask your child about any new friends they have made or old friends they have enjoyed seeing again.
See you soon!
We're looking forward to meeting you this week and thought it would be a good idea to introduce ourselves. Although we were lucky enough to meet some of you in July we have not met everybody in Year 1 and 2 yet!
My name is Mrs Flynn. I will be teaching you on a Monday, Tuesday and Wednesday. When I'm not at school I enjoy baking and going on bike rides.
My name is Mrs Palmer. I will be teaching you on a Thursday and Friday. I enjoy walking and cooking at the weekends.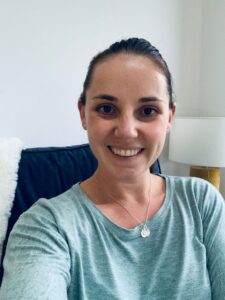 Our trip to the park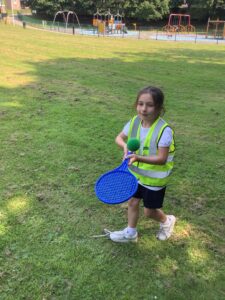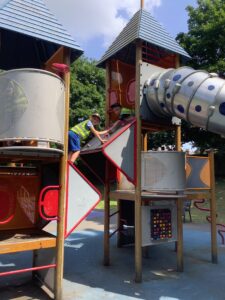 Maths : add, subtract, multiply, divide
This term, we have been working on the four operations (addition, subtraction, multiplication and division).
Year 1 children have been doing lots of practical maths, showing calculations in different ways (multiple representations) and writing fact families (calculations that can be grouped together).
Year 2 have looked at multiplication and division in the same way.
Living and Learning : I know what consent is
We talked about consent (giving permission) in our recent living and learning lessons. In young children, it is all about respect and their relationships with family, friends and peers. We model asking children's consent before we take their photograph, for example, or show their work under the visualiser in class. It is important for children to know they can say 'no' if they don't give their permission.