Hand to Mouth visit
Last week, we were lucky to welcome Hand to Mouth back into school. Hand to Mouth is a Christian charity that come into schools to work with children to explore Christianity and their own spiritual journey.
Throughout the day, Years 3, 4, 5 and 6 visited a journey where they could explore 'Christianity as a living faith'. The children visited the journey in pairs and explored different stations throughout.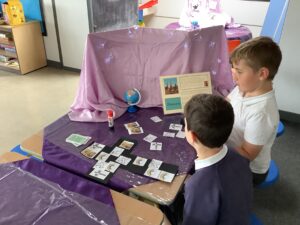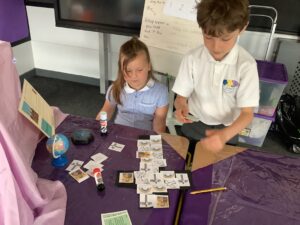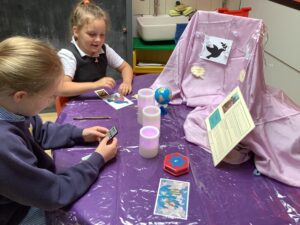 Throught the day, each class had a visit to learning about different aspects of Christianity as a living world faith.
In foundation, they learnt all about African worship. In the session, they made our very own Kufi Hats and danced around the classroom to some African music.
In year 1,2, they learnt all about different churches and got to make their own church.
In year 3,4, they learnt what worship was and how different this can look around the world.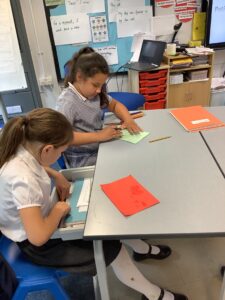 In year 5,6, they learnt all about justice and what this entailed.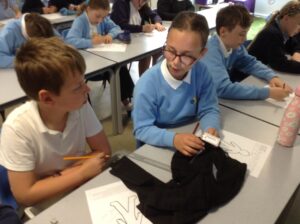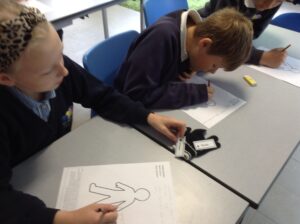 Living and Learning : Body image
We've been talking about all of the exciting things our bodies allow us to do. We enjoyed listening to this story.
I play football with my body.

My body lets me hold hands.

Skin can heal.
Our bodies let us know what they need to stay well and feel good but they don't use words to talk to us. They use feelings. They send us messages about what they need through the way we feel.
My tummy grumbles when I am hungry.

When I feel tired, I go to sleep.

It hurts when I feel sad.
Science
This half term, our Science learning is 'Animals including humans'.
In the coming weeks, we will be learning the following vocabulary:
mammals
amphibians
reptiles
birds
fish
carnivore
herbivore
omnivore
body parts
Watch these informative, funny videos from BBC Bitesize with your child and see how they get on with the quizzes, too.
We have already begun learning about how to classify animals. We sorted all of the animals in groups, looking for features such as fur, beaks, gills, webbed feet and more.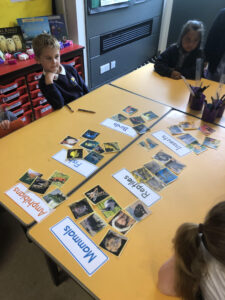 11 June 2021
Year 1
This week's spellings for Year 1 are words with the /f/, /l/, /z/, /s/ and /k/ sounds at the end. They are usually spelt with a double consonant at the end of words : ff, ll, zz, ss and ck.
off
huff
well
hill
buzz
whizz
miss
boss
back
duck
Year 2
This week's spellings are more common exception words for Year 2. These are words that don't follow the usual spelling rules.
plant
poor
pretty
prove
should
steak
sugar
sure
told
water
Reading and writing
This week, we have been learning about Aesop's Fables. Our reading fluency text has been The Tortoise and the Hare.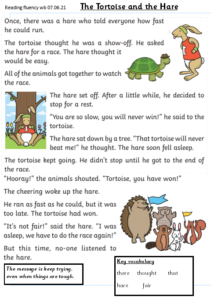 We talked about the message in the story and looked at some key vocabulary. Next week, the children will read and retell the story, draw a story map to help them remember the sequence of events and do some independent writing.
Help at home by asking your child if they can tell you the story of The Tortoise and the Hare.
Design and Technology
This half term, we are starting our next topic which is all about Design and Technology.
During this topic, we will be exploring and evaluating a range of existing products, designing functional and appealing products based on given design criteria and then making the product by selecting from a range of tools and equipment to perform practical tasks (eg cutting, shaping, joining and finishing).
Throughout the topic, we will look at key questions. What is a structure? Which design is the best? How can we make it stronger? Is it fit for purpose?
Here is a list of some of the vocabulary that will be taught in the coming weeks.
Living and Learning : Drug education
Our Living and Learning discussions have focused on drug and alcohol education. We have talked about what we put into and on our bodies and why. We discussed these scenarios in class. Ask your child what they would do in these situations.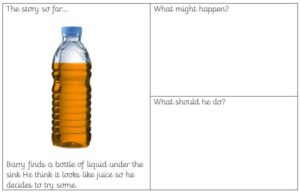 Wonderful Writing
Over the past few weeks, we have thoroughly enjoyed reading 'Ollie's Magic Bunny'.
We came up with actions to remember the story in order. Children drew their own story map, listed the key vocabulary and then finally wrote the story.
I was so proud of all the children for their fabulous efforts. I saw some wonderful writing in Year 1 and 2. Here is a little sample of what the children achieved.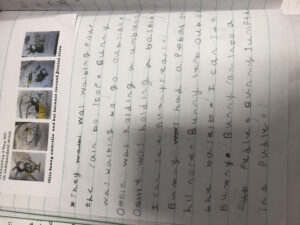 Ask your child to re-tell the story with the actions they learnt in class.
Skipping into summer with Skipping School
We have launched a whole school skipping project with Skipping School. Each class has their own class set of ropes and we also have long ropes for every class too. The children are so enthusiastic about it already. There are some tutorial videos below so you can work on your skills at home too!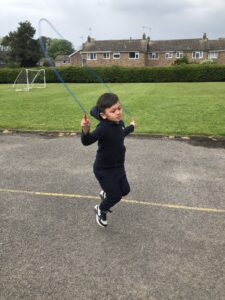 Living and learning : health and prevention (hand washing)
We have linked our Living and Learning lessons to our computing topic – particularly algorithms.
We talked about how washing your hands is an algorithm. You have to do each step in the right order for it to work. We all know how important washing our hands is!