The ten best ways to live.
We had some special visitors in school today. A charity called Hand to Mouth came in to talk to us about an exciting story. We learnt about God's ten best ways to live which are also called the Ten Commandments. Take a look at a few photographs from our session.

Fabulous homework
We had some brilliant homework projects this week, but there was one that stood out. One of our pupils created a masterpiece to  express his talents.
He loves to play football and he likes to make models.
The attention to detail in this model was brilliant. Very well done!
Leeds Art Gallery
Year 1 and 2 have had a super exciting day today. We visited Leeds Art Gallery and we saw lots of different kinds of art. There were many artists who had a variety of skills. Leonardo Da Vinci created some amazing pieces.
Ava shared that she loved the way he had used shading.
Dexter explained that Leonardo's art showing the anatomy of a human looked so realistic that it made him feel shocked.
Mikey liked the way in which Leonardo used his maths skills when measuring up the length of a horse's leg.
We love colours!
Look at our amazing colour mixing skills. We've been learning all about primary colours and the processes we can go through to make new colours. Take a look!
Living and Learning: I can say something good about myself.
The Living and Learning statement this week is " I can say something good about myself". During circle time the class took turns to tell Bob the Bear something good about themselves. Below are some of the things that some of the children said.
Kara shared that she tries to help people when they need help and Eliza described herself as helpful. Leah tries to help people even if they are not her friend. Mikey told us that he is nice to his sister. Daisy feels that she is good at knowing what to use to help her learn.
World Book Day 2019
We have had a great day today. We have looked at lots of different books and reviewed them. This afternoon we took part in a whole school competition to cover our classroom  doors with our favourite story. Take a look!
Watch us while we work.
This afternoon we worked on some learning tasks with our parents and carers. The learning jobs we had a go at were activities that we could do at home to practise some important skills. There were spelling activities and number bond jobs along with some multiplication tasks. Take a look.
Dinosaur Drawings
We have been working really hard during our art lessons to perfect our drawing skills. We have been focusing on using different types of lines and shading.
We started off thinking about shapes that we can use to make drawing easier for us. We then use this knowledge to sketch our lines carefully to mimic the shapes of the dinosaurs.
Check out our amazing progress!
Leeds Playhouse Workshop
This afternoon, we had an exciting visit from Leeds Playhouse. The workshop was based on our class novel – Katie and the Dinosaurs. Using our creative minds we put ourselves into the shoes of our story characters. We walked through a magical door to the land of the dinosaurs.
Survival skills were essential in preparation for our journey with the dinosaurs.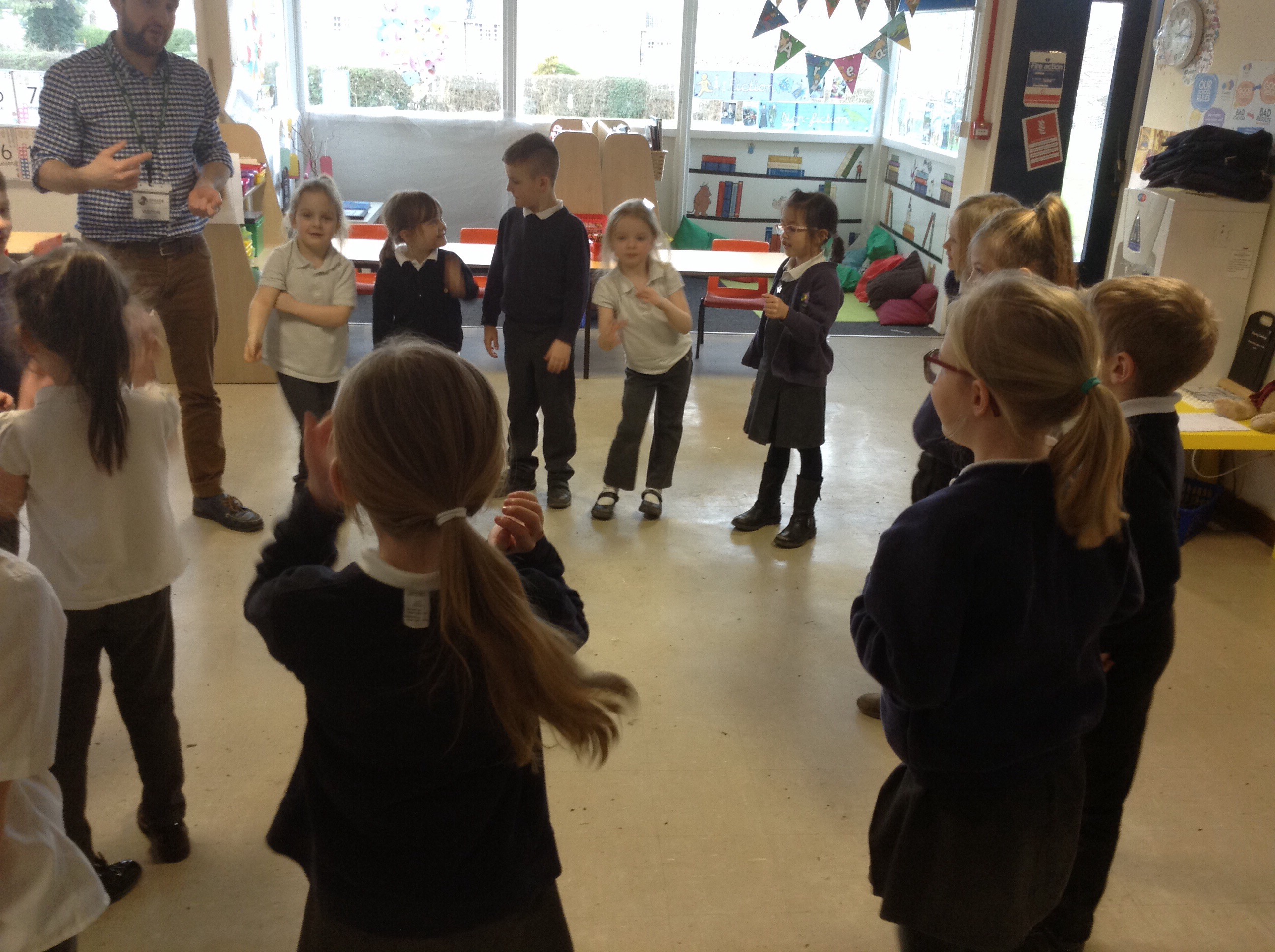 Our senses helped us to become immersed in the magnificent jungle where the dinosaurs roamed.

This was a brilliant experience that will help us to add more excitement to our writing.
Living and Learning: I can make safe choices.
Our Living and Learning statement this week is about being safe. In our living and learning lesson we talked about strangers – most are nice but some are not.
We discussed how to identify 'safer strangers' so that children are able to make a safe choice about who to approach if they find themselves needing help.The class agreed that 'safer strangers 'wear a uniform and an identity badge. We looked at some examples; Police officers, Doctors, Nurses, Paramedics and shop assistants.
After looking at some pictures of safe situations and unsafe situations, the children sorted their pictures according to whether they thought the situation on the picture was safe or not.  Some of the things we looked at were safety in the kitchen, safety with plug sockets, safety in the playground and scissor safety. The children were very good at identifying which situations were safe.