Safety week
We have had lots of exciting visitors this week. Our focus was how to make safe choices and look after ourselves.
We learnt about staying safe around strangers as well as safety at home and in school. Road Safety was also covered by a workshop that explained how we should behave on the road.
The NSPCC brought buddy in to see us and we found out about or right to speak out. We also learnt the Childline number song.
Dogs Trust came into our class with Peg. We found out about dogs and how to read their behaviours.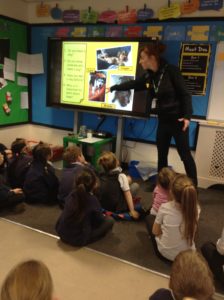 D-side taught us all about our own bodies and what we need to do in order to look after them. We talked about a healthy diet as well as how sleep can affect our leaning.
This has been a very informative week and we will continue to think out making safe choices.
Staying Safe: Road Safety
This morning, the road safety team from Leeds City Council came to visit us to tell us all about crossing roads safely and how important it is to always wear a seat belt.
It was great to see that so many of the children already knew lots of ways to stay safe on the roads – nice one, Foundation and Y1 & 2!
Year 1/2 Library visit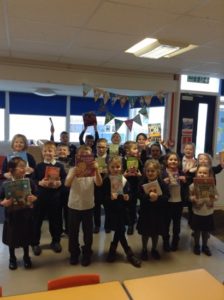 We had an exciting afternoon in year 1/2. Our class visited Wetherby Library today and we returned our books. We each chose 2 books that we would like to read. Eliza rushed straight over to the history section to find her perfect book.
She said, "I love history, so I know that I'll love this one. It's about 100 women who changed history."
Jack found a lovely poetry book as he shared that he "loves reading rhymes".
We are looking forward to reading all of our new books.
Living and Learning: I know what a drug is.
Our Living and Learning statement this week is 'I know what a drug is'.
We talked about what a drug is and then discussed lots of things that go into our bodies. They were added to the outline of a person and then as a class we chose one to discuss. We talked about injections and whether they make us feel good. We decided that injections given by a doctor or nurse don't feel good but they are good for us because they stop us getting ill. In pairs, the children were given pictures of things that go into our body and had to discuss whether they are good or bad (harmful) for our bodies. We then discussed the answers as a class.
Super Mathematicians
This week, year 2 are learning all about their times tables.
We have learnt how to work out our 2 times table, 5 times table and 10 times table.
Now, our challenge is to know these off by heart! Without thinking or working out the answer!
A game we enjoy playing to help us do this is Hit the Button. Click on the name of the game to play. It's free and will help us with our learning!
Living and Learning: I can make things better.
This weeks living and learning statement is 'I can make things better'. We talked about the different things that this might mean.
Jack  suggested that, "We can try and help school be better by tidying up after ourselves".
Brooklyn said that, "We can make school better by not throwing rubbish on the floor and by making good choices".
Harley  thought that we could make other people feel better by asking if they are okay or asking them to play.
Dexter felt we could  make learning better by making good choices.
Leah said, "We can make arguments better by trying to calm them down".
We discussed how to make things better when we  have had an argument or upset somebody.  Eliza said, "You can tell them you don't want to fall out".  Dexter said you could say sorry.  We then talked about how you have to show that you are sorry as well as saying that you are sorry. This might be by doing something nice for that person or as Harley suggested – "Not doing it again".
Living and Learning: I know love is important
This weeks living and learning statement is "I know Love is important".
We talked about this being about showing love to ourselves, others, God and the world.  We talked about showing love to others by doing things to help them and by putting them before ourselves.
We had a discussion about how we could do this. Here are some of our ideas:
Willow- If somebody went to the shop and there was only one pair of shoes and we both wanted them, I would let them have them.
Jack – If somebody wanted to go in the net at football, I would say you go in the net for the first half and I'll go in the net for the second half.
Ellie- let somebody go on the slide first.
Brooklyn – If there was just one ice-cream, I would let someone else have it.
Harley – If someone was at my house and I only had one bike, I would let them take turns with me.
Eliza – If someone at home was poorly, you could help them do the chores.
Leah – If the grown-up is busy and you have a pet or a baby, you could feed them.
Living and Learning: I respect my community and other communities
Today we talked about the living and learning statement 'I respect my community and other communities'.
We talked about what a community is and how we can show respect to our community and to others. Jack told us that we can respect the community by keeping it tidy and throwing rubbish in the bin. Brooklyn and Willow told us that we have to look after the things in the community and not break them.
We talked about needing to respect people in our communities and in other communities.  Leah told us that some communities might have a different language to ours and that we need to respect their language.  We made posters about how to respect or community and other communities.
Living and Learning: I respect myself and others
In our Living and learning session, we talked about respecting ourselves and others.
Some of the things the children said about things we can do to respect others were:
Willow: 'Listen to others.'
Jack: 'If you wanted to show respect, you could be ready for learning at the right time.'
Brooklyn: 'I was respectful when my friend fell over and I helped him.'
Mikey added that it would be disrespectful to laugh if somebody hurt themselves.
Ava: 'If somebody's talking you need to wait. You talk when they stop talking.'
Eliza: 'If somebody needs help, help them.' We discussed this and decided it would be disrespectful to laugh at somebody or make them feel bad about not being able to do something. We should be encouraging and offer them help if we can.
Ellie – 'Say please and thank you.'
Mikey – 'Telling the truth.'
We also talked about respecting ourselves by making healthy choices and looking after our bodies and by having good thoughts about ourselves and making good choices.
Cricketing superstars!
Year 1 and 2 have had an experience of cricket: they enjoyed a cricket workshop from Chance to Shine.
The children learnt new skills from their coach including how to catch and how to hit a ball using a cricket bat.
Here are some pictures of our workshop in action.