Adjective Day!
The children have had a fantastic day dressed as adjectives. We have had children dressed up as sleepy, lethargic, sporty, spotty, pretty, beautiful, exhausted, spooky, scary and many more! We used the adjectives in our writing. The year 2's were challenged to use two adjectives separated with a comma. They used their own adjective and a friends adjective to make a sentence.
"The spotty, sleepy girl was not very well."
"I can see a spotty, blue jumper."
"The magical, colourful unicorn was jumping in the sky."
We also sung the following adjective song to help us remember what an adjective is.
Adjectives can tell you more
About a noun and that's for sure
Ad-jec-tives
Well done, Year 1 and 2. What a fantastic adjective day!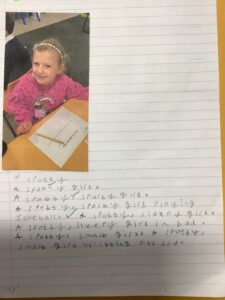 This week's bible story
How much can we remember?
Let's start by asking ourselves some questions about today.
– What did you do as soon as you got out of bed?
– What did you eat for breakfast?
– How did you feel when you got to school this morning?
Next, let's think about last weekend.
– What did you do on Saturday afternoon?
– What did you eat on Sunday?
How about last week?
Have you noticed how it becomes more difficult to remember events the further back in time they are?
These events may have happened quite a long time ago, but they are remembered because they were fun. Happy times tend to stay in our memories for a long time.
Sad times can stay in our memories for a long time, too.
Click the link to read all about Remembrance day and why we remember.
Reflection:
Have a look at the pictures of the poppy. Think about why wearing a poppy is important to people. Wearing a red poppy means, 'We are remembering together.'
Prayer:
Dear God,
Thank you for the many happy memories that we have.
We are sorry that some people have sad memories at this time of year
As they remember those who have died for our country.
May we wear our red poppies with love and compassion,
And may we remember and be thankful.
Amen.
08 November 2021 – Adjective Day
We are learning more about the functions of words. Hopefully, your child has been talking about nouns already! On Monday 8th November, we are going to have an 'Adjective Day'. The children will be asked to come in to school dressed as an adjective. The adjective can be as simple or as adventurous as you like. Please ensure that your child is aware of the word meaning and feels confident in sharing this with the class. There are lots of ideas if you search 'adjective dress up day' on the internet.
Please do not go to the expensive of buying anything new and have fun creating your adjective outfit! Their outfit needs to be suitable for school, safe and warm enough for them to wear all day.
This week's bible story
A persistent builder: Genesis 6:5-22
God gave Noah a pretty big job; God asked him to build a huge boat. Even though he didn't live near a lake or ocean, Noah persevered in finishing the job that God gave him.
Someday, God might give one of us a hard job to do, too. God might ask you to be friends with a kid who everyone else is choosing to ignore. He might ask you to forgive a brother or sister who teases you every day. God was pleased with Noah's perseverance, and God will also be pleased with you when you persevere in doing what is right.
Reflection:
What is the biggest project that you have built out of Lego, wooden blocks or something else?
How long did it take? Did it take much perseverance to keep going and finish the project?
What would have happened if Noah had given up and left the ark half built?
Prayer:
Dear God,
There are times when we face some hard challenges. Sometimes those challenges seem so big for us to do and to finish. Help us to persevere and remember that we can do it.
Amen
This week's bible story
The Good Samaritan: Luke 10: 25-37
Today, we're thinking about how we treat people and reminding ourselves that we should never bully or intentionally hurt other people. First, think of some kind things that you could do today. Second, think of some things that you should not do today because they would upset other people.
Hopefully, many more of the kind things than the unkind things will happen today. Next, read the Bible story about someone who got hurt and think carefully to see who did and who did not help him.
Reflection:
In the story, someone had been badly hurt, or bullied, but only one of the three people who came by helped him. I wonder what we could learn from that story about how we treat other people, especially those who are feeling hurt or upset.
Think about these two suggestions for how you could help.
The first is that, if you see someone who is hurt or upset, don't just ignore them – either go and help them yourself or fetch an adult who can help.
The second is to be prepared to help anyone, not just someone you like.
Prayer
Dear God,
There are times when we need help from others and times when others need help from us.
Help us always to be ready to help each other, even people we don't like, just as Jesus taught us.
Amen
English: Poetry
This week in English, we have been looking at poetry. We are still enjoying our class novel The Enchanted Wood by Enid Blyton so we looked at a poem called Enchanted Lands. We found some rhyming words and had a go at learning the poem off by heart. Together we thought of some actions to help us to remember the poem.
Can your child remember the rhyming words? Can they recite the poem to you with the actions?
Where in the world am I?
Our topic this term is 'Where in the world am I?' – Geography. Today, Year 1 and 2 have been 'Geographers' whilst on a walk around the local area.
Challenge! Ask your child the definition of any of the following key vocabulary words. Can they tell you the definition?
| | |
| --- | --- |
| atlas | a collection of maps, usually in a book |
| city | a large town |
| compass | a tool for finding direction |
| locality | an area or neighbourhood |
| landmark | an object |
| physical geography | physical geography looks at the natural things in our environment |
| human geography | human geography looks at the changes in the environment by humans |
| to survey | to find the opinions of a group of people by asking them questions |
| issue | an important topic or problem that needs discussion |
This week's bible story
Our friendship with Jesus: John 15:12-15 
Jesus calls us his friend and He wants to be in a relationship with us. In the Bible, we see the friendship of Jesus and his disciples develop. Although their intent was to serve and follow Jesus as Master, He calls them friends. Jesus' love and sacrifice for those He walked with is the ultimate example of a relationship. Though we may show it differently, we show our friends how much we love them by the actions that we take.
Jesus calls us friend and He wants to live in a relationship with us. This means that He wants us to get to know Him and He wants us to share our lives with Him – every joy, every care, every hurt, every triumph.
Reflection:
We show our friends we care by the actions we do and how we behave towards our friends. Think about how you can show your friends you care this week and how you can share your week with them.
Prayer:
Dear God,
Thank you that we will always have a friend in Jesus. Help us to be good friends to our friends and show them that we care about them.
Amen
Science
In Science we have been identifying materials. We have been investigating which materials would be the most suitable to make a tent. The tent needs to be strong and waterproof. We tested fabric, plastic, tin-foil and tissue and recorded the results.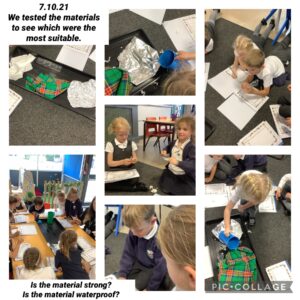 We found out that plastic is the most suitable material as it is strong and waterproof.
Living and Learning: mental health – understanding our emotions
This week, we have been learning how to recognise and describe different feelings in ourselves and others. The children were able to name a range of emotions/feelings and talk about times they had felt them themselves or recognise a feeling in a friend.
"When I was in Reception and I was going to come into Year 1, I felt nervous," said Alba.
"I was amazed when my mummy set up a surprise for me," said Emily.
"At lunch time I noticed my friend was feeling sad so I gave them a hug and I played with them," said Kiara.
Afterwards we acted out some of the emotions. We thought about where in our body we might experience the feeling. What might happen to our face when we experience the feeling. What might happen to our body when we experience the feeling.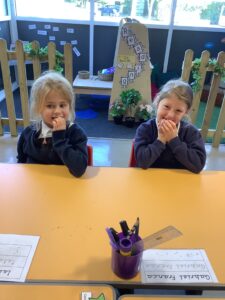 When we are anxious we might bite our nails.
When we feel nervous we might feel funny in our tummy.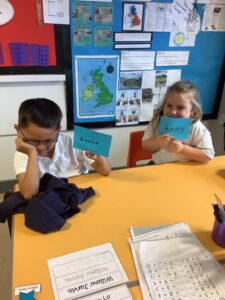 When we feel bored we might put our head in our hands.
When we are feeling happy we might have a big smile on our face.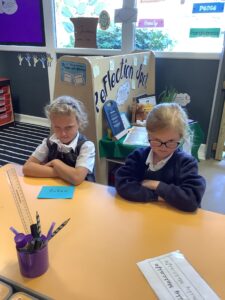 If we feel angry we might cross our arms and scowl.
We all practised experiencing a range of emotions.