Living and Learning: I know some basic first aid
Last week, we discussed what to do in an emergency. The children came up with different ideas about who they would get to help them in an emergency situation.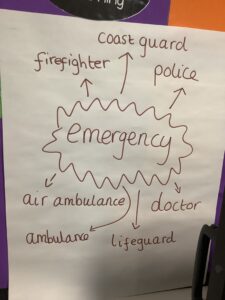 We discussed how we can call 999 to get the help we need.
This week, we explored first aid and attitudes towards first aid and helping others.
First, we discussed what is mean by first aid. We decided it was the first help given to someone who is ill or injured and is in need of help/aid. Next, we read some statements out loud and the children had to decide if they agreed or disagreed and we shared our opinions.
For example
"a. I would know how to help someone in a first aid situation.
b. It's important to know first aid.
c. People should always get the help they need in a first aid situation. "
Happy Easter
Our week began with a visit from some beautiful farm animals and the children really enjoyed the opportunity to see them up close. The children particularly enjoyed stroking the animals.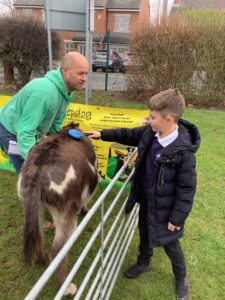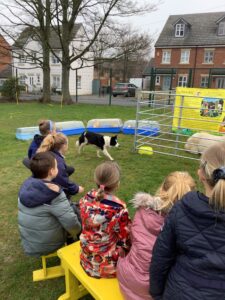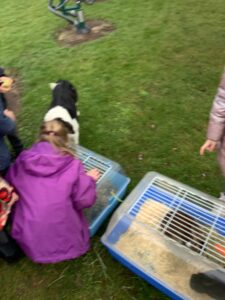 Our oracy target this half term has been clarity of pronunciation. The children have been practising reading their poem using a clear voice and voice projection. On Thursday, at the Easter Service all the children did a fantastic job reading their parts of the Easter poem.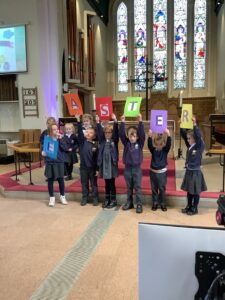 Today, during PE we did some Easter yoga. Afterwards, we made an Easter basket and a chocolate crispy cake.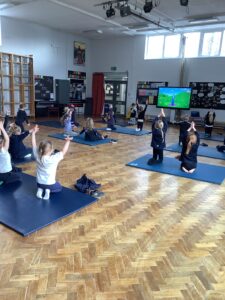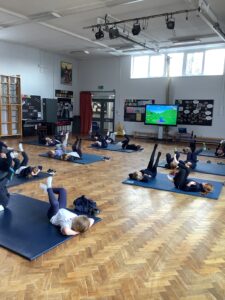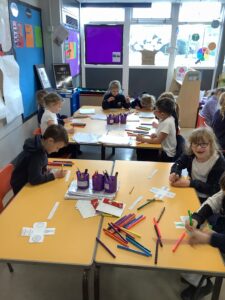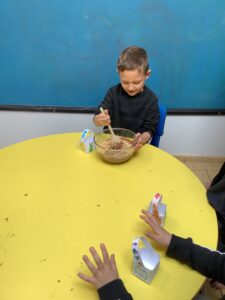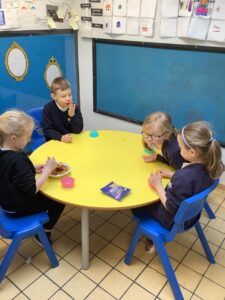 We hope you all have a wonderful holiday. Take care and we look forward to seeing you all on Tuesday, 19th April.
Easter egg competition
It was great to see how creative the children had been when decorating the eggs. There were some amazing ideas – it made the judging very difficult! Well done.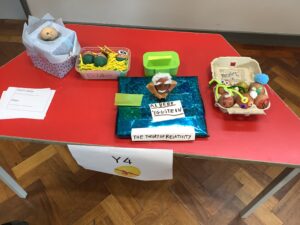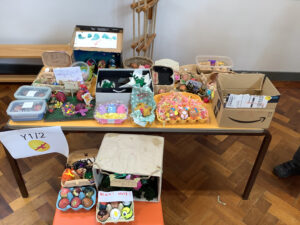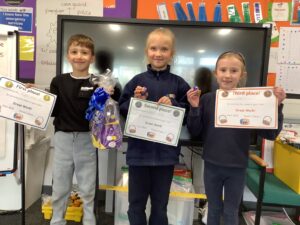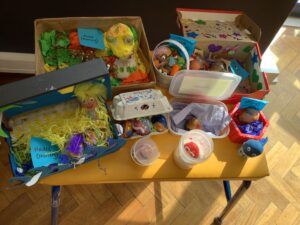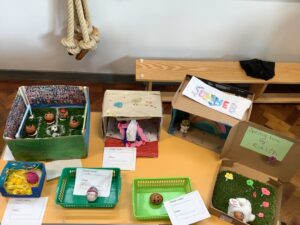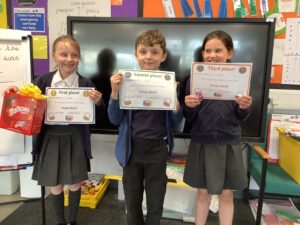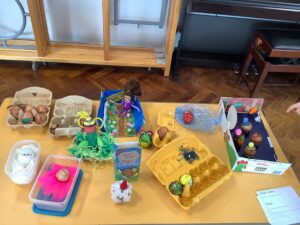 This week's bible story
Jesus is friends with Zacchaeus: Luke 19: 1-10
Have you ever heard the story of Burglar Bill – Bill goes out every night. Getting into houses through open windows and taking things. Until one night, Bill found a baby, and that changed his whole life …
There is a Bible story about a man who stole from other people. He took extra money when he gave them their tax bills and became very rich on all the money that he stole. Zacchaeus was a little man and that small people can't see in crowds. Read the story of Zacchaeus to find out what happened to him.
Reflection:
Jesus loved everyone when he lived on the earth. It didn't matter how bad people were, Jesus was always there for those who needed him. This is true for us too – no one is so bad that God doesn't love them. And the more time we spend with God – praying, thinking about him, finding out about him, the more we want to be like Jesus; kind, helpful and good. Just like Zacchaeus, Burglar Bill changed his ways and tried to be more like Jesus by loving those around him. Even though Burglar Bill and Zacchaeus made the wrong choice, God forgave them and continued loving them.
Prayer:
Dear God,
Thank you that Jesus loved Zacchaeus even when he wasn't making the right choices. Help us to love all of those around us.
Amen
Science: Microbes
We worked in groups to recap on some previous Science learning.
After, we continued our learning all about microbes.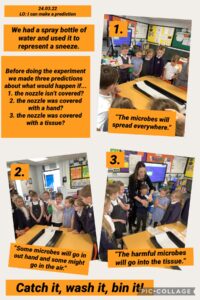 Non-Uniform Day
Thank you to everyone who donated some money on Friday to wear non-uniform. We raised £121.70! Half of the money raised will be donated to Comic Relief and half will be donated to the Ukraine Humanitarian Appeal.
This week's bible story
Peter's story (Based on Mark 8.27-38, Mark 14.15-72 and John 13.36-38)
Have you ever told a lie to keep yourself from getting into trouble? You don't have to answer the question out loud, just to think about it.
Have they ever let a friend down, rather than get into trouble? Again, don't answer outloud, just remember how it felt if they have.
In the bible, Jesus had 12 disciples – these were special friends of his that helped him. One of his closest friends was a man called Peter. Peter, even though he was Jesus' friend, was someone who did both of those things. Read Peter's story (Based on Mark 8.27-38, Mark 14.15-72 and John 13.36-38)
Reflection:
Why do you think Peter behaved as he did. Peter was confused: how could anything so awful happen to God's Special One?; his fear of arrest; his fear of the palace guards; his courage in following Jesus as far as he had; his loyalty to his friend despite his cowardice.
How do you think Peter felt when he heard the cock crow. Do you think he could ever be friends with Jesus again?
Jesus meet Peter again for the first time after he had risen from the dead. He asked Peter three times if he loved him, once for each time he had denied him (John 21.15-19). Jesus told Peter then that he would have an important part to play in telling the world about him; and he did – but that's another story!
Prayer:
Dear God,
When we are frightened:
Please help us.
When we don't know what to do:
Please help us.
When we are tempted to lie:
Please help us.
When we let our friends down:
Please help us.
When we are sorry and want to make amends:
Please help us.
Amen.
Year 1 maths: 3D shapes
This week, Year 1 have been learning about 3D shapes. We have looked at some common 3D shapes such as cylinder, sphere, cuboid, cube, square based pyramid and cone. We have been on a shape hunt around school to find some everyday objects that are 3D shapes.
We played a game of guess the shape in my feely bag. The children had to listen to the description given e.g. "my shape has a curved surface, and it can roll" and find that shape in the bag.
We have also carefully examined each shape and sorted them into hoops using two criteria e.g. shapes which do/do not have a square face. After the children were challenged to choose their own way to sort 3D shapes into two sets, using do/do not.
Help at home by encouraging your child to go on a 3D shape hunt around your house and listen to the 3D shape song.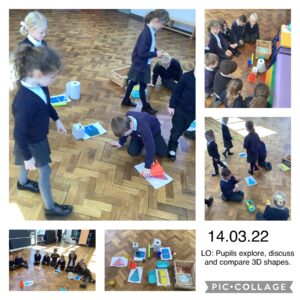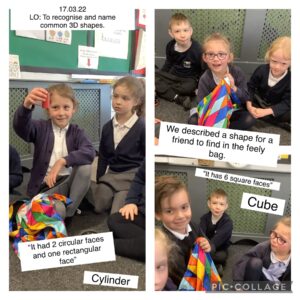 Reading with prosody
We have started talking about prosody in our reading practice sessions.
Prosody is the rhythmic and intonational aspect of speech that manifests as expressive reading. It comprises timing, phrasing and intonation, and helps to convey meaning and add 'life' to reading.
It is basically reading with expression.
We have been reading and talking about Owl Babies and trying to add prosody when reading certain sections. Ask your child to read this page with prosody.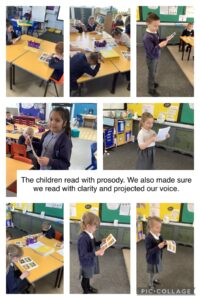 Science – microbes
We have been working scientifically in science this half term and also learning about microbes, linked to preventing illness and cleanliness.
We used pepper in a test today to represent microbes. We filled a dish with water. We put a stick in the water. It got wet! We then dipped the stick in a dish filled with water and pepper . The pepper stuck (like microbes do to our hands when we touch anything). Finally, we dipped our stick in a bowl of washing up liquid and water. When we dipped it in the water again, the pepper moved away like magic! There was a gasp from everyone! This shows us that microbes (that sometimes make us ill) do not like soap and that is why we use it to wash our hands.