Living and Learning: I use the 8 Rs to help me learn
In today's living and learning session, we recapped the 8 Rs of learning. Here is what we could remember about our 8 Rs.
We talked about being ready to learn by showing that we are listening and we have eyes on the speaker so we can follow the instructions given.
We respond to feedback. We have stars and cool class tokens to show when we have made a good choice. This shows learning behaviour that we should try to do again. Warnings show that we have made bad choices and we should not make the same choices again. Next steps give us feedback on our learning and how we can improve.
Resillience  – If we struggle with something we can "try, try and try again" just like our Christian Value perseverance.
Being responsible for our learning. It is our own responsibility to make sure we are getting on with our learning and to make sure we are not distracted by others. We need to make sure we have our PE kit and reading book in school.
We reflect on our learning. We thought about what we have done well and what we could improve on.
We remember what we have learnt and using this to help in other contexts.
Taking a safe risk involves putting our hand up and trying to answer a question when we think we know the answer.
Being resourceful is knowing what to use to help us or who to ask.
Travelling through time…
On Friday, Hobgoblin Theatre company came into school and took the children on a trip through time – from the stone ages up until modern day. Along the journey, the children learnt many fun facts about history including how Thomas Farriner starter the Great Fire of London and wiped out the plague as he did, how Henry VII had 8 wives and how the Vikings invaded Great Britain. After the production, the children participated in a workshop – learning to become actors and how to create freeze frames.
Here are some pictures and quotes from the children about their experience.
"After the show, I liked it when we moulded people into different shapes."
"I liked making statues."
"I liked the funny costumes."
"I like it when the actors told Jack to go and make them cups of tea."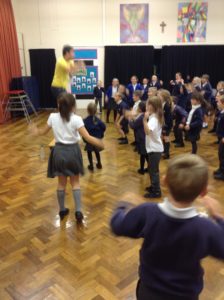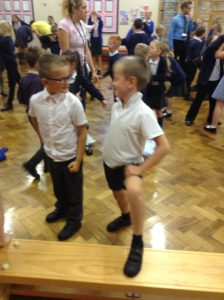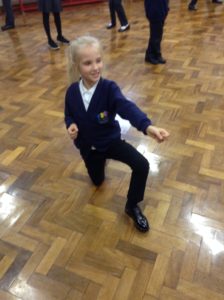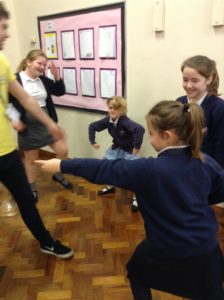 Living and Learning: reflecting on my learning and remembering what I've learnt.
In Living and Learning circle time, we talked about remembering our learning. We then talked about the importance of reflecting on our learning. We passed the ball around the circle and said something that is going well in our learning and reflected on something we would like to improve.
Here are some of the things we remember about our learning:
Facts from around the world.
Counting in 5s.
How to write the right way around.
Using capital letters and full stops.
Writing and phonics.
Counting in 2s, 3s, 5s and 10s.
Ordering numbers.
Time Travel topic – learning that chronological order is oldest to newest.
Using contractions.
Here are some of our ideas for how we would like to improve our learning.
Improve the size of my writing.
Writing on the line and using finger spaces.
Writing in full sentences.
Practising counting in 3s.
Joining my handwriting.
Year 1 and 2 Super Stars!
In Year 1 and 2, we have a marble jar that we try to fill as a class. We can earn marbles for lining up quietly, following instructions and working together as a team.
We were very excited to have filled our marble jar today so we voted on our treat – democracy in action! The children chose to have extra playtime where they were allowed to have the equipment out, play football and play on the slide.
Here are some pictures of us enjoying our treat.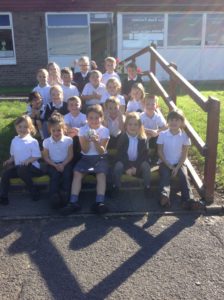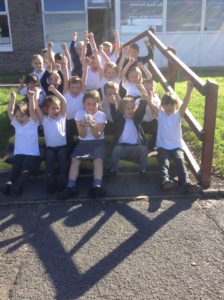 Living and Learning: I am resourceful and I am resilient.
In our Living and Learning session, we talked about being resourceful and resilient.
Willow told us it would be resourceful to use a dictionary or to search for the word on the internet if you were reading and didn't know what a word meant. Mikey said that if you needed a glue stick and didn't have one you could use sticky tape or double-sided tape. Ellie pointed out that if you didn't have any pink paint you could mix red and white. Leah said that if you are reading and you can't read a word you can use your phonics to help you.
We then thought about resilience. We talked about how you might feel if you were learning something new. Emilija said you might be anxious because you might not know what to do. Daisy said that if you can't do something straight away, you need to think about it. Mikey told us that he struggled to learn to count to 100 but he kept practising and felt happy when he could do it. We listened to the saying:
"Try to keep going, try to keep smiling, even when things get bad.
Try to keep going, try to keep smiling, then you won't feel so sad."
Where in the world?
For the past three weeks, we have had a mini topic of "Where in the world?".
The children have been learning all about the world around them: which town they live in, which country their town is in and the names and locations of the continents and oceans.
They have enjoyed listening to a song about the continents to help learn their names and a song about the oceans, too. Today, we put all of that knowledge together and labelled both the continents and the oceans.
This lesson linked in with our homework – "I know some Where in the World facts". Here are some facts that we knew.
Eliza – 'I learnt how to say hello in Spanish "Ola".'
Ellie – 'I learnt the 5 oceans – the Pacific, the Atlantic, the Indian, the Southern and the Artic.'
Jack – 'I learnt how to say good afternoon in different languages – Buenas tardes (Spanish) boa tarde (Portuguese) bonne après-midi (French) guten nachmittag (German).'
Daisy and Emilija – 'We learnt the names of the different continents – Asia, Africa, Europe, Australia, Antarctica, North America and South America.'
Living and Learning: I can take a safe risk and be responsible
In our Living and Learning session, we talked about taking safe risks and taking responsibility for your own learning. We discussed what responsibility is and decided that when you are responsible for something it is up to you to make sure it happens.
Jack told us that it is the children's own responsibility to make sure that they take their things to school, not their mum's responsibility.  Louie told us that each child is responsible for their writing – we discussed this and decided that children are responsible for making their writing neat and making sure they write enough. Leah told us each child is responsible for bringing their PE Kit. When asked about homework, Ava said when the teacher asks you to do it you have to do it. We decided together that when the teacher gives you homework it is your responsibility to make sure you do it.
We talked about risks and what kind of risks are safe and what kind of risks are not safe. We decided as a class that it is safe to put your hand up in class and have a go at answering a question. We also decided it is safe to try new activities and to try to read a book that looks tricky. Talking about doing work you are not sure you can do Willow told us, "If you don't know how to do it, you can try it and take a risk."
Fantastic Creative Homework
This week, year 1 and 2 were given the creative homework task: I can show what I know about a country. They could choose any country they wished and present this in any way. Here are a few of our creative homework with a wide variety of countries represented.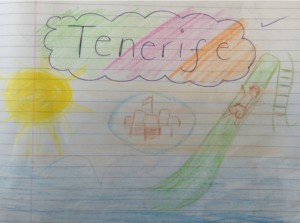 Living and Learning: to be ready and to respond
This week our living and learning statement is "I can I am ready to learn and I can respond to feedback".
We talked about how we can show we are ready to learn.
Jack said, "We need to look at the teacher, have your book out and get a pencil ready."
Dexter said, "We follow instructions."
Willow said, "We are ready by listening, looking at the teacher and doing whatever they ask you to do."
We talked about feedback and how we use it to know what we did well and how to improve. The things that help us improve are our next steps in our books.
Library Visit
Today, your child has brought home a book from our school library.
Each week, we will visit the library and the children have an opportunity to take home a book each week. Books will be changed each week at school – this will usually be on a Tuesday.
Have a look at our excited faces at being able to take a book of our choice home!