Living and Learning: I tell the truth and say sorry if I need to.
Today, we read the story "Tiddler".  Tiddler the fish makes up stories about why he is late for school, every day. No-one ever believes these stories. One day,  Tiddler is VERY late for school because he has been captured in a fishing net and got lost. Nobody believes his reason for being late to school.
We talked about how if you tell lies nobody will believe you when you tell the truth.
Lilly : "It's like the boy who cried wolf".
We also spoke about when we might need to say sorry.
Evie – "If I tell a lie".
Everybody makes mistakes that might affect or hurt somebody else and it is best to tell the truth and say sorry.
Fleur  – "I'd say I did it … I'd say sorry."
Jemima – "It's best if you tell the truth and say sorry"
Fabulous Library Visit!
Yesterday afternoon, Year 1 and 2 visited Wetherby Library. Have a look at some of the comments the children made and the pictures of them using the library. They were much more confident in how to use the library this time and more focussed on choosing books that suited/interested them.
Ellie – The library trip was great. I got one of my favourite books called 'I'll never let you go'.
Lilly – It was fun walking down the library and getting a Harry Hill's book.
Jack – I like going to the library because I saw a book that I liked about Kart Racing and Mr Wicks liked it too
Harley – It was really fun and I picked a book about fires, police and bees.
Joe – I like going to the library because there are so many books that I would like to get from there.
Daisy-Mae – I liked going to the library because I found some Beast Quest books and I got to get a Molly Broomstick book. I saw a book about a clown but there were no words in it so I think it would be a good book to make up my own words for the story.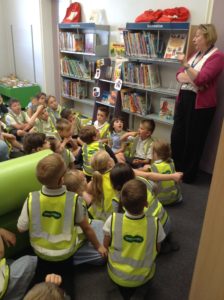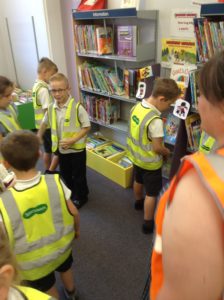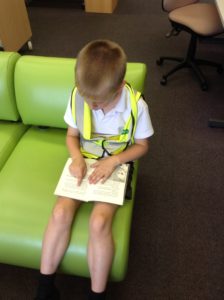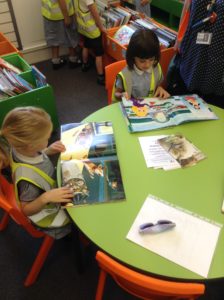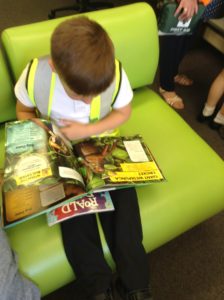 Living and Learning – I can share and include others
This week's living and learning statement is "I can share and include others". We talked about what sharing means and how we can include others, both in the classroom and at home.
Have a look at some of our ideas for how we can share and include others.
Jacob: "If somebody said somebody else couldn't play with them, I would say 'do you want to play with me?'".
Willow (talking about if somebody was on their own in the playground): " You could go up to them and ask them if they want to play".
Brooklyn: "Including others is saying yes when somebody wants to play".
Lily: "If somebody was lonely and you said 'do you want to play?' they wouldn't be lonely any more".
Peter Rabbit's adventures!
This week, Year 1 and 2 have been writing new adventures that Peter Rabbit goes on. The children have written some fantastic stories. Here is a snippet of the stories from our class.
The Greatest Fairy Tale
This week, we went to Scholes to watch a production called The Greatest Fairy Tale. Have a look at some of the recounts the children wrote about the trip.
Fleur
What a splendid trip I've had! Yesterday, I went to Scholes Primary School to watch a show. Year 2 were all partners with reception and year 1 were partners with each other. The hole of school except F.1 went to watch the show. I was partners with Lucas. We went into the hall and a man was trying to read the story but two pigs kept interrupting him. In the story there were only three characters but the main characters were stupid pig, simple pig and clever pig. The story was about The evil queen was changing the fairy tales around. For instance, Jack and the Beanstalk. you should know the tale. It's about a boy called Jack and his mum were very poor so one day. This was different Jack's mother's foot fitted into Cinderella's slipper so the prince had to take her to his castle.
Evie
What awesome day I had! We went on the coach and I sat next to Louie. When we got there we played tig in the small playground. Then, we went inside the play. The play was about the fairy tales all muddled up. They only had until midnight to fix it. The evil queen wanted to marry Prince Charming but so did Jack's mother. The big bad wolf ate Little Red Riding Hood, Red's granny and stupid pig. Then, suddenly snow white heard a knock on the door and it was the 8th dwarf.
Lilly
What an amazing trip I had! On Tuesday, we went to Scholes Primary School. We travelled on a coach. It took 15 minutes to get there. I was partners with Dexter. When we got there we played in the playground. We played tig with Daisy, Fleur, Jemima, Evie and Jessica and it was fun. Then we went into the hall to watch a show. It was 3 characters playing all of the fairy tales. It was funny When the man put the show on Mrs Rowley and when he said do you have any cell phones. Jacks mum marries the prince because the shoe fits but the price was supposed to marry Cinderella.
Bridge Designers Extraordinaires
This term, we have been looking at 'Inventions that changed our world'. We've looked at how the telephone was invented and, this week, we moved onto how Isambard Kingdom Brunel's designs changed the world we live in.
Isambard Kingdom Brunel is famous for designing radical bridges and pushing the boundaries in shipbuilding and tunnel building. We used some of his designs to influence our own bridge building.
The task: To create a bridge 50cm wide and strong enough to hold a toy car.
Materials: cups, paper straws, cellotape, glue, scissors and paper clips.
Here are some of our designs.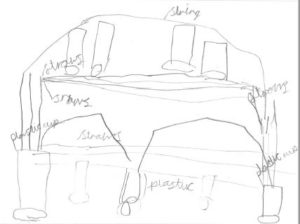 We created our own design then worked together as a group to decide on the best design. Then, we set about building our creations.
Here are our finished results. This week, we shall be evaluating our bridges. What was the best thing about them? Did they work? What would we do better/differently next time?
The Owl and the Pussycat
This past fortnight, Year 1 and two have been looking at the poem The Owl and the Pussycat.
We have learned to use adjectives before a noun (year 1) and to write expanded noun phrases (year 2).
Then, we learned to add these into sentences and wrote a description using them.
After that, we learned all about rhyming words – we had great fun trying to find as many words as we could to rhyme. We used these words to write our own class poem of the Owl and the Pussycat.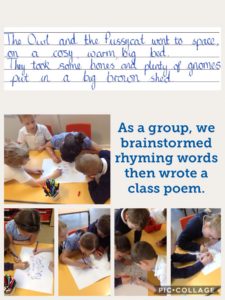 Finally, we wrote our own rhyming poems based on the Owl and the Pussycat. Here are a selection of Year 1 and 2 poems. 
 Nicholas, Yr2
 Jessica, Yr2

 Jacob, Yr1
 Leah, Yr1
Library Legends
This afternoon, Year 1 and 2 visited Wetherby Library.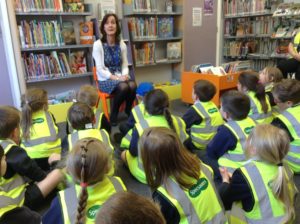 Whilst there, we enjoyed a talk and a story from Madeline, who works at Wetherby Library. We learned about how to look for books, where the books are in the library and how to use the machine to withdraw books.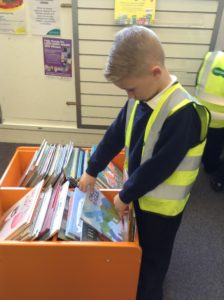 Telephone inventors
This term, our topic is Inventions that changed our world.
Throughout the topic, we'll look at different inventions, the history behind them and have a go at making some of them ourselves.
This week, we've been looking at the telephone, invented by Alexander Graham Bell in 1876. We attempted to make our own telephones using only string and paper cups.
We learned that the sound of our voice travels in waves down the string and the cup acts as an amplifier for the sound at the other end. We tested this theory with a long string telephone.
Year 2 and Year 6 assessments
The STA has published an information leaflet and two videos for parents/carers of children in Year 2 and Year 6 about national curriculum assessments. The purpose of these materials is to help you understand more about the end of key stage assessments that will be administered in primary schools in May. (The end of Key Stage 1 is Year 2; the end of Key Stage 2 is Year 6.)
The materials provide basic information about the purpose and format of the tests, how parents can best support their children and how results will be reported.