Watch us while we work.
This afternoon we worked on some learning tasks with our parents and carers. The learning jobs we had a go at were activities that we could do at home to practise some important skills. There were spelling activities and number bond jobs along with some multiplication tasks. Take a look.
Dinosaur Drawings
We have been working really hard during our art lessons to perfect our drawing skills. We have been focusing on using different types of lines and shading.
We started off thinking about shapes that we can use to make drawing easier for us. We then use this knowledge to sketch our lines carefully to mimic the shapes of the dinosaurs.
Check out our amazing progress!
Leeds Playhouse Workshop
This afternoon, we had an exciting visit from Leeds Playhouse. The workshop was based on our class novel – Katie and the Dinosaurs. Using our creative minds we put ourselves into the shoes of our story characters. We walked through a magical door to the land of the dinosaurs.
Survival skills were essential in preparation for our journey with the dinosaurs.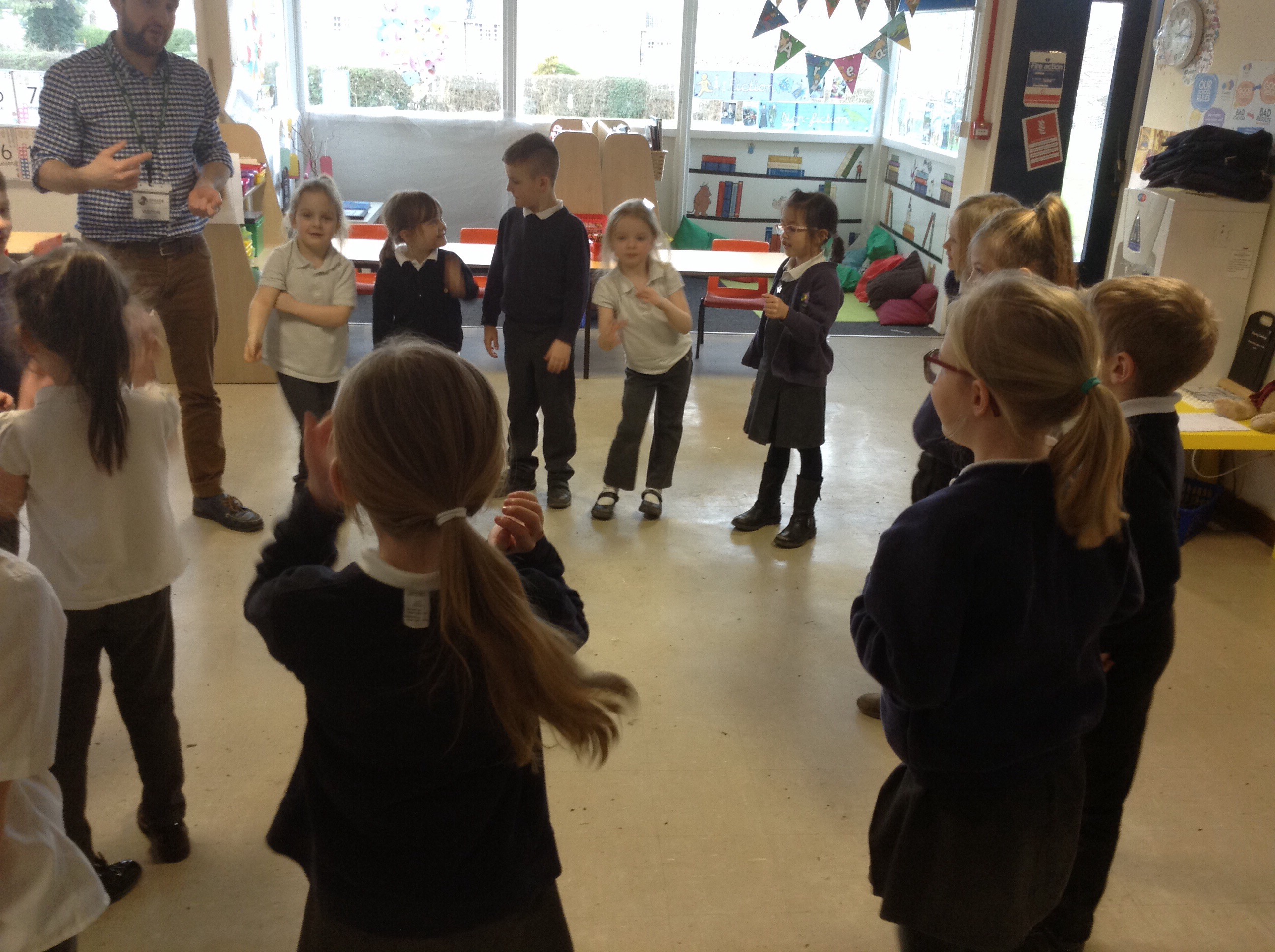 Our senses helped us to become immersed in the magnificent jungle where the dinosaurs roamed.

This was a brilliant experience that will help us to add more excitement to our writing.
Living and Learning: I can make safe choices.
Our Living and Learning statement this week is about being safe. In our living and learning lesson we talked about strangers – most are nice but some are not.
We discussed how to identify 'safer strangers' so that children are able to make a safe choice about who to approach if they find themselves needing help.The class agreed that 'safer strangers 'wear a uniform and an identity badge. We looked at some examples; Police officers, Doctors, Nurses, Paramedics and shop assistants.
After looking at some pictures of safe situations and unsafe situations, the children sorted their pictures according to whether they thought the situation on the picture was safe or not.  Some of the things we looked at were safety in the kitchen, safety with plug sockets, safety in the playground and scissor safety. The children were very good at identifying which situations were safe.
Safety week
We have had lots of exciting visitors this week. Our focus was how to make safe choices and look after ourselves.
We learnt about staying safe around strangers as well as safety at home and in school. Road Safety was also covered by a workshop that explained how we should behave on the road.
The NSPCC brought buddy in to see us and we found out about or right to speak out. We also learnt the Childline number song.
Dogs Trust came into our class with Peg. We found out about dogs and how to read their behaviours.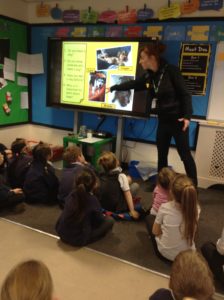 D-side taught us all about our own bodies and what we need to do in order to look after them. We talked about a healthy diet as well as how sleep can affect our leaning.
This has been a very informative week and we will continue to think out making safe choices.
Staying Safe: Road Safety
This morning, the road safety team from Leeds City Council came to visit us to tell us all about crossing roads safely and how important it is to always wear a seat belt.
It was great to see that so many of the children already knew lots of ways to stay safe on the roads – nice one, Foundation and Y1 & 2!
Year 1/2 Library visit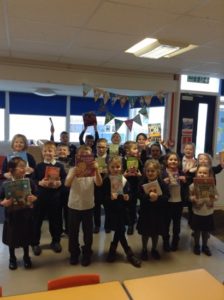 We had an exciting afternoon in year 1/2. Our class visited Wetherby Library today and we returned our books. We each chose 2 books that we would like to read. Eliza rushed straight over to the history section to find her perfect book.
She said, "I love history, so I know that I'll love this one. It's about 100 women who changed history."
Jack found a lovely poetry book as he shared that he "loves reading rhymes".
We are looking forward to reading all of our new books.
Living and Learning: I know what a drug is.
Our Living and Learning statement this week is 'I know what a drug is'.
We talked about what a drug is and then discussed lots of things that go into our bodies. They were added to the outline of a person and then as a class we chose one to discuss. We talked about injections and whether they make us feel good. We decided that injections given by a doctor or nurse don't feel good but they are good for us because they stop us getting ill. In pairs, the children were given pictures of things that go into our body and had to discuss whether they are good or bad (harmful) for our bodies. We then discussed the answers as a class.
Super Mathematicians
This week, year 2 are learning all about their times tables.
We have learnt how to work out our 2 times table, 5 times table and 10 times table.
Now, our challenge is to know these off by heart! Without thinking or working out the answer!
A game we enjoy playing to help us do this is Hit the Button. Click on the name of the game to play. It's free and will help us with our learning!
Living and Learning: I can make things better.
This weeks living and learning statement is 'I can make things better'. We talked about the different things that this might mean.
Jack  suggested that, "We can try and help school be better by tidying up after ourselves".
Brooklyn said that, "We can make school better by not throwing rubbish on the floor and by making good choices".
Harley  thought that we could make other people feel better by asking if they are okay or asking them to play.
Dexter felt we could  make learning better by making good choices.
Leah said, "We can make arguments better by trying to calm them down".
We discussed how to make things better when we  have had an argument or upset somebody.  Eliza said, "You can tell them you don't want to fall out".  Dexter said you could say sorry.  We then talked about how you have to show that you are sorry as well as saying that you are sorry. This might be by doing something nice for that person or as Harley suggested – "Not doing it again".