Living and Learning: I know love is important
This weeks living and learning statement is "I know Love is important".
We talked about this being about showing love to ourselves, others, God and the world.  We talked about showing love to others by doing things to help them and by putting them before ourselves.
We had a discussion about how we could do this. Here are some of our ideas:
Willow- If somebody went to the shop and there was only one pair of shoes and we both wanted them, I would let them have them.
Jack – If somebody wanted to go in the net at football, I would say you go in the net for the first half and I'll go in the net for the second half.
Ellie- let somebody go on the slide first.
Brooklyn – If there was just one ice-cream, I would let someone else have it.
Harley – If someone was at my house and I only had one bike, I would let them take turns with me.
Eliza – If someone at home was poorly, you could help them do the chores.
Leah – If the grown-up is busy and you have a pet or a baby, you could feed them.
Living and Learning: I respect my community and other communities
Today we talked about the living and learning statement 'I respect my community and other communities'.
We talked about what a community is and how we can show respect to our community and to others. Jack told us that we can respect the community by keeping it tidy and throwing rubbish in the bin. Brooklyn and Willow told us that we have to look after the things in the community and not break them.
We talked about needing to respect people in our communities and in other communities.  Leah told us that some communities might have a different language to ours and that we need to respect their language.  We made posters about how to respect or community and other communities.
Living and Learning: I respect myself and others
In our Living and learning session, we talked about respecting ourselves and others.
Some of the things the children said about things we can do to respect others were:
Willow: 'Listen to others.'
Jack: 'If you wanted to show respect, you could be ready for learning at the right time.'
Brooklyn: 'I was respectful when my friend fell over and I helped him.'
Mikey added that it would be disrespectful to laugh if somebody hurt themselves.
Ava: 'If somebody's talking you need to wait. You talk when they stop talking.'
Eliza: 'If somebody needs help, help them.' We discussed this and decided it would be disrespectful to laugh at somebody or make them feel bad about not being able to do something. We should be encouraging and offer them help if we can.
Ellie – 'Say please and thank you.'
Mikey – 'Telling the truth.'
We also talked about respecting ourselves by making healthy choices and looking after our bodies and by having good thoughts about ourselves and making good choices.
Cricketing superstars!
Year 1 and 2 have had an experience of cricket: they enjoyed a cricket workshop from Chance to Shine.
The children learnt new skills from their coach including how to catch and how to hit a ball using a cricket bat.
Here are some pictures of our workshop in action.
30 November 2018
This week's homework is practice makes perfect and is due on Thursday 06 December. You will find an activity for the children to complete in their homework book.
Year 1:
We've been working on our subtraction skills (using a number line) and finding the difference between two numbers. Here are two clips to help explain finding the difference:  Video 1  Video 2
Year 2:
We've been learning different methods to work out addition and subtraction calculations. We've learnt to use tens and ones (a rod of ten for each ten and cubes for the ones), drawing it pictorially (draw a stick for ten and a dot for one) or by using the column method. Have a look at our calculation videos which show some of the methods we use.
Living and Learning: I know who I am
This week our Living and Learning statement is 'I know who I am'.
We talked about everyone being part of St James' school and Year 1/2 class. We also talked about the other groups we belong to – for example, we live in Leeds which is in England.
We talked about some of us being born in different places and having links to other places. We also talked about clubs outside of school and teams that we support. The children made posters to show who they are.
Fabulous Homework
This week, we had a homework review and looked at our creative homework that the children had completed.
We had a lovely variety of homework. Here is a sample of our homework.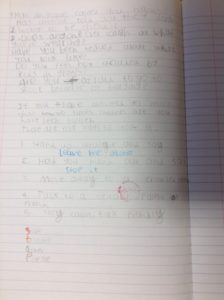 Sphero coding!
Recently, Year 1 and 2 enjoyed a visit to Wetherby library to participate in a coding workshop using Sphero balls and iPads.
The children used the Sphero app to programme their robot. They programmed it using drag and drop actions and even changed the colour of their Sphero. Sphero was sent flying across the library and the children learnt to weave the robot around a maze.
Mikey-I really enjoyed playing on the iPads with the balls.
Willow-I liked choosing our new books.
Emilija- I like choosing the new books, I wanted a Harry Potter book.
Louie-I liked playing on the iPads especially when would change the colour of the ball.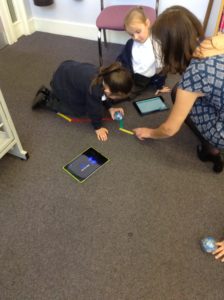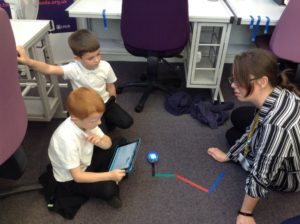 Living and Learning: I know how to stop bullying
Our living and Learning statement this week was 'I know how to stop bullying'. We began the week by participating in "Odd Socks Day". We looked at how it is okay to be different.
During our living and learning session, we started by talking about what bullying is. We used the word STOP to help us. STOP stands for Several Times On Purpose. We discussed that this means that if somebody is hurting someone's body or their feelings on purpose and more than a few times it is bullying.
We used the word STOP again to help us remember that if somebody is being bullied, whether it is us or somebody else we need to Start Telling Other People. We thought of five people/ways that we could tell: mum/dad, teacher, grandparents, write it down and put it in the worry box, or a friend.
Bob the bear shared a problem with the class – he told us that he has a friend who always hits one of his other friends. He asked us for ideas of what he should do. Dexter explained to Bob that if he does it several times on purpose then it is bullying and he needs to tell the teacher.  The whole class agreed that this was the right thing to do.
York Castle Museum Adventure
This week, Year 1 and 2 visited York Castle Museum to learn more about their topic: Time Travel – houses.
The children visited and heard diary entries from people who lived in the types of rooms they were viewing. They enjoyed trying to guess which type of house they were looking at.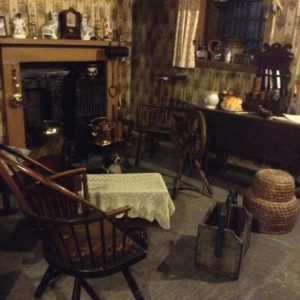 Leah – "First, we saw some poor and rich Victorian houses that were fancy…After that, we looked at some old and new kitchens."
The children also explored a Victorian street and spoke to some actors from the Victorian era – their favourite spots in the Victorian street were the police station and school.
Brooklyn – "I saw an old sweet shop. It didn't have any Smarties."
The children had a brilliant day with excellent behaviour by all – a member of the public commented to us to say how well she thought the children were acting, behaving and listening. Well done, Year 1 and 2!