This week's bible story
The Son Who Left Home: Luke 15:11-32
Jesus told many stories that are recorded in the New Testament. His stories were often about everyday events that all the people could relate to, but they had a special purpose – they were told to help people understand more about God. Usually, the stories, or parables as they are called, spoke for themselves, but sometimes they had to be explained. Let me now tell you one of Jesus' best-known parables.
Read the story of the son who left home.
Reflection:
Jesus told this story to show how much God loves us. Just like the son in the story, we often want our own way and do not think of the consequences. We make foolish mistakes and come to regret them later. Just like the father in the story, though, God never stops loving us and is always ready to forgive us when we admit our wrongdoing.
Prayer:
Dear Lord,
Forgive us, we pray, for the times when we have acted foolishly.
When we have wanted our own way and not listened to good advice;
when we have not considered the thoughts or feelings of others.
May we be prepared to forgive others when they are sorry for hurting or upsetting us, just as you are prepared to forgive us when we admit our wrongdoing.
Amen.
Year 2 maths : multiplication and division
The year 2s have begun to learn about multiplication and division and are loving it! We use real objects and pictures, linking this to calculations. Talk about what each number represents in a calculation.
Help at home by encouraging your child to play on Times Tables Rockstars and watch BBC Supermovers videos.
Living and Learning: health and prevention and Science
Our Science and Living and Learning lessons have been all about microbes, handwashing, health and preventing illness this week.
In Science, we have talked about how microbes can be harmful but also how some can be good for us. We made microbes out of play-dough deciding whether they were virus, fungi and bacteria.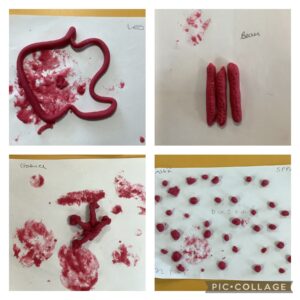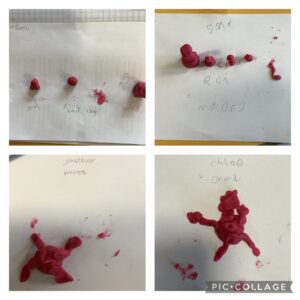 Washing our hands is really important. All the children could all talk about this, with our experiences of Covid-19!
Maths fluency – new app
The children have been using a new app we have on the iPads called White Rose 1 minute maths (it's free to download).
This is a fantastic app to use alongside Numbots in order to support your child with their maths fluency – knowing number facts instantly.
Topic – computing
We are going to be playing, and making, lots of online and offline games. As this is a computing topic, we'll be using a range of technology including Bee-Bots and iPads.
Here is a lost of some of the vocabulary that will be taught in the coming weeks.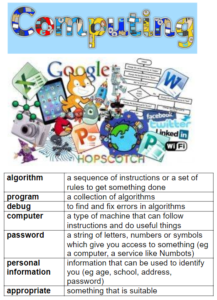 This week's bible story
The Unforgiving Servant: Matthew 18: 21-35
Have you ever broken anything? It could be a toy or a plate from the kitchen or even a bone in your body. Some things that are broken cannot be mended, but it is often possible to mend things that we have broken. If we care for our environment, it is a very good idea to try to mend things rather than always throwing them away and then buying new things. For example, what might use to mend the following things if they were broken: a hole in the toe of my socks? a ripped page in a book? a handle that has come off a mug? a puncture in my bike tyre? a cut finger?
What could you do about mending a broken friendship?
When you fall out with one of your friends, you can't mend that friendship with a needle and thread, or some sellotape, or superglue or a puncture kit or a sticking plaster. Read the story about the Unforgiving Servant.
Jesus explained to his friend Peter that God is like the king in the story: Christians believe God forgives us every time we tell him we are sorry for the wrong things we have done, and he wants us to treat our friends in a similar way – forgiving them each time they say 'sorry' to us.
Reflection:
What would you say was the key word in that story? The key word could be 'forgiveness'.
Have a think about these questions:
'What does it mean to forgive someone?' (KS2) or 'What kind of things do you need to say sorry for? (KS1).
At the end of the Bible story Jesus tells us that, if we have done something wrong, we need to say sorry to God and then he will forgive us. In a similar way, if you have fallen out with a friend, two things often need to happen: if you know you have done something wrong or upset someone, you need to be brave enough to say sorry to that person. The person to whom you have said sorry then needs to forgive you.
So, going back to the questions at the beginning of the assembly:
What might I use to mend a broken friendship? A good answer to this question would be 'forgiveness'.
Prayer
Dear Lord,
Thank you for today's Bible story about forgiveness.
Thank you that if we say sorry to you, you give us a fresh start.
Please help us to be forgiving people here in this school.
Amen.
World Book Day
We had a fantastic World Book Day yesterday. There were so many imaginative outfits of lots of different book characters. The children enjoyed telling the class all about the character. Some children shared their book and talked about their favourite part.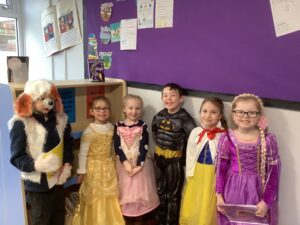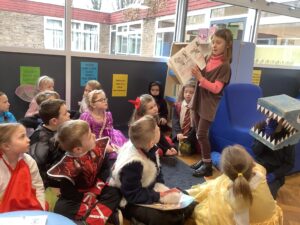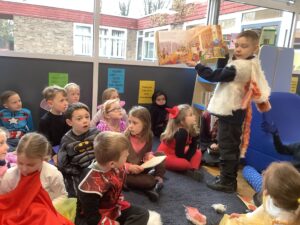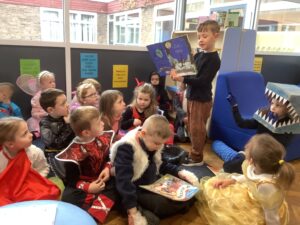 Sponsored maths challenge
Just before the half-term break, we had a sponsored maths challenge in school.  Mrs Walshaw has now counted the money and we've raised a fantastic total of £1290.92! All the money raised will be donated to our school charity- RSPCA. This is an incredible amount so a huge thank you for all your efforts in supporting your child find sponsors and practise their number facts.
This week's bible story
'We should learn to forgive.' (Ephesians 4.32)
Read this story about Omar and his friend Freddy.
Reflection:
Forgiving helps friends to be friendly again.
Forgiving others makes us happier.
In the bible, it says 'We should learn to forgive.' (Ephesians 4.32). It doesn't always mean it will be easy to forgive. It is something that we need to learn and something we will get better at.
Prayer:
Let us say together the prayer that Jesus taught us: The Lord's Prayer.
In this prayer, we are reminded about forgiveness: 'Forgive us our trespasses as we forgive those who trespass against us.'
This means that when we do something wrong we should ask for forgiveness and we should learn to forgive others when they do things that upset us.
Reading
Today, some children enjoyed reading our class novel, Teddy Robinson, to the class. They used a clear voice and made sure they had good voice projection to make sure they were heard by everyone.