Reading at home
Children will be bringing home a reading book this week. These will be changed once a week to minimise books moving between home and school.
Please return books to be changed on Wednesday. We will quarantine books before putting them back in the system.
The 'practise phonics' book (sticker on the front cover) is for children to work on their 'sounding out' of words.
Please comment on how your child copes with the books as it may take us a little time to adjust and match books to each child. Year 2s will gradually move away from phonics books and have more freedom to be 'free readers' – reading whatever they choose.
Children will also choose a library book each Friday. Please bring your library book back each Friday if your child would like a different one.
Help us help your child by reading anything and everything you can.
THANK YOU!
First days in Year 1/2
The children have come back to school full of enthusiasm and excitement. After a few nerves, we're all starting to get used to the new routines. We are enjoying reading Lost and Found by Oliver Jeffers as it has opened up discussions about our feelings and looking after each other. Ask your child about any new friends they have made or old friends they have enjoyed seeing again.
See you soon!
We're looking forward to meeting you this week and thought it would be a good idea to introduce ourselves. Although we were lucky enough to meet some of you in July we have not met everybody in Year 1 and 2 yet!
My name is Mrs Flynn. I will be teaching you on a Monday, Tuesday and Wednesday. When I'm not at school I enjoy baking and going on bike rides.
My name is Mrs Palmer. I will be teaching you on a Thursday and Friday. I enjoy walking and cooking at the weekends.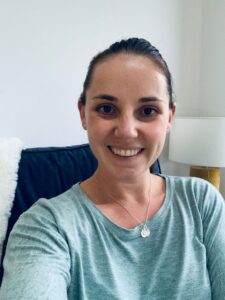 Our trip to the park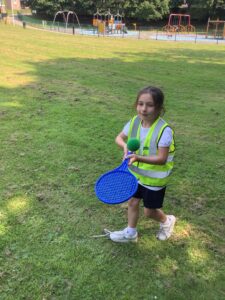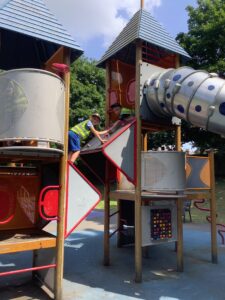 Maths : add, subtract, multiply, divide
This term, we have been working on the four operations (addition, subtraction, multiplication and division).
Year 1 children have been doing lots of practical maths, showing calculations in different ways (multiple representations) and writing fact families (calculations that can be grouped together).
Year 2 have looked at multiplication and division in the same way.
Living and Learning : I know what consent is
We talked about consent (giving permission) in our recent living and learning lessons. In young children, it is all about respect and their relationships with family, friends and peers. We model asking children's consent before we take their photograph, for example, or show their work under the visualiser in class. It is important for children to know they can say 'no' if they don't give their permission.
Hand to Mouth visit
Last week, we were lucky to welcome Hand to Mouth back into school. Hand to Mouth is a Christian charity that come into schools to work with children to explore Christianity and their own spiritual journey.
Throughout the day, Years 3, 4, 5 and 6 visited a journey where they could explore 'Christianity as a living faith'. The children visited the journey in pairs and explored different stations throughout.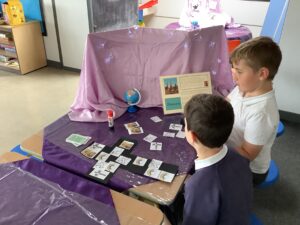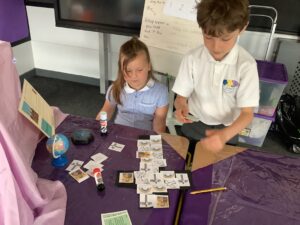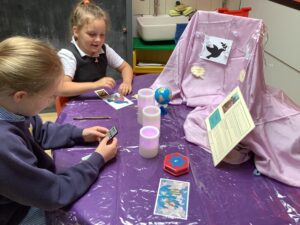 Throught the day, each class had a visit to learning about different aspects of Christianity as a living world faith.
In foundation, they learnt all about African worship. In the session, they made our very own Kufi Hats and danced around the classroom to some African music.
In year 1,2, they learnt all about different churches and got to make their own church.
In year 3,4, they learnt what worship was and how different this can look around the world.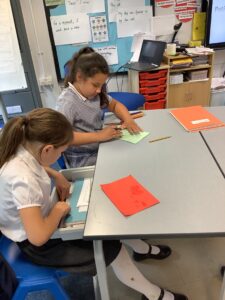 In year 5,6, they learnt all about justice and what this entailed.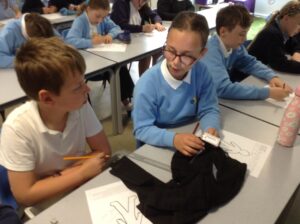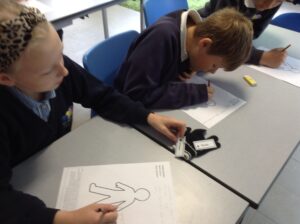 Living and Learning : Body image
We've been talking about all of the exciting things our bodies allow us to do. We enjoyed listening to this story.
I play football with my body.

My body lets me hold hands.

Skin can heal.
Our bodies let us know what they need to stay well and feel good but they don't use words to talk to us. They use feelings. They send us messages about what they need through the way we feel.
My tummy grumbles when I am hungry.

When I feel tired, I go to sleep.

It hurts when I feel sad.
Science
This half term, our Science learning is 'Animals including humans'.
In the coming weeks, we will be learning the following vocabulary:
mammals
amphibians
reptiles
birds
fish
carnivore
herbivore
omnivore
body parts
Watch these informative, funny videos from BBC Bitesize with your child and see how they get on with the quizzes, too.
We have already begun learning about how to classify animals. We sorted all of the animals in groups, looking for features such as fur, beaks, gills, webbed feet and more.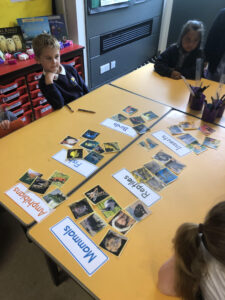 11 June 2021
Year 1
This week's spellings for Year 1 are words with the /f/, /l/, /z/, /s/ and /k/ sounds at the end. They are usually spelt with a double consonant at the end of words : ff, ll, zz, ss and ck.
off
huff
well
hill
buzz
whizz
miss
boss
back
duck
Year 2
This week's spellings are more common exception words for Year 2. These are words that don't follow the usual spelling rules.
plant
poor
pretty
prove
should
steak
sugar
sure
told
water