Reading and writing
This week, we have been learning about Aesop's Fables. Our reading fluency text has been The Tortoise and the Hare.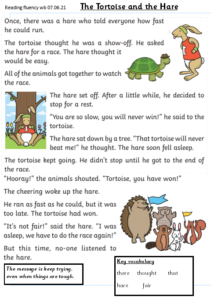 We talked about the message in the story and looked at some key vocabulary. Next week, the children will read and retell the story, draw a story map to help them remember the sequence of events and do some independent writing.
Help at home by asking your child if they can tell you the story of The Tortoise and the Hare.
Design and Technology
This half term, we are starting our next topic which is all about Design and Technology.
During this topic, we will be exploring and evaluating a range of existing products, designing functional and appealing products based on given design criteria and then making the product by selecting from a range of tools and equipment to perform practical tasks (eg cutting, shaping, joining and finishing).
Throughout the topic, we will look at key questions. What is a structure? Which design is the best? How can we make it stronger? Is it fit for purpose?
Here is a list of some of the vocabulary that will be taught in the coming weeks.
Living and Learning : Drug education
Our Living and Learning discussions have focused on drug and alcohol education. We have talked about what we put into and on our bodies and why. We discussed these scenarios in class. Ask your child what they would do in these situations.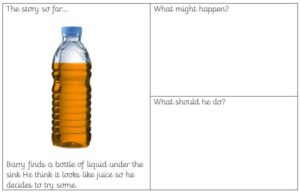 Wonderful Writing
Over the past few weeks, we have thoroughly enjoyed reading 'Ollie's Magic Bunny'.
We came up with actions to remember the story in order. Children drew their own story map, listed the key vocabulary and then finally wrote the story.
I was so proud of all the children for their fabulous efforts. I saw some wonderful writing in Year 1 and 2. Here is a little sample of what the children achieved.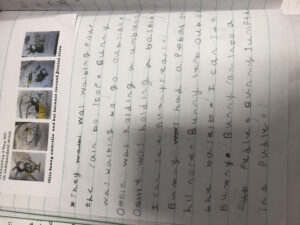 Ask your child to re-tell the story with the actions they learnt in class.
Skipping into summer with Skipping School
We have launched a whole school skipping project with Skipping School. Each class has their own class set of ropes and we also have long ropes for every class too. The children are so enthusiastic about it already. There are some tutorial videos below so you can work on your skills at home too!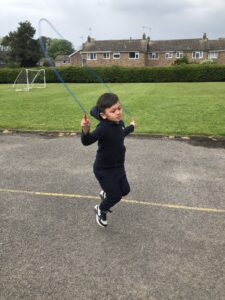 Living and learning : health and prevention (hand washing)
We have linked our Living and Learning lessons to our computing topic – particularly algorithms.
We talked about how washing your hands is an algorithm. You have to do each step in the right order for it to work. We all know how important washing our hands is!
Maths – fluency and facts
We are working really hard to increase our fluency and recall of maths facts. This week, we have been focusing on bonds of 10 and we are getting really good! It was our homework task, a daily morning job and we have shown 10 using multiple representations (part whole models, bar models, pictures and calculations). The Year 2s have also been working on bonds of 20.
Help at home by asking your child if they can tell you bonds of 10 or 20.
Captain Tom 100 Challenge
Today, the JLT voted for the school charity we will be supporting this year- RSPCA. 
As our first fundraising event, we'll be taking part in the
Captain Tom 100 Challenge
. Each class will be doing something 100 times on Tuesday 04 May. All we ask is that each child brings in 100 pence (it can be a £1 coin!) and all the money raised will be donated to the RSPCA. There'll be a bucket at the gate for you to leave your donation.
Here are the details of what each class is doing:
Foundation- 100 star jumps
Y1/2- 100 skips
Y3/4- writing 100 adjectives
Y5/6- planting 100 seeds
Thank you for your support- we will let you know how much money we raise!
—
Our new topic: Computing
In this half term, we are starting our next topic which is all about computing.
We're going to be playing, and making, lots of online and offline games. As this is a computing topic, we'll be using a range of technology to support our learning including the following:
Bee-Bots and Blue-Bots

We'll be using a variety of directional language such as North, East, South, West and forwards, backwards, left turn, right turn.

Scratch Junior (a program that we'll access via our iPads/laptops)
For a really fun online version of Bee-Bots, check this out.
We'll also be learning about online safety, including the importance of passwords.
Here is a list of some of the vocabulary that will be taught in the coming weeks.
algorithm – a sequence of instructions or a set of rules to get something done
program – a collection of algorithms
debug – to find and fix errors in algorithms
computer – a type of machine that can follow instructions and do useful things
password – a string of letters, numbers or symbols which give you access to something (eg. a computer, a service like Numbots)
personal information – information that can be used to identify you (eg. age, school, address, password)
appropriate – something that is suitable
Living and Learning – Saying please and thank you
This week, we have been making an extra effort to use our manners.
We know that using simple words and phrases like please and thank you can make a big difference.
Being polite to everyone is very important and can really brighten someone's day. This links very well to one of our school rules:
We respect everyone and everything.
Can your child remember all three of our school rules? Click on this link and check underneath the positive relationships (behaviour management) tab.