Christingle
This week, the children enjoyed making their own Christingle. We spoke about the meaning of it.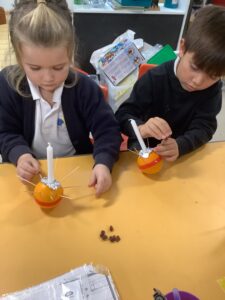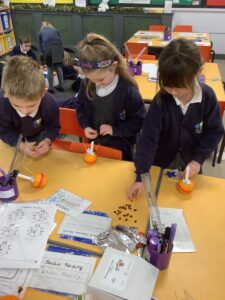 We walked to church on Thursday for the Christingle Service. Some of the children read The Christmas Giving by Iris W Bray and then we all held our Christingle as they were lit. We spoke about how we had to be very careful while doing this.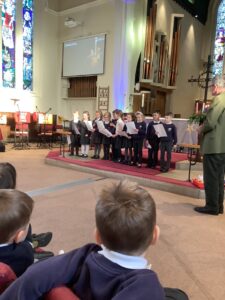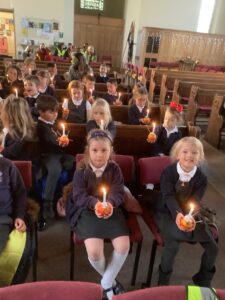 Christmas Production 2021
Our Christmas Production 2021
Hump the camel
We are so proud of all the children for their FANTASTIC singing, acting and dancing. We hope you enjoy the Christmas production as much as we do!
This week's bible story
The persistent widow: Luke 18:1-8
Have you ever used pester power to get what you want? When you keep on asking and asking and asking until the person relents and gives in? Jesus once told a story about pester power, but it didn't feature a parent and a child. The two people in Jesus' story were a judge and a widow. Read the story to find out what happened.
Reflection:
Have you ever pestered God? reflect on your own experiences of prayer. Were their prayers denied because of any of the reasons like in the story?
Even though some prayers appear not to work, Christians believe that God is always at work in their lives, although this may be hard to see.
Prayer:
Dear God,
Thank you for being a God who listens to our prayers.
Help us to keep praying to you even when it seems that our prayers are not being answered.
May we never forget that, like a loving parent, you only want what is best for us.
Amen
Living and Learning: physical health and fitness
During our Living and Learning lessons we have been describing some ways we are physically active throughout the day. We thought about all the things we had done since waking up that morning and being in our lesson. The children came up with lots of ideas:
"I rode my scooter to school."
"I walked up and down my stairs 3 times."
"I walked to school."
"We did Wake Up Shake Up."
We have also been explaining why it is important to rest and get enough sleep, as well as being active.
"If we don't sleep we will be tired at school and won't be able to do our learning."
"We might get poorly, like get a cold."
"We need to sleep to grow."
"If we don't exercise our body won't be strong."
We have also discussed how an hour of physical activity is important for good health. We thought about who can help us to keep healthy and how?
"Your friends, family and teachers can help you."
"Drink lots of water."
"Eat healthy food and eat breakfast."
"Keep your body and teeth clean."
"Exercise like swimming and dancing."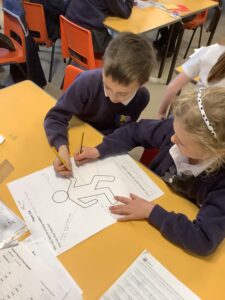 This week's bible story
Today, we are thinking about Hanukah which is a Jewish festival. Have you ever been made to do something you didn't want to do? In fact, you hated doing it?
How do you think David Beckham would feel if he had to do ballet? Or your headteacher if he or she had to dress up as a banana?
How do you think a Christian would feel if someone said to them at a Christmas nativity service, 'You can't worship Jesus, you've got to pray to the donkey?'
This is a story about when a whole country had to do things they didn't want to, and how they reacted to it.
Reflection:
Quiet thought: How can you bring light to people today?
Prayer:
Dear God,
Thank you that your light burns even longer than we hope for.
Help us to be light to others.
Amen.
Science with Skittles – observing closely, asking and answering questions
Today, we enjoyed our science lesson. We poured water onto a plate of Skittles and observed closely to see what happened. The children offered suggestions as to what they thought.
What happened to the Skittles in water?
"The colours came off and mixed together".
"The water made them disappear".
"They cracked in the water".
"The water changed to brown because the Skittles mixed with it".
"They dissolved".
This week's bible story
Keep Going! Nehemiah 1: 1-7
Perseverance means keeping on trying and not giving up even when it is difficult.
If you've got some blocks, have a go at building a tower of twelve blocks. Was it easy? Now blindfold yourself and try again. Was it easier to do it when you were blindfolded or did it take more perseverance? Although the game was only a bit of fun, in life, it can sometimes be hard to keep going when things seem difficult or we feel discouraged. Our story today comes from the Old Testament part of the Bible. The Jewish people had not been listening to God, and they had been living in exile, away from their own homes. As the story starts, this situation is about to change. Read it carefully and see if you can work out why the people needed to have lots of perseverance and what helped them to keep going.
Reflection:
– In the story, what three things needed rebuilding?
– What kind of things discouraged the people from getting the building work done?
– What helped them to keep going?
None of us have to rebuild the walls around our towns and cities this week, but there might be some things that we are finding difficult or occasions when we feel like we want to give up.
Have a moment of silence as we think about the things that we are finding difficult or that we are worried about.
Prayer:
Dear God,
Thank you that you always listen when we pray to you.
Thank you that you are always there.
Please help us to keep going when we find things hard.
Please help us to encourage others.
Amen.
Art trip to Leeds Art Gallery
Wow! What a fantastic visit to Leeds Art Gallery. First, we got onto the coach. A lot of the children hadn't experienced a coach before so they were very excited. We talked about how to keep safe on a coach – especially wearing seatbelts safely.
When we arrived we lay down to take in all of the shapes we could see in the gallery. The ceiling had lots of shapes and textures. We have been learning about shapes and textures in Art this term. The children then drew the shapes they could see onto the paper. We talked about how we had now created abstract art -art that is changed from real life. We then explored the art gallery. We talked about the textures and shapes we could see in the artwork. We also explored the story the artists may be trying to tell us.
The children particularly enjoyed moving their body into different shapes when interpreting the art they could see.
What a fantastic day! Well done, Year 1 and 2.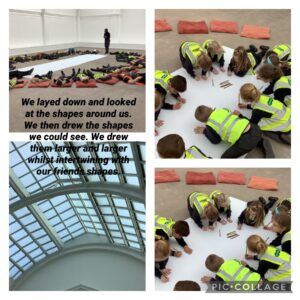 Keeping safe on our school trip to Leeds Art Gallery
Today, we went on our Topic trip to Leeds Art Gallery. Before we left school we spoke to the children about how to keep safe while we are on the trip.
Why do we wear yellow/orange jackets? "They are bright colours so we will get noticed if we get lost," said Emily. "So we can see and find each other and we don't get mixed up with other people that aren't from our school," said Shae.
How can we keep safe when we are on our trip? "Stay together and with your partner and teacher," said Ethan. "We need to ask before we go anywhere like the toilet," said Emily. "We need to keep our jackets on," said Leo. "We need to stop at the road," said Willow.
Living and Learning – Anti-bullying Week
We kicked off our Anti-Bullying Week with ODD SOCKS DAY . Lots of children chose to wear odd socks to celebrate what makes us all unique in Anti-Bullying Week.
This week's theme is One Kind Word. Being kind to one another and using kind words is a simple but effective way to make other people feel happier.
Our reading fluency this week talks about our school definition of bullying and how we start to tackle it.
During our Living and Learning session, we read the story Kind by Axel Scheffler. The book talked about lots of ways we could all be kind. Afterwards the children worked in pairs to think of ways they could  spread the One Kind Word message.
"…smiling, hug, share."
"Pay them a compliment, give them a hug."
"Ask if they want to play with you."