Scientists in the making
Our science topic this half term is 'Working Scientifically'. The vocabulary we are learning is below. Help at home by using some of the words in conversation at home so your child becomes familiar with them. There are also lots of science experiments here you could try.
Last week, we observed closely. We looked at how coloured water is absorbed by tissue and can mix to make a new colour!
This week's bible story
Persevering in life: Hebrews 12:1-2
Click the link and read the story all about Patrician St John.
Reflection:
Think about what you want to do this year, what you want to achieve. I'm not talking about impossible things, but maybe learning a new skill, or doing better at something, reaching the next level. What if it isn't so easy, what if it doesn't seem to be working out straight away – will you give up? Are you willing to fail before you succeed? If you believe in God, what difference will that make?
Just a moment of silence while we think about these things.
Bible Bits:
Listen to what the Bible says about persevering:
"Be determined and confident! Don't be afraid or discouraged, for I, the Lord your God, am with you wherever you go." (Joshua 1:9)
"Let us run with determination the race that lies before us. Let us keep our eyes fixed on Jesus….He did not give up…" (Hebrews 12:1-2)
Prayer:
Thank you, Father, that you have given me the ability to succeed, not in everything, but in many things. Help me to play my part by working hard and not giving up. And thank you that you will give me extra help if I ask for it and trust in you. May what I learn not just help me but others too.
Amen
Remembrance Day
This week across the school, the children have been learning about the meaning of Remembrance Day. From reading activities to art, we have covered an array of learning. The Year 6s have been collecting for the poppy appeal daily and the donations have been very generous. On Thursday 11th we had a minute's silence in the playground in remembrance and the children were all really respectful.
Topic learning – art
We are studying and comparing the artists Paul Klee and Leonardo da Vinci in our art lessons. We have sorted their pictures and learned about primary and secondary colours. We will be creating our own prints in the coming weeks.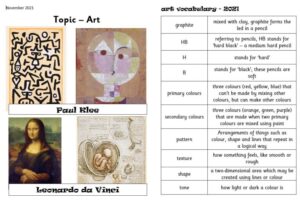 Adjective Day!
The children have had a fantastic day dressed as adjectives. We have had children dressed up as sleepy, lethargic, sporty, spotty, pretty, beautiful, exhausted, spooky, scary and many more! We used the adjectives in our writing. The year 2's were challenged to use two adjectives separated with a comma. They used their own adjective and a friends adjective to make a sentence.
"The spotty, sleepy girl was not very well."
"I can see a spotty, blue jumper."
"The magical, colourful unicorn was jumping in the sky."
We also sung the following adjective song to help us remember what an adjective is.
Adjectives can tell you more
About a noun and that's for sure
Ad-jec-tives
Well done, Year 1 and 2. What a fantastic adjective day!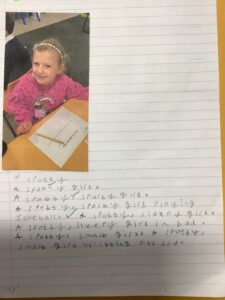 This week's bible story
How much can we remember?
Let's start by asking ourselves some questions about today.
– What did you do as soon as you got out of bed?
– What did you eat for breakfast?
– How did you feel when you got to school this morning?
Next, let's think about last weekend.
– What did you do on Saturday afternoon?
– What did you eat on Sunday?
How about last week?
Have you noticed how it becomes more difficult to remember events the further back in time they are?
These events may have happened quite a long time ago, but they are remembered because they were fun. Happy times tend to stay in our memories for a long time.
Sad times can stay in our memories for a long time, too.
Click the link to read all about Remembrance day and why we remember.
Reflection:
Have a look at the pictures of the poppy. Think about why wearing a poppy is important to people. Wearing a red poppy means, 'We are remembering together.'
Prayer:
Dear God,
Thank you for the many happy memories that we have.
We are sorry that some people have sad memories at this time of year
As they remember those who have died for our country.
May we wear our red poppies with love and compassion,
And may we remember and be thankful.
Amen.
08 November 2021 – Adjective Day
We are learning more about the functions of words. Hopefully, your child has been talking about nouns already! On Monday 8th November, we are going to have an 'Adjective Day'. The children will be asked to come in to school dressed as an adjective. The adjective can be as simple or as adventurous as you like. Please ensure that your child is aware of the word meaning and feels confident in sharing this with the class. There are lots of ideas if you search 'adjective dress up day' on the internet.
Please do not go to the expensive of buying anything new and have fun creating your adjective outfit! Their outfit needs to be suitable for school, safe and warm enough for them to wear all day.
This week's bible story
A persistent builder: Genesis 6:5-22
God gave Noah a pretty big job; God asked him to build a huge boat. Even though he didn't live near a lake or ocean, Noah persevered in finishing the job that God gave him.
Someday, God might give one of us a hard job to do, too. God might ask you to be friends with a kid who everyone else is choosing to ignore. He might ask you to forgive a brother or sister who teases you every day. God was pleased with Noah's perseverance, and God will also be pleased with you when you persevere in doing what is right.
Reflection:
What is the biggest project that you have built out of Lego, wooden blocks or something else?
How long did it take? Did it take much perseverance to keep going and finish the project?
What would have happened if Noah had given up and left the ark half built?
Prayer:
Dear God,
There are times when we face some hard challenges. Sometimes those challenges seem so big for us to do and to finish. Help us to persevere and remember that we can do it.
Amen
This week's bible story
The Good Samaritan: Luke 10: 25-37
Today, we're thinking about how we treat people and reminding ourselves that we should never bully or intentionally hurt other people. First, think of some kind things that you could do today. Second, think of some things that you should not do today because they would upset other people.
Hopefully, many more of the kind things than the unkind things will happen today. Next, read the Bible story about someone who got hurt and think carefully to see who did and who did not help him.
Reflection:
In the story, someone had been badly hurt, or bullied, but only one of the three people who came by helped him. I wonder what we could learn from that story about how we treat other people, especially those who are feeling hurt or upset.
Think about these two suggestions for how you could help.
The first is that, if you see someone who is hurt or upset, don't just ignore them – either go and help them yourself or fetch an adult who can help.
The second is to be prepared to help anyone, not just someone you like.
Prayer
Dear God,
There are times when we need help from others and times when others need help from us.
Help us always to be ready to help each other, even people we don't like, just as Jesus taught us.
Amen
English: Poetry
This week in English, we have been looking at poetry. We are still enjoying our class novel The Enchanted Wood by Enid Blyton so we looked at a poem called Enchanted Lands. We found some rhyming words and had a go at learning the poem off by heart. Together we thought of some actions to help us to remember the poem.
Can your child remember the rhyming words? Can they recite the poem to you with the actions?