Merry Christmas from Year 1 and 2
We were not able to do our usual Christmas performance this year… but we hope you like this instead!
Living and learning : emotions
We have been talking about our emotions in our living and learning lessons. It is important to recognise our own emotions as well as other people's emotions. Even if we feel a certain way, this feeling will not last forever and that is okay.
Christmas celebrations
As we approach the final week of term, it's time to get Christmassy, but as you know, it's going to be very different.
We can't invite you in to share any Christmas celebrations so instead we're going to share Christmas with you in a different way. From Tuesday 15 December, there will be a video posted on Class News of your child's class taking part in some Christmas celebrations. We know that this doesn't compare to what we normally do but we hope that it helps in some way.
During the final week of term, there will be a virtual pantomime performance that children will be able to watch at school. Thanks to the PTA who have paid for this.
Christmas lunch will be on Tuesday 15 December and all children will get a Christmas cracker!
On Friday 18 December, there will be Christmas parties in classrooms. Children can come to school in non-uniform. There will be some goodies coming home which have kindly been bought by the company who provide and maintain our photocopiers and printers.
It's a very different Christmas this year but we've worked so hard to stay safe that we don't want to spoil it now.
We hope that you have a happy and healthy, enjoyable and restful time with your families over the Christmas holidays.
Living and Learning : NSPCC PANTS rule
We have been talking about pants again! Children love talking about pants and find them funny but we use it in school to deliver a serious safeguarding message. The NSPCC have created some fab resources for us, and you, to use when teaching our children how to keep themselves safe. Ask your child about the PANTS rule and sing along to the catchy song!
Happy and healthy playtimes
Our new playtime equipment arrived today. The children were so excited to unpack it! Regular exercise has lots of health benefits for children such as providing an opportunity to socialise, increasing concentration and improving self-esteem.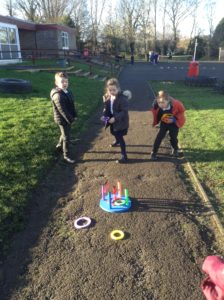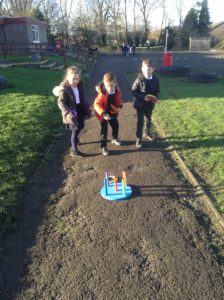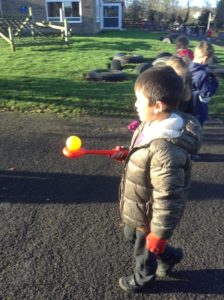 Virtual after school clubs
We know you are missing attending after-school clubs at the moment (in and out of school) so here is some information about a virtual after-school club that can be done at home.
The Youth Sport Trust have taken the step to deliver a free virtual after school club as part of a national response to the second lockdown. The 30-minute club will take place at 5pm each weekday and be led by a different member of the YST's athlete mentor network. These will run until 18 December.

History : What's the artefact?
We've had some great history lessons this week. We looked at some artefacts (old objects) and tried to guess what they were. This one is a water squirt – used to squirt water on buildings during the Great Fire of London.
The children guessed what it might be before we talked about what it was used for.  We were great historians!
It might be a ski.

It's a gun.

It's a needle.
Celebration certificates
The certificates this week go to…
For great learning…
Willow – for working hard in reading this week.
For sport and physical activity…
Evie – for great enthusiasm and determination in PE.
For living and learning…
Summer – for remembering our school definition of bullying.
Numbotter of the week– Emily for earning loads of stars!
Our new class reward system is still going down well too. For making good choices throughout the day, children can write their name on a raffle ticket (some children have got 9 or 10 tickets in this week). On a Friday, 5 winners will be drawn out and can choose a prize from the Raffle Reward box.
Adjective day 2020
We had a fabulous Adjective Day today. It was a bit different having to stay in our bubble and not being able to parade in and out of every classroom but we still had a great time. We have lots of examples of adjectives on our word wall now. We even managed a distanced rendition of our adjective song.
Adjectives can tell you more,

About a noun and that's for sure,

Ad-jec-tives!
Healthy eating assemblies
The whole federation joined together to take part in an assembly about healthy eating last week. It was very exciting to see the other classes in the other schools! We had these booked in for Health Week last summer, which had to be cancelled.
The Leeds Health and Wellbeing Team delivered the assembly where we learnt all sorts of interesting things about keeping healthy and finished off with an interactive quiz.