Celebration certificates
We have had another busy week! Our certificates this week go to…
For great learning…
Noah – For great work in reading. You have concentrated well and shared your ideas.
For sport and physical activity…
Jacob – For determination in PE – trying to beat your skipping personal best.
For living and learning…
Ralph – For being considerate of others.
Our new class reward system starts next week too. For making good choices throughout the day, children can write their name on a raffle ticket. On a Friday, 5 winners will be drawn out and can choose a prize from the Raffle Reward box.
English – all about nouns
This week, we have been learning about how different words can have different 'jobs'. We have talked about nouns this week. We learnt a song to help us.
NOUNS

Every person, place or thing,

Needs a name and so we sing,

Nouns means names.
We went on a noun hunt around our classroom – there are nouns everywhere!
Handwriting – a helpful video
The Year 1s we have started learning how to write letters using a lead-in line. We have practised 'c' and 'o' so far. Next week, we will be practising 'a'.  In year two, children are encouraged to join letters. A copy of the handwriting guide can be found here. Try watching this at home to support your child's learning. (This is a YouTube link. Top tip for watching YouTube with your child: go to the settings cog along the play bar and turn off autoplay – this avoids an inappropriate clip coming up automatically, and helps to discourage your child from passively watching clip after clip.)
Art – a type of therapy as well as a lesson?
We have being doing lots of art since we returned to school in September. It has been proven to help us relax, is enjoyable, gives us time to talk to each other and helps us express ourselves.
Celebration certificates
It was great to see (nearly) everyone back this week. Lockdown will not get us down!
As we can't have our usual celebration assembly on a Friday at the moment, I will be posting the certificate winners on here each week.
For great learning…
Murielle: for great learning in writing this week – using adjectives in your sentences about the Great Fire of London.
For living and learning…
Aubree: for showing perseverance in your first week at St James'. You are a brilliant role model.
History topic – The Great Fire of London
We have started a new history topic. Lots of our learning will be linked to The Great Fire of London. We are reading this book to support our learning:
You could search for a video of it on You Tube or there is a slideshow of the story here that you can read with your child at home.
We will be learning about where and how the fire started, why it ended up being so 'great' and what happened afterwards. We will also be learning about fire safety.
Help at home by asking your child about what they have learnt about The Great Fire of London so far.
Christian Value: Friendship
This half term, our Christian Value has been friendship.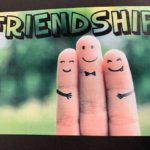 We have thought about how we can be a good friend and what we can learn from the Bible about friendship. We learned that Jesus teaches us to be a good friend to all – he told a story about how the good samaritan was a friend to someone who was supposed to be his enemy.
In our reflection areas, we had two challenges: a friendship flower and how to be a good friend.
For our friendship flower, we thought about who was a good friend or someone we were thankful for and wrote or drew a short thank you thought or prayer for them.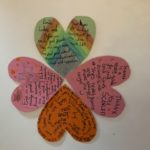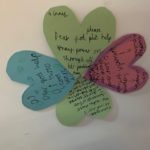 We took the friendship finger challenge and thought about all the things that make a good friend. We thought about how we could be a better friend.
Foundation stage have also been learning all about our Christian value of friendship. They've created a friendship tree and friendship stones whilst thinking about the qualities they would like in a friend.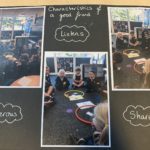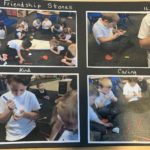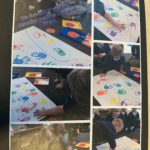 Look out for next half term's Christian value: perseverance.
Living and Learning – mental health
We have been looking at mental health over the last few weeks. Using mindfulness techniques (we like some of the Go Noodle ones) and talking about our feelings, moods and emotions is important. The SMILERS 7 steps to wellbeing is also a simple self-help guide.
Phonics – sound mats
At the recent parent-teacher consultations, a few parents asked about the sound mats we use in school. Children have been talking about 'orange' and 'green' sounds at home – which is great!
Here are the sound mats and below is a link demonstrating how each phoneme (sound) is pronounced.
Listen to the orange sounds here.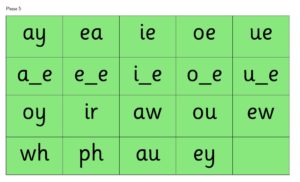 Celebration certificates
It's Friday again… another learning-packed week. The children are now able to choose a library book to take home on a Friday. We enjoyed reading and sharing our books outside today.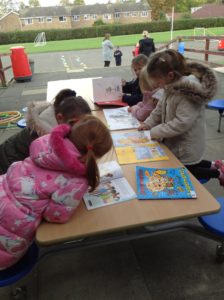 As we can't have our usual celebration assembly on a Friday at the moment, I will be posting the certificate winners on here each week.
For great learning…
Teddy – for being an active learner. You often have your hand up and like to contribute in lessons. Well done!
For living and learning…
Honey – for being polite. You know that manners are important.