Latin
This term, Year 3/4 have started to learn Latin. Sounds hard, doesn't it? But we've been having great fun! We have been using our new-found knowledge of Latin words to create our own inventions. Using the translation sheet, can you work out what these new creatures can do?
New inventions translation sheet.
Ralph's Aquacanine, Emilija's Magniporci, Eliza's Aquacent and Aubree's Magicani.SKM_C554e21100514040
Kamile's  Primoporci, Dexter's Magicani, Edward's Aquacanine and Summer's Porcimagi. SKM_C554e21100514041
Olivia's Magniped, Caleb's Aquacane, Jack's Subaqua and Casper's Magniped. SKM_C554e21100514042
We hope you enjoy reading these as much as we did making them!
RE: creation stories
In RE this half term, we have been learning about creation stories from different religions, looking at their similarities and differences and if they are relevant today. The class has been discussing the importance of rest.
Muslims have a day of prayer on a Friday.
Jews have a day of rest – Shabbat – every Saturday.
Christians have a rest day every Sunday.
Sikhs often have their day of worship on Sundays in the UK.
Here are some of our class's thoughts about what they'd do on a rest day. Click on each link to see their work.
SKM_C554e21101308430 SKM_C554e21101308440 SKM_C554e21101308400 SKM_C554e21101308431 SKM_C554e21101308441
We love reading!
The children have had a delivery of some brand new reading books. These books have been carefully chosen and are for the children who are free reading. We have put some of the books on display and the children can select a new book whenever they require one.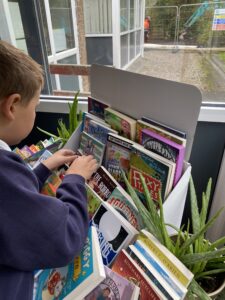 For those children who are not yet free reading, we are encouraging them to read more. We are listening to individual children read as much as we can. If your child requires a new book they need to bring it back into school and place it in the basket.
If you have any queries surrounding your child's reading, please speak with us.
This week's bible story
The Good Samaritan: Luke 10: 25-37
Today, we're thinking about how we treat people and reminding ourselves that we should never bully or intentionally hurt other people. First, think of some kind things that you could do today. Second, think of some things that you should not do today because they would upset other people.
Hopefully, many more of the kind things than the unkind things will happen today. Next, read the Bible story about someone who got hurt and think carefully to see who did and who did not help him.
Reflection:
In the story, someone had been badly hurt, or bullied, but only one of the three people who came by helped him. I wonder what we could learn from that story about how we treat other people, especially those who are feeling hurt or upset.
Think about these two suggestions for how you could help.
The first is that, if you see someone who is hurt or upset, don't just ignore them – either go and help them yourself or fetch an adult who can help.
The second is to be prepared to help anyone, not just someone you like.
Prayer
Dear God,
There are times when we need help from others and times when others need help from us.
Help us always to be ready to help each other, even people we don't like, just as Jesus taught us.
Amen
This week's bible story
Our friendship with Jesus: John 15:12-15 
Jesus calls us his friend and He wants to be in a relationship with us. In the Bible, we see the friendship of Jesus and his disciples develop. Although their intent was to serve and follow Jesus as Master, He calls them friends. Jesus' love and sacrifice for those He walked with is the ultimate example of a relationship. Though we may show it differently, we show our friends how much we love them by the actions that we take.
Jesus calls us friend and He wants to live in a relationship with us. This means that He wants us to get to know Him and He wants us to share our lives with Him – every joy, every care, every hurt, every triumph.
Reflection:
We show our friends we care by the actions we do and how we behave towards our friends. Think about how you can show your friends you care this week and how you can share your week with them.
Prayer:
Dear God,
Thank you that we will always have a friend in Jesus. Help us to be good friends to our friends and show them that we care about them.
Amen
Living and Learning: I can talk about my feelings
This week we have been talking about the different emotions and feelings that we have.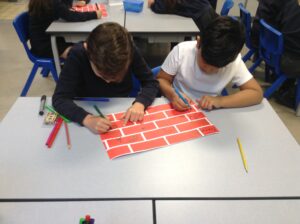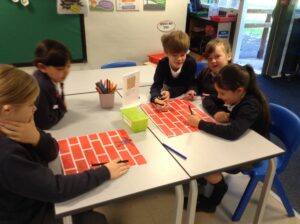 Y34 made their own graffiti walls about all the different emotions that they feel.
We have also talked about how saying positive and nice things to others helps both them and us to feel happier, so we're trying really hard to help us all to be happy!
Geography: Location Location Location
On Monday, a group of children went on a short walk around our local area. They observed, and photographed, human and physical features and discussed the different types of land-use in Wetherby. During the outing, the children were able to spot some Ordnance Survey map symbols.
What is my local area like?
Next week, the whole class will study the findings from the walk.  Using geographical skills and fieldwork, the children will map out the walk and describe the features seen.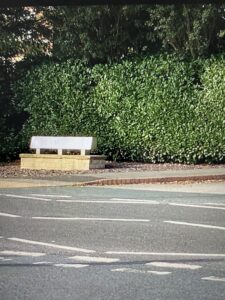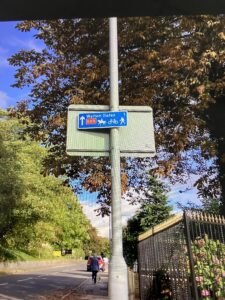 When you are out and about with your children, test their geographical knowledge.
Is this a human or physical feature?

What is the land used for?

What do you think this sign/symbol means?

Do you think there are any issues in this area? eg; parking, traffic, population, housing, green spaces

If you could change one thing about your location, what would it be?

Where are we?
Well done to the group of children that went for the walk. They represented the school superbly!
Harvest Festival
On Thursday, the children made their way to church to celebrate the Harvest Festival.
What is harvest and why do we celebrate it?
This week's bible story
Four friends help a paralysed man: Luke 5: 17-25 
If I asked you to tell you one of the things they liked doing best of all, I imagine it would be playing with their friends. Have a think about your friends and think about what you feel is special about them. In our story, we hear about how four friends help a paralysed man.
Reflection:
Think about the story.
Were there good friends in it?
Think about your friends.
What makes a good friend?
Think about yourself.
Are you a good friend?
Prayer:
Dear God
We thank you for our friends and for the happy times we share with them. Help us to be a good friend to them. Teach us how to play fairly and to share. Help us to recognize loneliness in others and show friendliness towards them. We know that you are our friend and will be with us always.
Amen.
Class Novel – The Legend of Podkin One-Ear
Year 3 and 4 are thoroughly enjoying their new class novel – The Legend of Podkin One-Ear.
A mysterious storyteller rolls in from the snow one night and enchants a warren of young rabbits with the tale of Podkin One Ear: the son of a chieftain who went on to become a legend.
As we read this atmospheric tale, we have been discussing some of the words and phrases used by the author that  create characterisation, setting and suspense.  The children thought about how the author chose the right words and phrases to interest and intrigue the reader. We are certainly interested!
The Gorm
Podkin is son of the chieftain of the Munbury warren but forced to flee with his baby brother and capable big sister Paz when their home is invaded by the terrifiying Gorm, iron-clad monster rabbits turned evil by greed and enchantment.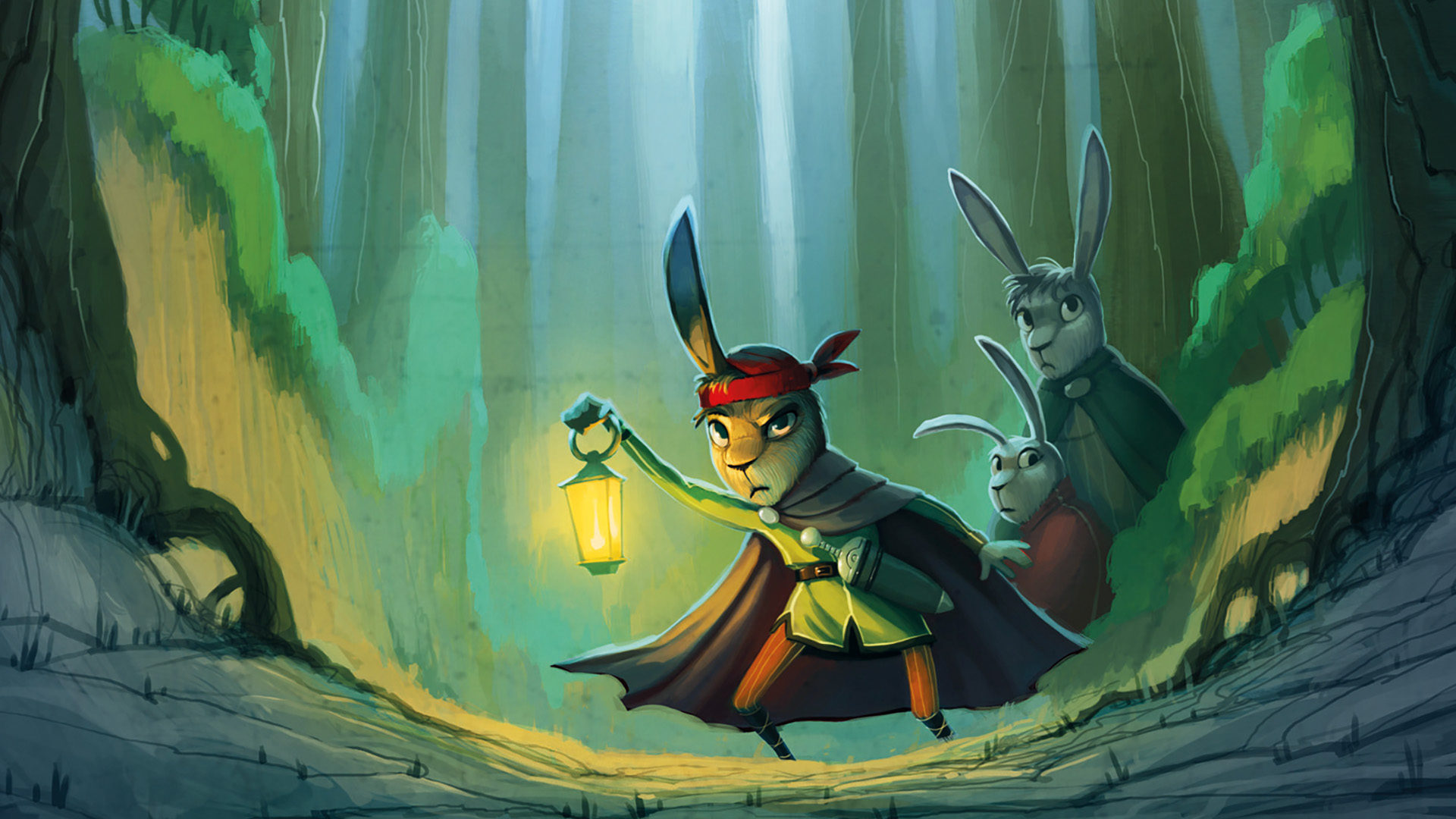 The Gorm are a frightening bunch of thugs who want to take over the rabbit world and crush all before them.  In class, the children were given half an image of The Gorm and, using the words and phrases we had discussed, they briefly sketched the other half.
iron-clad beasts

grinding metal

clump of heavy leather boots

a walking slab of metal and meat

pierced with rusty thorns and nails

jagged, dented iron

cruel shard-like spikes

curved metal horns

shadowy eye slits

dim scarlet pupils

mottled with rusty red veins
The children really enjoyed transferring the descriptive vocabulary into an image. Not the most handsome of creatures!