Super scientists
This week, we have started our topic "Living things and their habitats".
We started learning about classification – we sorted ourselves into different groups such has fair hair/dark hair, has a pet/doesn't have a pet and has a cardigan on/has a jumper on/has just a t-shirt on. We loved running around and classifying ourselves into groups in the hall.
We then used this knowledge to classify animals into our own groups. We had groups with legs/no legs, reptiles/lives in water/lives in the forest/lives on land.
Our two new vocab words this lesson were invertebrae (doesn't have a backbone) and verterbrae (has a backbone). So we then sorted our animals into these two groups.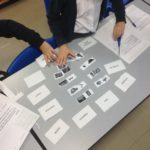 Humpty Dumpty and his aeroplane adventures.
Poor old Humpty Dumpty had a great fall and was scared to climb the wall again. He found a new love for flying paper aeroplanes but wasn't quite sure how to make them or what to make them out of.
But fear not, Humpty, Year 3,4 are here to help!
During our science lessons, we have been experimenting with paper aeroplanes to find the best material and size plane for Humpty.
First, we checked we all knew how to make a paper aeroplane. To make sure that is was a fair test, we all had to make them the same.
Then we made three aeroplanes out of different materials; paper, sugar paper and card,  and tested how far they flew. We found the paper was the best!
Once we knew this, we were able to test which size plane was the best: A5, A4 or A3 sized paper.
We found A3 sized paper aeroplane flew the furthest whilst learning about how a science experiment must be a fair test, making predictions and how to ask scientific questions.
PE days
Hopefully you have read the information in the Autumn for all – Key Info St James', which also has a link to our uniform policy.
On the days your child has PE, they should come to school in their PE kit. (Track-suit bottoms instead of shorts would be good on colder days. Footwear : black/brown/grey/white flat shoes which are safe to run around in.)
Footwear on PE days could be children's 'school shoes' which are often a 'trainer' style anyway, if you want to avoid having to buy 2 pairs of shoes.
Please find below the days each class has allocated PE times, which will be taught outdoors, except in extreme weather.
Foundation (Miss Marsden) – Wednesday
Year 1/2 (Miss Harker) – Thursday & Friday
Year 3/4 (Mrs Welsby/Mrs Rowley) – Tuesday & Friday
Year 5/6 (Miss Beatson/Mr Mills) – Tuesday & Friday
17 July 2020: Home learning
Good morning children. It's Friday. It's the last day of the summer term! Sadly, the year hasn't ended in the way in which we would have loved. We've missed out on our usual treats and fun. Mrs Welsby and I are missing it as much as you but we will make up for it when we see you in September.
School Trip
A fun school trip just because! Today, head to Walt Disney World. Have fun looking around. Find your favourite ride or attraction and write a review. Why should someone go and visit it? What was the best bit? How could it be improved?
Reading
You all know how much I love a good musical – this one was my favourite as a child and I used to watch it nearly every day on repeat!
Sing along with this song. Read the words as you go.
So long, farewell (from the Sound of Music)
There's a sad sort of clanging
From the clock in the hall
And the bells in the steeple, too
And up in the nursery
An absurd little bird
Is popping out to say coo-coo
(Coo-coo, coo-coo)
coo-coo Regretfully they tell us
coo-coo But firmly they compel us
coo-coo To say goodbye
To you
So long, farewell
Auf wiedersehen, goodnight
I hate to go and leave this pretty sight
So long, farewell
auf Wiedersehen, adieu
Adieu, adieu
To you and you and you
So long, farewell
Au revoir, auf Wiedersehen
I'd like to stay
And taste my first champagne
Yes?
No!
So long, farewell
Auf Wiedersehen, goodbye
I leave and heave
A sigh and say goodbye
Goodbye
I'm glad to go
I cannot tell a lie
I flit, I float
I fleetly flee, I fly
The sun has gone
To bed and so must I
So long, farewell
auf Wiedersehen, goodbye
Goodbye
Goodbye
Goodbye
Goodbye
Now, write a list of any words that are new to you. Can you find out what they mean?
17 July 2020: Home learning
It's Friday! It's the last day of term!
This has been a tough year and you should be proud of yourselves and the way you have all coped with the changes and challenges.
Maths
For a lot of the lockdown learning, we have been doing challenges on a Friday so it's only right that for our final maths lesson we do a final challenge Friday! Head to BBC bitesize for your last home learning maths lesson.
Living and learning
We'd love to hear your views about this year. Finish these sentences and send them, by email, to your Mrs Welsby and Mrs Rowley:
I feel I improved the most in…
Something important that I learned this year was…
My favourite subject this year has been…
What I enjoyed learning the most this year was…
Something I'm proud of accomplishing is…
Something I've learned about myself is…
Something I will miss is…
I will never forget this year because…
16 July 2020: Home learning
Good morning – it's your penultimate day of year 3 and year 4. How are you feeling about having finished (nearly!) the school year? It's been a funny old year and Mrs Welsby and I are definitely missing teaching you all.
School trip
Today, we're jetting off on a plane all the way to Seattle. Seattle is a seaport on the west coast of the United States. We're heading to Seattle Aquarium.
Once you get to the aquarium, you have a choice: you can either watch the live feeds or join in on their virtual field trips.  Once you've completed the trip, have a go at one of the following activities.
Carry out a research project on Seattle aquarium.
Create an information brochure for the Seattle aquarium.
Create a poster advertising the place.
Create a fact file using what you have learned in the video or about one of the animals you saw.
Maths
Gnome Valley is a beautiful, well-cared for garden. It is home to the happiest community of gnomes ever to grace a garden. Or at least, it was.
All is not well in Gnome Valley. Over the past few nights, there have been strange things happening. First, a group of fisher-gnomes had their rods stolen. Then, the 'Welcome to Gnome Valley' sign was hidden in a tree. Last night, while all the gnomes were sleeping, the gnome guards had their red uniform hats decorated with yellow spots! This morning, Gnome News has reported that a naughty gnome is the only explanation for these strange situations. Gnome Valley Police are worried and have called in Detective Gnome to get to the bottom of what's going on.
Can you help Detective Gnome solve the problems to discover which
naughty gnome is behind the devious deeds?
Virtual School Sports Day – results
Thank you to everyone at home and in school who took part and submitted results. Over 200 schools across West Yorkshire took part. You can see the results below.
Did you get sporty today?
Well, the rain came – just like when we usually have sports day! We hope you managed to complete at least some of the challenges set by the West Yorkshire School Games for the Virtual Sports Day. Don't forget to submit your results here : https://docs.google.com/forms/d/e/1FAIpQLSfdEX8xOo-PtkFwasg0B7deXM1uzvMQMFAPwpKCU9yEKG6qqg/viewform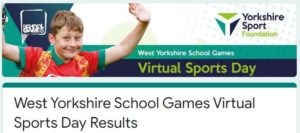 Social distancing: How wide is 2 metres?
A group of us who are in school looked at how wide 2 metres was. In our investigations, we found that 2m was the same as the following:
2 Hana's legs
7 yellow cones
1 ¾ Alfies
16 Emily's phones
4 stools
42 board rubbers
7 i-pads

18 glue sticks
4 carpet tiles
20 maths blocks
6.4 rulers
10 Mr Stink books
7.8 of Mya's water bottles
17 pink houses
0.8 football goals
24 sticks
How many other ways could you measure 2 metres?
Story time
So, here is the final installment of The Chicken Gave It To Me by Anne Fine. I hope you have enjoyed listening to it. Let me know your opinion of the book.