Last week in school
Last week, we opened our school up to some of our pupils. Here are some of the fun activities the KS2 children have been doing.
Story time
Here is the link to the penultimate chapters (15, 16, 17) of The Chicken Gave It To Me by Anne Fine.
Story time!
Here is the link to the next chapters (12, 13 and 14) of The Chicken Gave It To Me by Anne Fine.  I hope you are enjoying listening to it as much as I'm enjoying reading it to you!
Don't forget, if you want to tell us what you've been getting up to, please send us an email. It's always great to hear from you!                   kerensawelsby@spherefederation.org and beckyrowley@spherefederation.org
Happy summer term
Hello children,
As promised, here are the next two sections of 'The chicken gave it to me'. (chapters 8-9, chapters 10-11) Have you enjoyed hearing a story?
How was your half term? Did you enjoy some of the challenges set?
I had a lovely half term with Maddie and Mr Rowley. We spent a lot of time outdoors (thank goodness the weather was so nice) and went on lots of walks. My favourite was a long walk in Dalby Forest. It's been hard not having my usual half term with my mum but it will be all the more special when we are allowed to see other people! Here's a sneak peek at some of the things we got up to!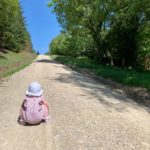 Remember to send us (beckyrowley@spherefederation.org / kerenswelsby@spherefederation.org) an email and show us what you've been up to – it doesn't just have to be learning related although that is fab too – as we're missing seeing all of you!
Mrs Rowley x
Lots of home learning :)
We know it's hard, in these challenging times , to focus on learning new things. We are glad that our learning activities have helped many of you to have a routine. Evie has sent in lots of different learning that she has been challenging herself with. Well done, Evie! Keep up the good work!
Poster about Colombia
In our Explorers topic we have been finding out about countries around the globe, from the northern hemisphere, the southern hemisphere and those on the Equator. Leah has shared her fab poster about Colombia. Great job, Leah!
We are working well at home!
Hi all,
It's great to hear how you are getting on with your home learning. Here are a couple of pieces of work that have been sent to us. The shape work is by Leah and I know Evie is really enjoying the writing tasks. Keep up the good work!
0
0
What's growing?
Mr Atkins has been very busy planting some vegetables in our school allotment. Can you guess what he has planted?
There are peas, carrots, radishes, lettuces, beetroot, spring onions and potatoes! Thank you Mr Atkins for watering them and keeping them going until we are all back at school.
Explorers: extra questions
Hi,
You have already looked at our Paris text to answer the questions set by Leah. Here are another set of questions  written by Joe. It's great when you send in challenges for your class mates, Year 3/4. Thank you!
1.Where is the highest point in Paris?
2.What does Fluctuat Nec Mergistur mean?
3.What is Paris's world famous museum called?
4.Name three Parisian Artists?
5.What direction does the River Seine flow?
6.Who gave Paris its name?
7.What building is over 800 years old.
8.How many restaurants are there in Paris?
9.Why was the Eiffel Tower built?
10.Where is Paris?
From Joe
Storytime: Pog by Lynn Lee
If you fancy listening to me reading the story of Pog, the little monster who was afraid of children, click on the link. It's my first time at videoing me reading a book, so I hope it's ok! We are all learning new things in lockdown!