Keeping active at home
Hi children,
We hope that you've had a good start to the week despite the change in weather.
One of the things we are good at doing when we are in school is keeping active. How are you finding it now that you're at home?
I've been spending lots of time in the garden practising Maddie's new walking skill.
Mr Mills has been busy practising his skipping routine – have a look at him in action here. Can you copy him or make your own routine up? If so, ask a grown-up to video it or take some videos to send to us. Remember to send it to both Mrs Welsby (kerensawelsby@spherefederation.org) and to Mrs Rowley (beckyrowley@spherefederation.org).
Evie and Ralph have been busy getting some fresh air in the garden making worm houses and going for walks.
Send us some pictures of all the active things you have been doing at home. We can't wait to see them!
Keep safe,
Mrs Rowley
Keeping in touch
Hi everyone,
For a quick message from me, click here.
I've added a few pictures of the first week of home learning.  If you email me any pictures, I'll add them to our class news.
Mrs Welsby
World Book Day 2020
This week, we've been celebrating World Book Day by sharing stories for ten minutes each day. Yesterday, lots of children brought in their favourite book to share with the class. Foundation had a great time dressing up as a favourite book character, whilst KS1 and KS2 visited Scholes Primary School to watch a Hobgoblin performance of Wind in the Willows.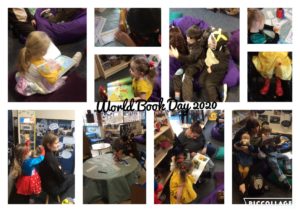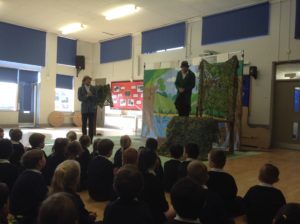 Super skippers!
What an amazing afternoon year 3 and 4 had today!
This afternoon, year 3 and 4 visited Temple Learning Academy to participate in a skipping competition against 4 other schools. The children behaved impeccably and made us very proud.
The children participated in 15 different events and we came away with 10 different certificates, including a few golds! We learnt a skip dance to "Let's get ready to rumble" where we came 2nd! Certificates will be handed out during our achievement assembly on Friday.
Here are a few photos of us competing: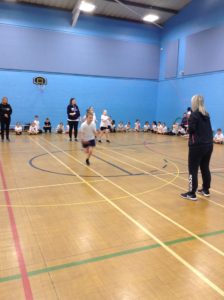 The new, national multiplication tables check
The government is introducing a new, statutory multiplication tables 'check' (MTC) for the first time, in June this year. Children in Year 4 will take this check.
The purpose of the check is to determine whether pupils can fluently recall their times tables up to 12, which is essential for future success in mathematics. It will also help your child's school to identify pupils who may need additional support.
Read more about the check in this leaflet from the Standards and Testing Agency.
Living and Learning: I can show forgiveness
This week, our living and learning statement was "I can show forgiveness."
During our living and learning session, we completed one of our reflection area challenges. We wrote on our whiteboards something that we were sorry for – something that we needed forgiveness for. Then after we'd said sorry for it, we wiped it away. We wiped away the thing we were sorry for.
Is your child in Year 4?
The government is introducing a new assessment for Year 4 pupils. In June, each child in Year 4 is set to complete an online multiplication tables check (MTC). Read more about this new assessment.
There will be 25 questions covering the full range of facts children are expected to know, which means questions going up to 12 x 12. However, there​'​s slightly more weighting towards multiplication facts involving 6, 7, 8, 9 and 12 due to these being the most difficult to learn. For example, there will be between 2 and 4 questions involving multiplying by 6.
For each question, children are presented with a multiplication fact and an empty box. This may be written as __ x 6 or as 6 x __ .
If you'd like to practise at home, our own website has lots of spreadsheets you can download.
There are also lots of websites that you can use. This one is very similar to the MTC. It's possible to alter the settings on this website to focus on particular times tables.
Another exciting way to practise times tables is through the 'Times Tables Rockstars' website. Every child has their own individual login details that enables them to access their account at school and at home. Feedback so far is that this is proving an enjoyable way to practise times tables facts at home!
Living and Learning: I know how to seek help
During this week's living and learning session, you learnt some mindfulness techniques. These are great techniques to help yourself.
Mindfulness gives your brain a moment of pause to assess any situation without responding irrationally and full of emotions.  Here are some of the mindfulness activities that we learnt:
Here are some pictures of us practising these techniques.
Skipping Superstars
Today, Leanne, from the Skipping School, visited to teach us some new skipping skills.
We learnt a variety of jumps; the double jump, the speed bounce, the crossover and the pretzel to name a few.
We played two group games and we also learnt a dance routine which we will add skipping to ready for a competition in March.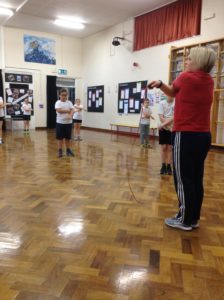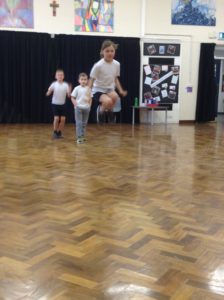 Living and Learning: I know what a drug is.
This week, our Living and Learning statement was 'I know what a drug is'. As part of our learning, Dave from D:side came in to talk to each class about drugs. With the younger children, he spoke to them about medicines and how we can keep our bodies healthy. In KS2, he delivered workshops on smoking, alcohol and drugs.
Following on from this, each class discussed the issues and dangers around passive smoking and what they could do if they felt uncomfortable about it. The NHS website has some excellent information about passive smoking and the risks for children.