Orienteering
As part of our 'Where in the World' topic, we need to be able to identify map symbols as well as be able to use maps. Last week, we did just that by orienteering around the school grounds. We had to find 10 control points dotted around the area. To do this we had to use a map of the school and know what all the symbols meant in order to find our way around.
Once we had visited all of the control point we had to unscramble the letters we found to make a piece of our topic vocabulary. It was – Ordnance Survey – the company who make maps.
Lilly said, 'I was so out of breath running round trying to find the places as fast as possible'
Harley commented, 'I really had to think hard when using the map and persevere!'
Living and Learning: I know how to stop bullying
This week Living and Learning statement has been linked to anti-bullying week. This year's theme is 'Change starts with us'. As a class we discussed what this meant. We had some good suggestions
'We can all do something to stop bullying' – Daisy-Mae
'Even if you aren't being bullied you can help somebody who is' – Nicholas
We all then reminded ourselves what the definition of Bullying was :
Several Times On Purpose
If we are going to make a change and it starts with us then we have to remember the points that Daisy-Mae and Nicholas made. We have to
Start Telling Other People
'If ever I see bullying I will tell an adult' – Isobel
Living and Learning: democracy
On the last day of half term, the school councillors for this year were elected. The children read aloud and listened to speeches in their own class. Then the children went into the hall to vote for their class representatives; this was a very fair and democratic process. Congratulations to all the children who will be school council representatives for 2019-2020.
Living and Learning: I use the 8 Rs to help me learn
We have had a very exciting time making our own tree houses, inspired by our class novel, The 13 Storey Tree House. For the first part of the design process, we followed design criteria and made annotated sketches to design our tree houses.
Once that was completed we had to cut up pieces of wood to the lengths in our specification. We had to do this carefully so as not to chop our fingers off! Thankfully, Mr Atkins was on hand to help.
This week we will begin making our product. We will need to use all our 8 Rs with this activity: being resilient if we find gluing the tree houses tricky; being responsive; taking safe risks when we used saws to cut the pieces of wood; and being responsible when we were using the tools to make our product.
Build a Lego house
As part of our DT focused topic on the Thirteen Storey Treehouse, we are investigating products and how they are designed and made. This week, we were looking at criteria and specifications.
We discussed what the basic specifications for a house would be before simply just building it. We decided our Lego houses needed to have: at least 4 walls; be 7 bricks high; have one door and two window frames; and at least two internal rooms.
Identifying and classifying
A great start has been had by all in 3/4. We have begun reading our class novel 'The Thirteen Storey Treehouse', which will inspire most our topic work this term.
Before getting into the business of designing and making treehouses we thought we had look at different types of trees and their leaves. We played a matching game to match leaves to their threes and seeds.
Following this we ventured into the school grounds to identify the trees  we had close by and collect some of their leaves to verify our observations.
We were amazed by how many types of trees were just in our playground.
Sounds of Summer Concert
We took part in an Artforms performance. Year 1 and 2 were superb singers while year 3 and 4 were part of an orchestra. Other schools joined us for this great opportunity.
Sports Day
Well done to all the children for showing resilience and determination in their races!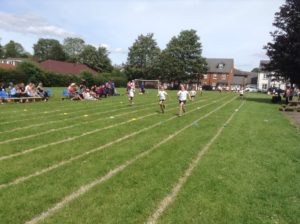 Volcano!
Last week, we were set a piece of creative homework that followed up on our work in class or recognising the features of volcanoes and how they erupt.
All the class produced stunning pieces of work at home with your support. We had: posters, poems, quizzes, rock displays and of course model volcanoes.
Of course, it wouldn't be an accurate model if it didn't erupt. Thanks to some extensive research, some children had found out which substances to mix to make the models erupt.
But don't worry. No children or classrooms were harmed in the making!
Living and Learning: I recognise the importance of money.
This week, the class explored what it would have been like before money when trades people traded their goods with each other. They became a trades people and used their bargaining and persuasion skills to make trades with each other. We discussed how some things – such as a cow – were worth more than others. For instance, a bag of wheat. The children identified problems with this method and recognised how having money makes buying what you need both simpler and fairer.