Welcome to the Chocolate Room
What a day yesterday was! After finding the last golden ticket and meeting Mr Wonka, we – along with Charlie and the four awful brats – found ourselves outside the Chocolate Room.
The hall had been transformed and filled with contraptions from Mr Wonka's imagination to make his most wonderful sweets and chocolate. We let our imaginations run wild as to what everything could be and what it might smell, taste, or even sound like.
We then went back and wrote all about our experiences in the chocolate room. The pieces of work and descriptions that came out were simply amazing. We can't wait to see what other surprises await in Mr Wonka's factory.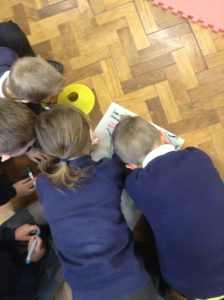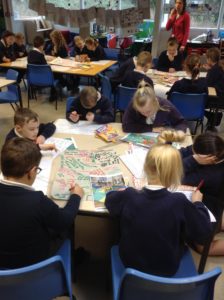 Living and Learning: I know how to make things better
The children all brought in some fantastic responses to the creative homework about making things better. We had posters about how to be a good friend, a game about making good choices, a guide to how to say sorry, and a game based on friendship.
Here are some of the pieces that we decided we liked as a class for their creative and presentation.
Living and Learning: I know what a drug is.
Our Living and Learning statement this week is 'I know what a drug is'.
We thought about all the different types of drugs people may put into their bodies.
We noticed there were many types of drugs that can be helpful if people are ill. Everyone agreed that even these drugs, such as paracetamol and Calpol need to be taken in the correct amounts and with care.
There was lots of grown up discussion about why people may put other more harmful drugs into their bodies.
"If some drugs are illegal why do people take them? Erin
"If you take too much of something it will damage your body but a little bit might help it". Cohen
Using a life sized body outline we began to think about how different types of drugs affect the different parts of the body-including the mind and how people feel.
We shall be continuing this important topic next week during our Living and Learning session.
Our class novel
We have now begun our new big topic based around our class novel – Charlie and the Chocolate Factory. From what we have read so far, we are all completely hooked by the odd characters and vivid descriptions. We are all eager to see what happens to Charlie and the other wicked children. During the topic we will: conduct science investigations, make collages, make chocolate bars and write all about Charlie's adventures.
Of course, the book is written by the wonderful children's author, Roald Dahl. It would be well worth a visit to Wetherby Library to choose more books written by Roald Dahl. You may even discover another children's author whose work you enjoy.
Living and Learning: I know Love is important.
We had a wonderful start to 2019 by discussing this weeks living and learning statement: "I know Love is important".
We tried to define 'love' and created a mind map of all the words that came into our heads when we simply said 'love'. We realised all the words we came up with were positive and then thought about how all the words we associate with hate are negative.
During circle time we shared how we show love to ourselves, other people, God and the world.
"I show love to my friends by always being there for them". Erin
"I show I love to my family by caring for them and helping them". Harvey
We talked about how important it is to not only show love but to feel love. This makes us feel valued and accepted, no matter what our beliefs.
The nicest comment of the day came from Hannah:
"Love is free. It doesn't cost anything so it doesn't matter if you are poor you can still show love".
Living and Learning: I respect myself and others.
Our Living and Learning theme this week was all about Respect. When we hear the word what does it mean to us? We began by filling pieces of paper on the things we already know. By the end of the session we filled in the 'gaps' with the things we had learnt.
After our 'silent statement' circle activity, we discussed some of the things that arose.
How do we show ourselves Respect?
"By looking after our body, doing things that keep us healthy". Emily
Would you ever respect someone who is unkind to others?.
"No because that would mean their behaviour is ok. People should treat other people how they wanted to be treated". Lily
Should we only show respect to living things?
"No. We should respect our things, things at school and the environment". Hannah
As usual, another mature and sensible session. Well done 3/4!
Our smells poems
Here are is a selection of some of the wonderful poetry work we have composed this week based on the poem 'Smells'.
We all started the poem in exactly the same way as the poet and then added our own ideas from then onwards.
Why is it that the poet tells
So little of the sense of smell?
These are the odours I love so well
The smell of oranges freshly ripe – Erin
Apples sunset red and juicy – Oliver
The fragrance or a rich chocolate cake – Hannah
Melon mouthwatering and sweet – Jessica
Smells and tastes
After finishing our work on diaries based on our class novel 'Friend or Foe', we've been enjoying a poem called 'Smells' by Christopher Morley. In it, he talks about all of the smells which he loves, freshly ground coffee and campfire embers to name just two.
So we could write our own version, we sampled lots of different fruits with distinctive smells: apples, oranges and melons. We recorded a huge amount of vocabulary that could be made into expanded noun phrases and then played around with the words to fit into the style of poem we were writing.
And of course we got to eat the fruit afterwards!
Living and Learning: I know who I am.
Our Living and Learning theme this week is 'I know who I am'.
To begin, we spent time thinking about all the things that make us who we are. We discussed how we are all special and unique. By using talk partners, we found out the similarities we have with our classmates and the things that make us different, be it our beliefs, skills or preferences.
Leading on from our previous sessions, lots of us were quick to point out how important it is to respect other people's views and opinions. We designed our own 'I am special stars', with designs and words to reflect our personalities. We were surprised by how challenging it can sometimes be to say positive things about ourselves and the things we are proud of!
Power
Our new mini- topic named 'Power' has begun this week. During this topic we will be learning mainly about forces and magnetism. So we began by looking at friction.
We choose different surfaces to test out: hessian, plastic, sandpaper. Then, we rolled a small car down a slope across the surfaces and measured how far the car rolled.
We then graphed our results to find out which surface produced the most friction. It was really important that we measured accurately and kept all the other variables such as the length of the slope the same.
Stay tuned for more investigations!