Digging up the past
This week, we became archaeologists for the day and excavated some interesting artefacts. We spoke about how we know a lot about the past from objects that have been found and they can tell us a lot about how people lived and what their daily lives were like.
So that we didn't break or damage the artefacts, we had to use brushes to delicately unearth  the objects. We also used a co-ordinate grid system to record where each artefact was found.  The artefacts were a little strange, so we had to use our detective skills to figure out what they were what they were possibly used for.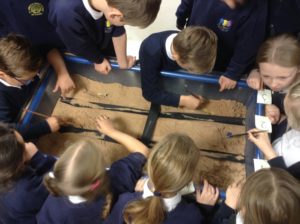 Living and Learning: I know how to STOP bullying.
During the week we have reflected on the many issues surrounding bullying. The theme of this years Anti Bullying week is 'Choose respect'
What does this actually mean and how do we show respect to our friends?
RESPECT 'have due regard for (someone's feelings, wishes, or rights)'
In our Living and Learning session we thought how being bullied makes a person feel. We talked about all the emotions involved such as being scared, terrified, worried, heart broken.
Some people were honest enough to say you may feel so frustrated if you are bullied that you might feel like you want to 'do the same to them'.
After a very grown up circle time, we agreed the best way to stand up to a bully and STOP bullying is to tell someone. Always.
A very special visitor
Earlier this week, we welcomed a very special guest into our classroom – none other than Mrs Richardson's dad! He came in to talk to us about rationing and evacuation, which links into our topic work on food throughout time – as well as our current class novel 'Friend or Foe'.
We all found it fascinating hearing about what life was like growing up in the war and what kinds of foods he ate – some of them sounded quite weird!
We'd like to say a big thank you to Mrs Richardson's dad for giving up his time and giving us such a memorable experience.
Odd socks for anti-bullying
On Monday, to kick off anti-bullying week, we joined in by wearing odd socks with many other children in the school and around the country.
The idea was to celebrate the fact that everybody is different, everybody is unique and we should celebrate our differences. We had a circle where we reminded ourselves what bullying is and what we can do to prevent it.
Our school message is: STOP
Several Times On Purpose
We then reminded ourselves that we should:
Start Telling Other People
Living and Learning: I can show perseverance
Our Christian value this half term is perseverance. This week it was the focus of our Living and Learning session. We looked closely at the words in this definition: 'Persistence in doing something despite difficulty or delay in achieving success'.
Everyone closed their eyes and said the first thing that came into their heads related to the word 'persevere':
"To try and try again."– Jessica
"Challenge yourself, don't give up". – Lily
"Be resilient, like one of the 8 Rs." – Hannah
"When I persevere towards a goal I feel happy because I know I'm challenging myself."-Emily
I posed the phrase 'practice makes perfect', but was very astutely corrected by Oliver: "No, practice makes progress, not perfect."
Finally we watched an animated clip about one animal's perseverance to overcome all the obstacles in his way. He didn't give up and remained focused on his goal.
We left the session with a small task for next week:
Think of an achievable goal or target you are going to work towards.
You'll need to demonstrate how you showed perseverance to accomplish your target.
We've all got until Christmas to work on our chosen goal.
Fantastic feast, scrumptious scran and brilliant banquet
The highlight of our week has been preparing and eating our very own Tudor banquet to go with our time travel topic on food and our current book, 'A Medieval Feast'.
Our first task was – just like the serfs in the book – to prepare some of the food. We made a soup from a variety of winter vegetables, flavoured with parsley and other herbs.
Then came time for the actual feast. We had servants to announce each course with a drumroll, toasts to the king and queen and other honoured guests throughout the meal, jesters to entertain us between courses and, of course, the mouth-watering food.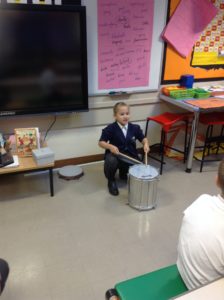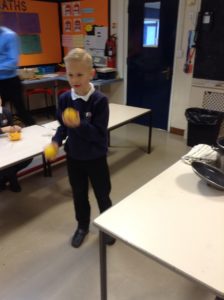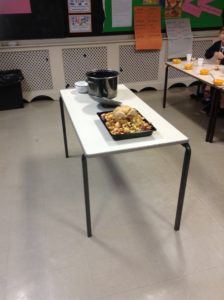 We had the soup which we'd made earlier in the week with scrumptious corn bread. We followed this up with succulent roast chicken and fresh vegetables. All washed down with goblets overflowing with fruity red wine – not really! It was a feast fit for a king.
Living and Learning: I can participate in democratic decisions.
Last week the election for School Councillors gave us an opportunity to explore democracy, which is one of the British values.
We thought about how unfair it would be if important decisions affecting our lives, school and community were made without us having the chance to influence the decision. The process of voting in a democratic society gives us this opportunity.
Then, in preparation for the School Council elections, some of us gave short speeches to persuade our classmates to vote for us if we promised certain things. Issues raised included 'all children should take 30 minutes of exercise each day' and 'children should not wear a uniform to school'.
It was brilliant to hear lots of well thought out responses.
Meet your new school councillors
After a week of learning about democracy as one of the British values, we have voted for our school councillors. Each councillor – as well as the other candidates that weren't elected – had to make a small speech and answer questions on why they should be elected as a school councillor.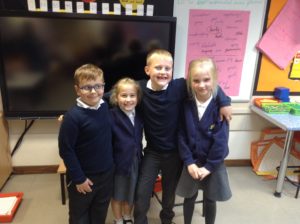 We would like to wish them good luck in their roles and look forward to seeing them succeed and help make our school the best it can be!
Odd one out
As you may have seen from previous homework and news posts, the majority of our learning this half term has been about place value and the number system. We have represented, compared and ordered numbers to 1000 in may different ways.
As such, this morning we played a game called 'Odd one out'. The objective of the game was to spot the odd one out in a series of pictures which depicted a number from 1-1000 using various representations.
Once we had answered questions in our books, we all made them for each other and also a whole class problem on the board for all of you to try at home.
Don't send in your answers – it's just for fun!
Homework superstars
Last week, we were asked to create games or quizzes all about our learning on place value in maths.
The time and effort that went into these was astonishing! We have been playing some of the games today and not only are they well thought out and fun, but they actually help with learning too!
Take a look at some of our stand-out stars below!