Living and Learning: I understand with rights come responsibilities.
This week, we expanded our understanding about the rights we have as children.
Building on from our previous discussions, we looked closely at the responsibility that comes with each right:
I have the right to an education so I have the responsibility to make the most of school and be 'ready to learn'. – Harvey
Several of us mentioned having the right to 'be myself'. We talked about how these protected characteristics make us who we are, and it is our responsibility not to judge or bully others for being themselves and the choices they make.
We considered how each right fits together with a responsibility, a bit like putting 2 pieces of a jigsaw together. We thought about how our behaviours towards others and the environment can affect everyone:
"I have the right to be warm but it's my responsibility not to waste energy". – Lukne
"I have the right to live in a clean environment so it's my responsibility not to drop litter". – Jessica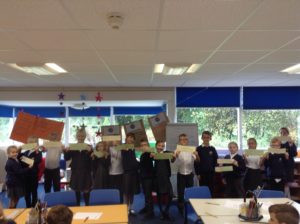 Green radioactive water
Earlier in the week, we were working on measuring capacity using bright green, radioactive water – just kidding… it was only food colouring!
We had to apply our knowledge of place value to count in steps of 10 or 50 on different scales. We also had to make sure we were very accurate in our measuring and not just guessing where the water line was.
Maybe at home you'd like to try measuring out different amounts of liquid. Don't use bright green, radioactive water though!
Living and Learning: I use the 8 Rs to help me learn
We used several of the 8 Rs straight away during our Living and Learning session as we both Remembered and Reflected on the discussions we have had about the 8 Rs.
In small groups we took one of the 8 Rs and then recalled the ways in which we use it to help us learn both in and out of school. It was fantastic to hear comments such as:
"I keep on reflecting about the neatness of my handwriting…you don't just reflect once". DJ
"I show I'm ready to learn by being an 'active listener'". Jessica
People began to challenge the opinions of others in a positive way. Someone made the comment you should 'put your hand up a lot if you know it'. A classmate responded that even if you're not sure of the answer take a safe risk and try to answer anyway. What's the worst that can happen? We get something wrong and learn from the experience!
Can you remember the 8 Rs? Talk about them frequently at home and challenge yourself to remember all 8.
Homework Superstars
This week in our homework review, we looked for children who had gone above and beyond what was expected to learn their weekly spellings. We decided we would look for:
neat and joined handwriting
using strategies from our school spelling lessons
remembering the spelling rules
We chose some stand-out superstars. We were especially impressed with one of our superstars, who not only wrote out the spellings, but also the rule for each word.
Orienteering
On Tuesday morning, we got the opportunity to experience a new and frantic activity- orienteering. Checkpoints were placed all around the school grounds and using a very detailed map we had to navigate our way around a set route.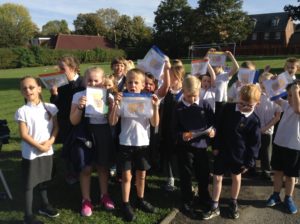 At first, we found it tricky to read the map and understand how to use it, but we showed resilience and soon we were all flying around school desperate to be the first to the finish the course.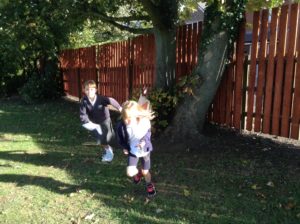 Travelling through time…
On Friday, Hobgoblin Theatre company came into school and took the children on a trip through time – from the stone ages up until modern day. Along the journey, the children learnt many fun facts about history including how Thomas Farriner starter the Great Fire of London and wiped out the plague as he did, how Henry VII had 8 wives and how the Vikings invaded Great Britain. After the production, the children participated in a workshop – learning to become actors and how to create freeze frames.
Here are some pictures and quotes from the children about their experience.
"After the show, I liked it when we moulded people into different shapes."
"I liked making statues."
"I liked the funny costumes."
"I like it when the actors told Jack to go and make them cups of tea."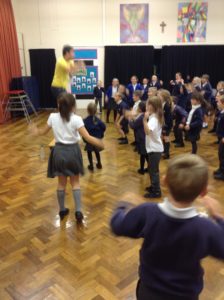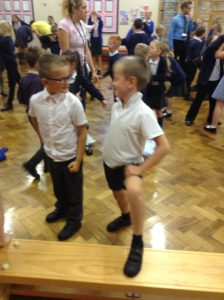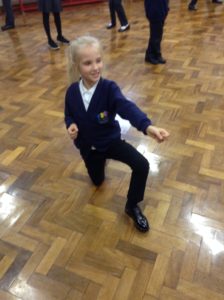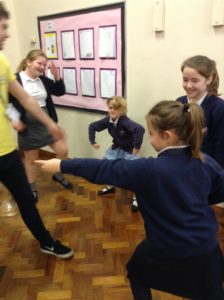 We're going on a…. deer hunt.
This week, we thought we'd get creative and instead of just reading our book 'Stone Age Boy', we would actually go back to the Stone Age. We gathered branches and made them into bows and arrows.
Making the bows and arrows needed us to read the instructions carefully as well as measure the branches very precisely. We then had to use clay to make arrowheads – it was a very busy afternoon.
After this, we acted out the part from the book where the main characters go off and hunt a deer. As you can see from the pictures, we all really enjoyed sneaking through the hall imagining we were being as stealthy as possible so as not to scare the deer.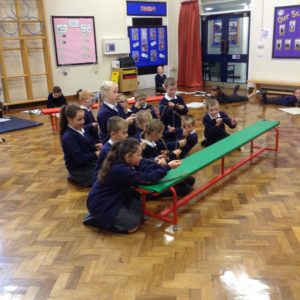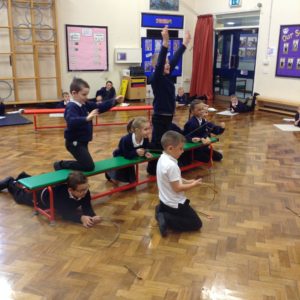 Living and Learning: I remember what I've learnt. I reflect on my learning.
We had a very interesting discussion during our 'Living and Learning' session this week all about how remembering plays an important part in our learning. We agreed some people just seem to be able to remember things more easily than others. There are certain important facts we have to learn and then remember to help us in our work, such as times tables, number bonds and spellings. We can then apply these skills during our lessons which makes many tasks so much easier.
People shared the strategies they find the most useful. We noticed how many different preferred styles of learning and remembering everyone uses. We discussed how it might be useful to try alternative ways to remember instead of always using the same method. As Oliver commented, "I do experiment because I get bored if I always do the same one".
It was interesting thinking about all the learning that takes place at school which we use in in our daily lives. Evie said learning Spanish in Year 2 really helped her on holiday and gave her the confidence to say a few words!
In our classroom we have a 'reflection area' which people go to for various reasons during the day. This led us to talk about the second statement, 'I reflect on my learning'. We discussed why it is important to 'think about' not only what we have learnt but why and how we learnt it.
Again the class contributed to the discussion with real maturity when talking about making mistakes. As one group commented; 'That's what helps us to learn sometimes, because if it's wrong we try not to do it again.' We made links with our previous discussions about how it is important to respond positively to feedback, know our personal targets and strive to reach our targets.
People shared the things they really wanted to get better at and reflected on the bumpy journey it often takes to really reach that goal. We'll make mistakes along the way but that's all part of the learning process!
Our time travelling companion
Our homework this week was to talk about what makes a good time travel companion. We had some brilliant ideas from everybody in the class. However, these are some that we picked out as our favourites:
Daisy-Mae: 'I would take my family and friends because I think they are the most important'.
Hannah: 'I would take Erin because I have known her since year 1'.
Erin: 'I would take my Mum and Dad because they mean a lot to me'.
But, our star answer this week came Oliver who said: 'I would take a person who I could count on and trust and who I would get along with'. We think this is a great demonstration of one of our Christian values – friendship!
Homework celebrations
Just a quick note to say how amazing it was to see the creative homework that the children worked on last week. We extended our homework review session to play all of the wonderful games and quizzes that children had made.
Highlights included Bella's memory game, Joe's tiddlywinks style quiz, Amber's anagrams and Harvey's quick fire capital cities quiz.
Keep up the good work 3/4!