Living and Learning: I take a safe risk. I take responsibility for my own learning
There were some excellent contributions this week during our 'Living and Learning' session. We explored both this week's 'Rs for learning' with maturity and insight.
Firstly we asked, what do the statements actually mean? One group concluded that taking a 'safe risk' is 'when you do something that might be a bit scary but you've thought about the worst that can happen and it's not that bad-like putting your hand up even when you're not sure it's the right answer.'
When we strive to get better at something we often have to come out of our comfort zone and challenge ourselves. We talked about how we can better prepare ourselves for taking 'safe risks' by making sure we're ready to learn and by knowing the specific areas we need to work on.
Being in charge of and responsible for our own learning led on brilliantly from last week's discussion about being ready to learn. We talked about the word 'independent' and how it is up to us (not an adult at home) to make sure we have the things we need for school!
Everyone agreed children have a right to a good education. We thought about how our 'rights' link to our responsibilities. As Lily commented, "It's my responsibility to make sure I've got my reading book and PE kit".
We used the trigger statement 'It's my responsibility to…' and wrote our responses on post-it notes. We then came to the front of class (taking a 'safe risk' if we were slightly nervous) and shared our ideas.
"It's my responsibility not to lose my reading book so I can get better at reading." Jessica
"I take responsibility for my learning, for pride and presentation in my work." Emily
"We have a right to the equipment on the table so it's my responsibility to look after school equipment." Amber
Several people noticed how the 8 Rs often link together, meaning we need to remember the discussions we have had in previous sessions.
I'm looking forward to another lively discussion next week. Well done, Year 3/4.
Our apple harvest
You may remember all the apples that we collected last week and did lots of maths around. Well, this week it has continued and we've been very hands-on making food and using some interesting machines.
We were lucky enough to have an apple press brought in by Mrs Richardson and we used it to make apple juice. The press was quite tricky to use but we all enjoyed using it and seeing how it worked.
The apple juice we made didn't look that nice. However, after trying it, a lot of the children couldn't get enough of it.
After this, we made the the leftover apples into a crumble whilst learning about where different foods came from around the world.
14 September 2018
We've had yet another busy week in Year 3/4. We're still continuing our work on place value and representing number in maths. We've also been brushing up on our skills of using verbs and adverbs in English – both of which are going well.
However, the thing that has most excited the children this week was our first brass instruments music lessons. Yes, it was noisy! Yes, it was exciting – and yes, everybody loved it! The lesson will take place all term and we'll hopefully be able to bring you all a performance of some sort.
We also noticed that the tree outside our classroom had produced a huge windfall of apples. So, we've collected the good ones and we'll be making some apple-based recipes next week. Then we'll look what food other countries around the world produce for us to enjoy.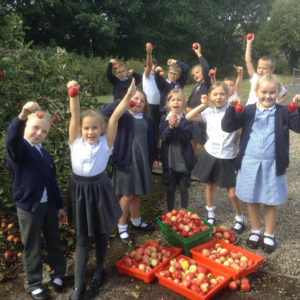 Our first week
The first week in year 3/4 flew by in the blink of an eye. Even so, we still had time to cram in a great deal of learning and all the children made a brilliant start to their school years.
Our new topic is entitled 'Where in the world?' and will see us studying major facts about the world: continents, oceans, capital cities and other facts to do with world geography. We have already begun by labelling up a large map and finding unusual capital cities like Lima and Bogata!
If you'd like to help at home, you could simply use the maps app on your smartphone and explore countries of the world. Don't forget to have a look at famous landmarks from those countries as well.
We also got straight into our maths work on representing numbers in different ways. We've been using base 10 equipment (the blocks) and place value counters. It has been really impressive to see just how confident children were at representing the same number in different ways. They certainly haven't lost any knowledge over the summer break.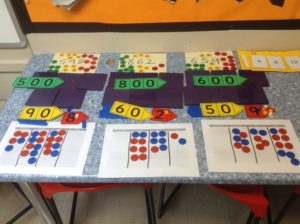 Keep it up year 3/4!
Living and Learning: I greet someone politely
We've been thinking about manners and what they are.
We agreed that saying 'please' and 'thank you' were fantastic examples of  good manners and how to be polite.
So this week, we'll be trying to be polite by greeting people at different times of the day and asking how they are.
We will also try to 'bounce' a question back to be even more polite e.g.
Mr Mills: Good morning, Cohen. How are you today?
Cohen: I'm fine, thanks. How are you?
Mr Mills: I'm great. Thank you for asking.
Christian Value- Honesty
Our Christian Value this half term is honesty. Last week for homework the children were tasked with writing acrostic poems using the word honesty.
It was great to see the work everyone did and all the poems were very different and clearly showed how each child perceived what honesty meant to them. We also had some poems that were not acrostics, but spoke about honesty in other ways – very creative. Have a look at some of them below.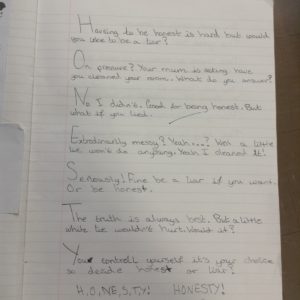 Well done 3/4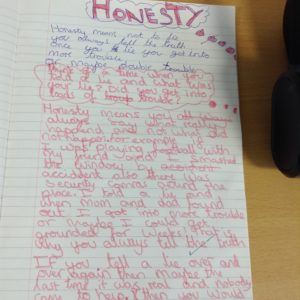 Peace and quiet in the library
This morning, we went to our different-looking library. All the books are now in alphabetical order so that we can find and put books back more easily and in the correct place.
Also, all the non-fiction books about history and animals etc now have coloured labels so we know where to look for books that might interest us.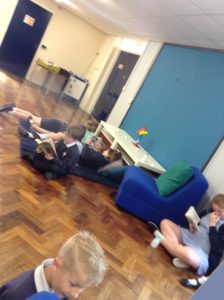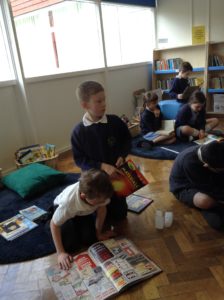 In addition to this, we have also come up with rules for looking after the library:
We put books with the spine facing towards us.
We put books back the correct way up.
We put books in the correct place.
We must respect the library and the books.
Make it a peaceful place to enjoy reading.
Good vibrations
We've now moved onto our next mini-topic, Hearing. In this topic, we'll learn lots about sound: how it is made; how it travels; and how it can be changed.
We've already been using musical instruments to discover how sound travels throug
h the vibration of air molecules.
We then measured the volume of sounds around different locations in school using a decibel-o-meter on our iPads. Unsurprisingly, the hall at lunchtime was the loudest at over 100 decibels.
Finally this week, we carried a rather fun, but odd-looking investigation involving coat hangers. From this we learn that sound can also be transmitted through solid materials the same it way it is transmitted through the air – vibration of molecules.
Power – in all its forms
For the last couple of weeks, our topic has been 'Power'. During the topic, we have mainly been focused on studying electricity as this is what powers most of the objects we use in everyday life.
We have dismantled plugs and electronic toys; made circuits using wires, batteries, bulbs and motors; investigated which materials make the best conductors; and most recently made our very own switches so that we could control the flow of electricity through a circuit.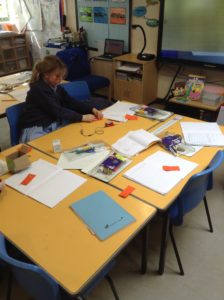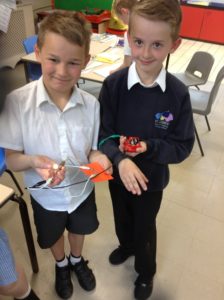 Our topic didn't just cover electricity, though. We used some of our living and learning time to discuss what other forms of power there are. We talked about the government and the police and how they have the power to make laws or to enforce them.
As well as this, we thought about we ourselves are powerful and what we can do when we are resilient, take risks and persevere.
Serious Skipping
On Wednesday, we went to Boston Spa High School for the annual skipping competition. This contest is the culmination of weeks of hard work and perseverance on all of the children's part.
The competition began with the children demonstrating their individual skipping skills: double bounce, speed bounce, crossover and pretzel to name just a few. They also worked as a team to compete in the run and jump in the rope contest.
In this part of the competition, we had some children win bronze and silver certificates for their incredible efforts.
However, the real showpiece was our skip dance routine. The children have worked so hard on perfecting the routine and getting all the moves correct –  some of them were very tricky! Doing this meant the children had to not only skip, but listen to the beat and count a lot to make sure they didn't go wrong.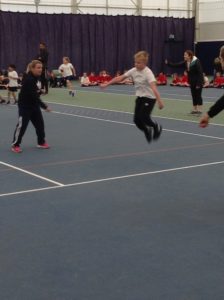 Thankfully, all their hard work paid off and they were rewarded with third place! Great work!!