Harvest Festival
On Thursday, the children made their way to church to celebrate the Harvest Festival.
What is harvest and why do we celebrate it?
This week's bible story
Four friends help a paralysed man: Luke 5: 17-25 
If I asked you to tell you one of the things they liked doing best of all, I imagine it would be playing with their friends. Have a think about your friends and think about what you feel is special about them. In our story, we hear about how four friends help a paralysed man.
Reflection:
Think about the story.
Were there good friends in it?
Think about your friends.
What makes a good friend?
Think about yourself.
Are you a good friend?
Prayer:
Dear God
We thank you for our friends and for the happy times we share with them. Help us to be a good friend to them. Teach us how to play fairly and to share. Help us to recognize loneliness in others and show friendliness towards them. We know that you are our friend and will be with us always.
Amen.
Class Novel – The Legend of Podkin One-Ear
Year 3 and 4 are thoroughly enjoying their new class novel – The Legend of Podkin One-Ear.
A mysterious storyteller rolls in from the snow one night and enchants a warren of young rabbits with the tale of Podkin One Ear: the son of a chieftain who went on to become a legend.
As we read this atmospheric tale, we have been discussing some of the words and phrases used by the author that  create characterisation, setting and suspense.  The children thought about how the author chose the right words and phrases to interest and intrigue the reader. We are certainly interested!
The Gorm
Podkin is son of the chieftain of the Munbury warren but forced to flee with his baby brother and capable big sister Paz when their home is invaded by the terrifiying Gorm, iron-clad monster rabbits turned evil by greed and enchantment.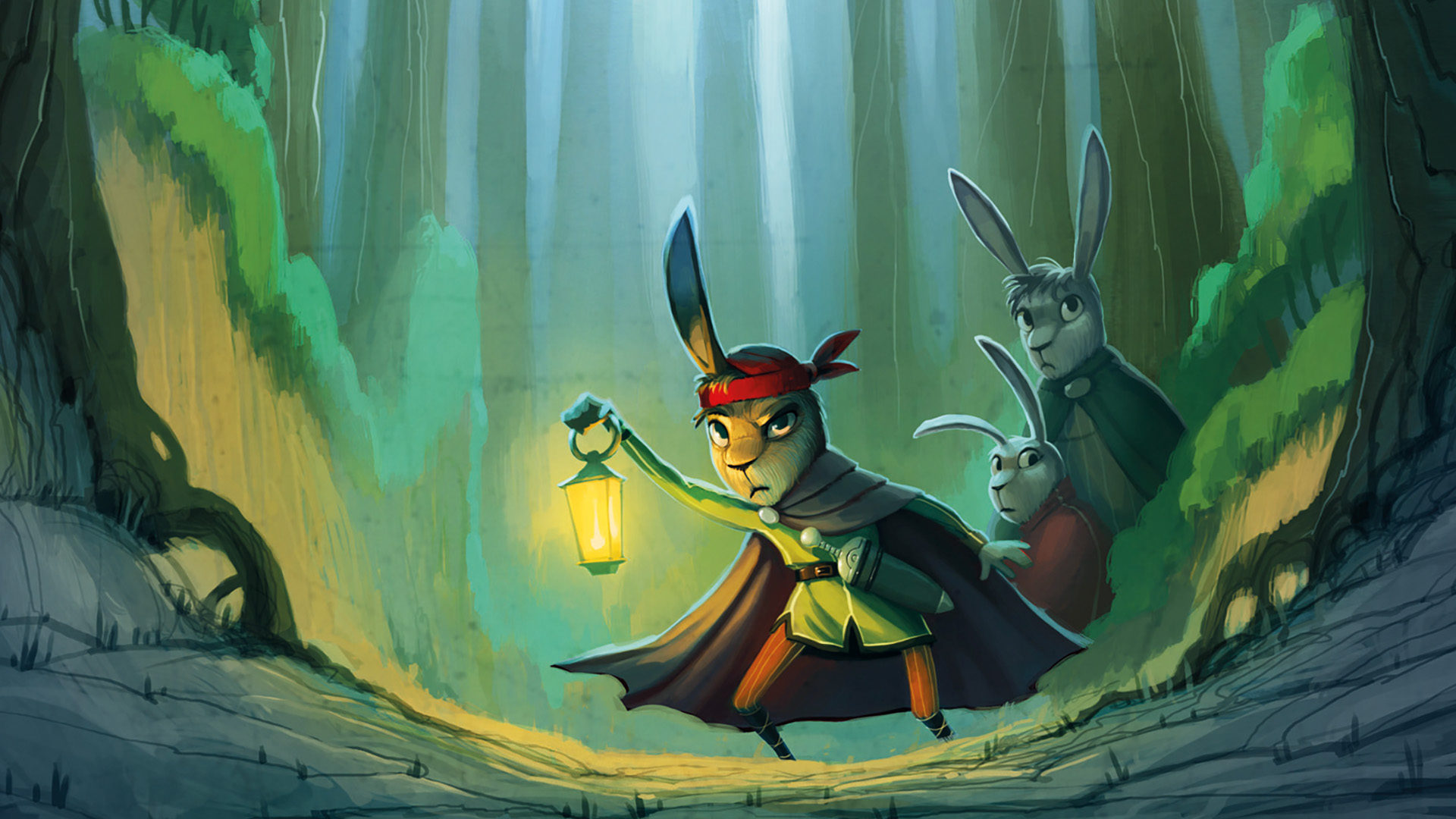 The Gorm are a frightening bunch of thugs who want to take over the rabbit world and crush all before them.  In class, the children were given half an image of The Gorm and, using the words and phrases we had discussed, they briefly sketched the other half.
iron-clad beasts

grinding metal

clump of heavy leather boots

a walking slab of metal and meat

pierced with rusty thorns and nails

jagged, dented iron

cruel shard-like spikes

curved metal horns

shadowy eye slits

dim scarlet pupils

mottled with rusty red veins
The children really enjoyed transferring the descriptive vocabulary into an image. Not the most handsome of creatures!
This week's bible story
David and Jonathan: 1 Samuel 18-19
Friendship is a precious gift. Everyone wants to have friends. If we are fortunate, we will have a group of close friends, people with whom we can share our lives. However, sometimes, things go wrong. There can be disagreements that lead to friends falling out and maybe not talking to each other altogether. When David was a young boy, he had been told that one day, he would be the future King of Israel. As he grew up, David became famous for defeating the giant, Goliath, and for being a skilled soldier. He also wrote many songs that are recorded in the Book of Psalms in the Bible.
When David was a boy, a man called Saul was the King of Israel. Saul had a son who was called Jonathan. David and Jonathan became great friends. One reason was that Saul (Jonathan's dad) was the present king and David was going to be the future king. David was also a great soldier and King Saul became very jealous of him! Another reason is that, if the usual practices were followed, Jonathan would have followed in his father's footsteps as the future king – not David! Jonathan had a good reason to be jealous of David!
Reflection:
It would have been very easy for Jonathan to be jealous of David. Instead, he always protected him – sometimes, even saving David's life!
How do we treat our friends?
Do we get jealous when they are successful or if they are better than us at something?
Or do we encourage them? Do we stand up for them? Do we feel happy when something good happens in their lives?
In David's case, he really did get by 'with a little help from his friend'.
Prayer
Dear God,
Thank you for friends whom we can trust.
Thank you for friends who stick with us when we need them.
Please help us to be a friend to anyone in need.
Amen.
Gardening club
This term a new group of children are taking care of our garden area. After all the hard work of last term's children, this new group are beginning to harvest the crops that they have grown. We have tomatoes, peppers and potatoes to enjoy. The sunflowers that last year's Y5s and Y6s grew are looking fantastic too! We are going to take the potato crop that we have collected so far to our Harvest Festival service on Thursday.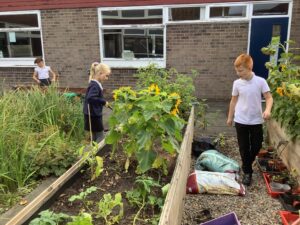 Living and Learning: The 8Rs
In recent weeks, Mrs Bald has been delivering our Living and Learning sessions  and these have focussed on our 8Rs for learning. These are eight key principals that promote good learning behaviour. Ask your child how many of the 8Rs they can remember (hint).
The children have been taking part in some activities about the 8Rs. During a Diamond 9 activity the class had to work together to decide which of the Rs they thought was the most important and which was the least.
There were some very interesting debates! Is remembering more important than being resourceful? Should you show respect more than resilience?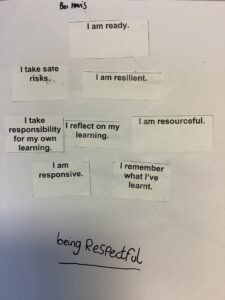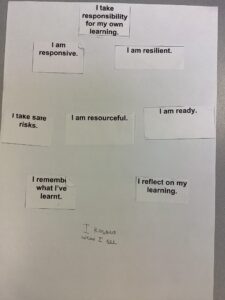 For their next lesson, the children thought about how they use the 8Rs to help them with their learning.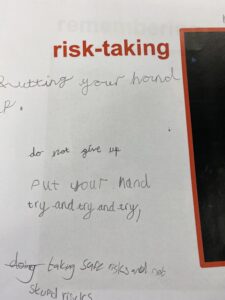 We will be referring to the 8Rs across the whole of the school year.
Science – sorting different states of matter
In Science this half term,  we are learning about different states of matter. We used a lot of scientific reasoning to decide whether something is a solid, a liquid or a gas. We have some great chemists!
This week's bible story
Zacchaeus is friends with Jesus: Luke 19: 1-10
In today's story, we hear about a man called Zacchaeus. He had always been a loner. He had never had as much as one friend. Not surprising, really. He had lived most of his life as a cheat. It was easy. Just demand more money. That was the beauty of his job as a tax collector. People were a bit afraid of tax collectors. You would not want to get on the wrong side of a tax collector, especially one like Zacchaeus.
He was a small man, was Zacchaeus. Perhaps he was bullied or laughed at. Sometimes people get picked on by others – the tall ones, perhaps, or the short ones, or ones with straight hair, or ones with curly hair, or ones with the wrong clothes. People are certainly not born cheats.
Or perhaps Zacchaeus just thought that money could bring him happiness, or friends. Or maybe he was just a rogue!
One day Zacchaeus was out and about in the streets of Jericho. He heard people talking about Jesus. All excited, they were, that Jesus was going to be passing through their town that day. Read the story to find out what happened to Zacchaeus.
Reflection:
Zacchaeus was a man with a hard heart and no friends. We don't know why, but Jesus cared for Zacchaeus. Jesus also believed that Zacchaeus had some good in him, if only he could be persuaded to change his ways. Zacchaeus mattered to Jesus, and Jesus' friendship was able to change how Zacchaeus acted. Think about yourself and your friends. Are there any ways in which you can treat people that might help them to become friends?
Prayer
Dear God,
Thank you that you know us and that you care for us.
Help us to be kind and generous to other people,
like Zacchaeus after he met Jesus.
Amen.
We are geographers!
Today, the children continued with their geography based topic 'Where in the world am I?'
The class were asked to name and locate the four countries of the United Kingdom. Using the index of an atlas, the children were able to find a place name and then locate the correct page in the atlas.
After finding the countries, they then had to find out the capital city of each country.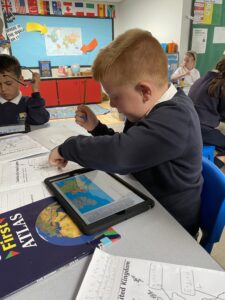 Next, after a few reminders about staying safe online, the class used a search engine to find out more about each capital city.
Question your child about their knowledge of the United Kingdom.
Library visit
We had our first school library visit of the year and have all chosen a book to enjoy. (I'm sure many of you will have already seen them in your child's bag this afternoon!) A few of us too advantage of our school reflection area to quietly enjoy books with friends. Each week we will have the opportunity to change our books so don't forget to send them back in on a Friday (not tomorrow though!)