Christmas Dinner
Today we have had a busy day. In the morning we had a zoom visit from Santa. It was lovely to chat with him and ask questions. Thank you, Santa! Then we enjoyed Christmas Lunch together, pulling crackers and sharing jokes.
Happy Christmas!
We were not able to do our usual Christmas performance this year… but we hope you like this instead!
Living and Learning: I can demonstrate different emotions
This week, our Living and Learning statement is I can demonstrate different emotions.
As part of this Living and Learning statement, we had a creative homework. It was great to see how the children all tackled this. If ever the children are stuck on their homework, please get in touch with us at Stjamesy3y4@spherefederation.org
Have a look at some of the homework below. We had a  great variety of stories, pictures and posters.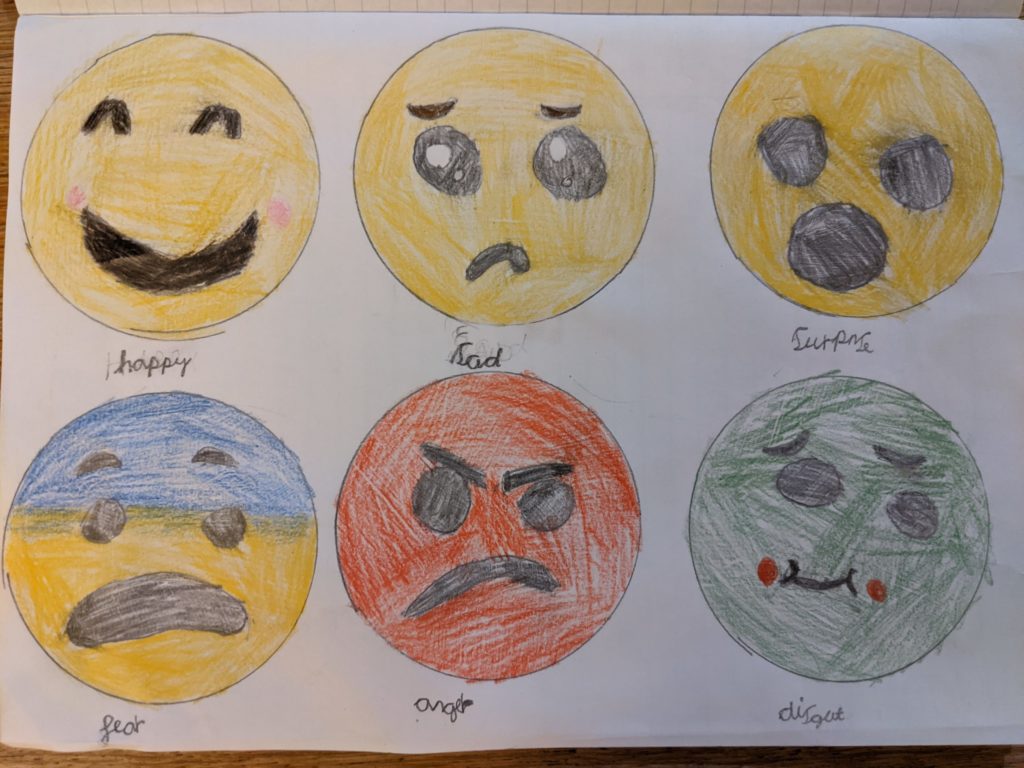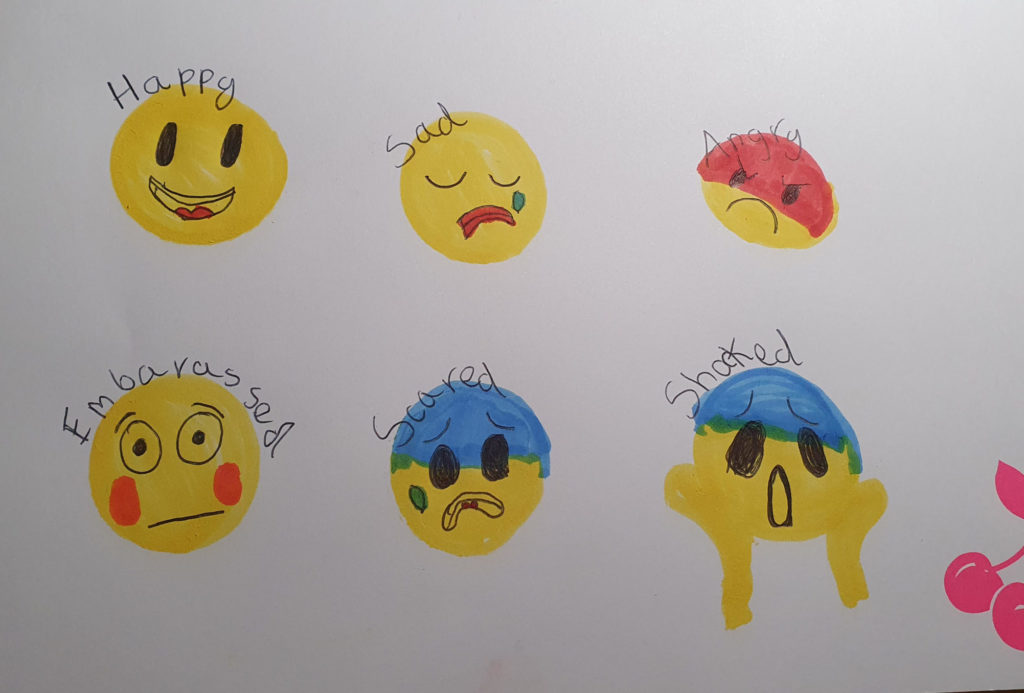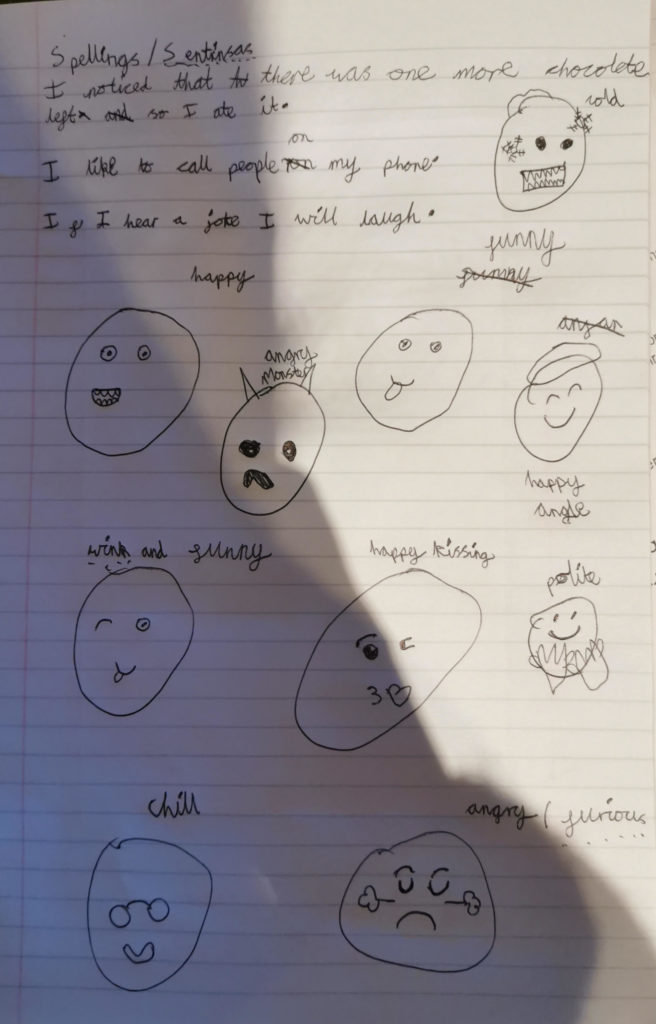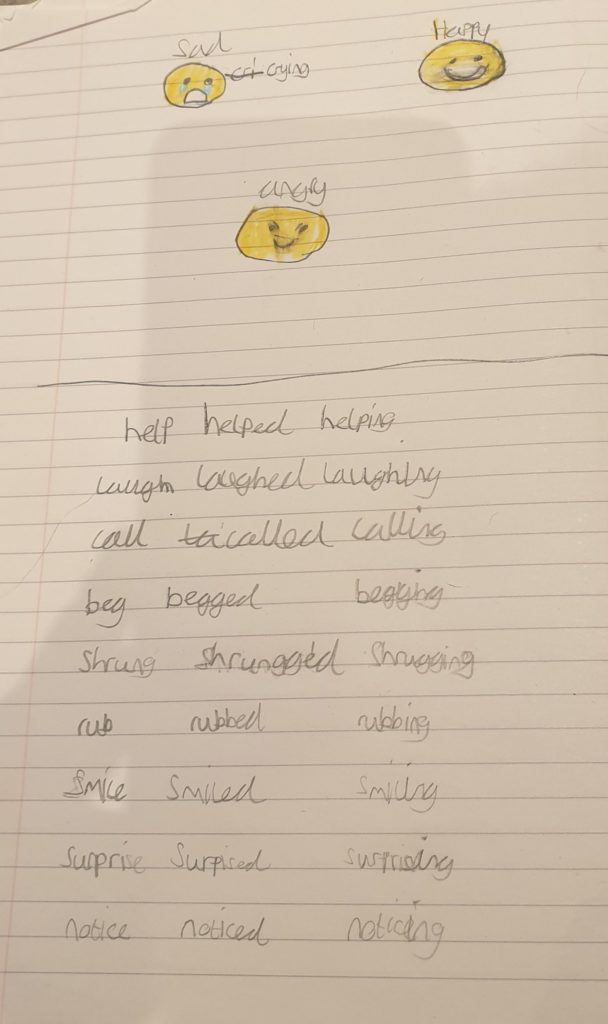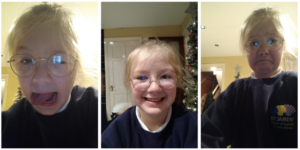 Greek vases
We have had great fun today in Class (more…)
Christmas celebrations
As we approach the final week of term, it's time to get Christmassy, but as you know, it's going to be very different.
We can't invite you in to share any Christmas celebrations so instead we're going to share Christmas with you in a different way. From Tuesday 15 December, there will be a video posted on Class News of your child's class taking part in some Christmas celebrations. We know that this doesn't compare to what we normally do but we hope that it helps in some way.
During the final week of term, there will be a virtual pantomime performance that children will be able to watch at school. Thanks to the PTA who have paid for this.
Christmas lunch will be on Tuesday 15 December and all children will get a Christmas cracker!
On Friday 18 December, there will be Christmas parties in classrooms. Children can come to school in non-uniform. There will be some goodies coming home which have kindly been bought by the company who provide and maintain our photocopiers and printers.
It's a very different Christmas this year but we've worked so hard to stay safe that we don't want to spoil it now.
We hope that you have a happy and healthy, enjoyable and restful time with your families over the Christmas holidays.
Wonderful writers!
These past few weeks, we have been learning all about writing a setting description. We learnt all about using interesting adjectives, writing expanded noun phrases and using prepositional phrases. Year 3 and 4 have written some fantastic setting descriptions. They have transported the reader to Ancient Greece with the language and vocab they have used.
Here are just three (and it was hard to just pick three as there were many many pieces that were amazing!) of our setting descriptions. If you click on the child's name you can see the original with their purple pen (editing after writing) and the highlights where they have spotted their fantastic vocab.
This was it. I was here to eat good food because at my town, it barely has any. As I looked around, I saw large mountains, some massive temples and people sitting in small houses. I could always hear people shouting and moaning at each other and fire burning. I could smell delicious food and the burning fire all day. I felt really embarrassed because I was really new and didn't know anyone. I was the only one who didn't know how to fight too. 57 beautiful houses covered the town, it was like a maze. One mountain was so big it went above the clouds and the largest temple wasn't even inside the clouds! Some people were trying to break through the mountain. It probably isn't possible though.
This was it. I was here to save a child who was being enslaved by the harsh King and has been there for many, many years. As I looked around, I saw an immense temple stood on top of the gigantic hill. Lots of colossal mountains were falling apart. I could smell fish from the market and all I can hear is the King shouting at his slaves whilst the wild animals fought with each other. I looked up at the spectacular, bright blue sky while the harsh wind blew in my face relentlessly. I felt inquisitive mostly because I really wanted to know what's going on with Athens. Finally, I found her! I found the child! At night, I took her home, Back to her parents. She lived happily ever again and hopefully, I get to go on another adventure like this again.
This was it. I was here to defeat the eagle. As I looked around, I saw that the eagle was hungry. I took out my bow and then the eagle attacked! I was frightened but I persevered and did it. The eagle screeched loudly. The eagle was too powerful. I took out my golden sword. I took a shot and then another. It was finally dead. I went in the mountain and then a bat flew out. I carried on till I found the king eagle! He took a shot and I fell out but I survived the fall. But a tornado came. I ran away just in time. I put a sign down so nobody came round in the next day. I came back to defeat the tornado. The tornado broke the top of the mountain. I had changed my mind until I found special boots. I put them on then I thought I thought it could get rid of the tornado. I jumped in the tornado then I span around. I killed in the tornado in one shot.
Living and Learning: Friendship is important!
This week our Living and Learning statement is "I recognise friends and family are important." Here's what Y3/4 think about friendship.
Friendship is important because…
you're not alone.
if you didn't have friends you would be alone.
if you have a friend they can cheer you up.
if you don't have a friend you won't have fun.
so that you are not lonely for your entire life.
you might get left out if you didn't have friends.
so everyone will be included.
so that they can take care of you.
if you are an only child you can play with someone.
you will have people to play with.
you are loved.
We also looked at which values we think are more or less  important within friendships.
Virtual after school clubs
We know you are missing attending after-school clubs at the moment (in and out of school) so here is some information about a virtual after-school club that can be done at home.
The Youth Sport Trust have taken the step to deliver a free virtual after school club as part of a national response to the second lockdown. The 30-minute club will take place at 5pm each weekday and be led by a different member of the YST's athlete mentor network. These will run until 18 December.

Living and Learning: I know how to STOP bullying
Our recent Living and Learning statement has been: I know how to STOP bullying.
STOP is a key message linked to bullying. In our school, STOP stands for two things:
the definition: Several Times On Purpose
the solution: Start Telling Other People
Recently, our school council (now called the Junior Leadership team) met to review our school definition of bullying and our child friendly anti-bullying policy. Thank you to the JLT for their valued contributions. As a result, our definition and policy have now been updated.
Child friendly anti-bullying policy
What is bullying?
In our school, this is what bullying means:
Bullying is where you hurt someone, physically or emotionally (including online), several times on purpose.
What might bullying look like?
If any of these things happen several (lots of) times, it is bullying.
Hurting peoples' feelings, for example, name calling, teasing, threatening, ignoring, leaving people out or spreading rumours
Hurting peoples' bodies, for example, hitting, punching or kicking
This could be in person or online (cyber bullying) and could be because of someone's race, disability, gender, appearance, age or any other protected characteristic.
What could you do if you are being bullied?
Start
Telling
Other
People
Who could you tell?
Miss Beatson, Mrs Bald, or Mr Roundtree (they are child protection staff)
Any other members of staff
Friends
Someone in your family
A trusted adult
Childline (0800 1111)
Write a worry slip and put it in your classroom Living and Learning Box or the whole school worry box
Email stayingsafe@spherefederation.org
Our views on bullying 
STOP bullying – bullying is wrong! We're a happy and healthy school.
As part of our Anti-bullying week, we had creative homework where the children showed that they knew how to stop bullying. Thank you to those children who have sent their homework. We have enjoyed looking at it in our homework review and sharing our ideas. (send any completed homework to Stjamesy3y4@spherefederation.org)
String telephones
Today in Science, we have been exploring how sound travels.
We learnt that sounds get quieter as the distance between the sound source and your ear increases. Sounds travel as vibrations. As the sound waves travel, the particles of whatever they are traveling through vibrate, or move quickly on the spot. The further the vibrations travel, the more they spread out. As they spread out through more and more particles, the vibrations become smaller and smaller. This causes the sound to get quieter and quieter. This is why sounds get quieter and quieter as you move further away from the source, until you eventually can't hear the sound at all.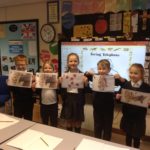 We experimented with a string telephone. We found that when we were talking in our normal voices we couldn't hear each other across the hall. However, when we used the string telephone, we could still hear our partner. This is because when we use the telephone the vibrations of our voice travels through a solid – the string. However, when our voice went into the air, the vibrations spread out and got smaller as they travelled.
The string and the cups are solid, so the particles are much closer together than the particles in the air, which is a gas. The sound energy can travel from particle to particle far easier in the solid string telephone, so the sound of your voice is louder over the same distance than it was in the air.