Year 3 have had a very busy week indeed. From relaxing yoga to a magical World Book Day, we've had the lot!
Maths
We had been looking at arrays in our maths lessons.
What is an array? An array is a way of representing multiplication facts in a diagram or picture. It is always rectangular and made up of rows and columns. There are 2 rows of apples and 4 apples in each row.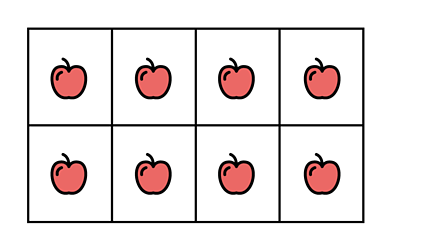 Help your child to spot arrays. Can your child record as a multiplication sentence and by using repeated addition?
Yoga
This half term the children are focusing on different relaxation activities. First was some yoga followed by a ten minute mindfulness relaxation exercise. Well done Year 3!
World Book Day
Teaching Harry Potter, Queen of Hearts and Where's Wally was an absolute pleasure on Thursday. There were some fabulous costumes and a great day was had by all.